Affordable Finds For Your Summer Wardrobe
Does anyone else "stress shop," like me? I cannot tell you how many times I've clicked "Add to Cart" over the past couple of months! But luckily, I have found some really great AND affordable pieces for the summer that could easily transition into the fall. Most are basics that are very comfortable and can be worn while lounging at home or dressed up for the times you head out of the house. All of these items are from Amazon, Target, Old Navy, and Sam Edelman. Here's all of my affordable finds for your summer wardrobe!
Affordable Finds For Your Summer Wardrobe
Dresses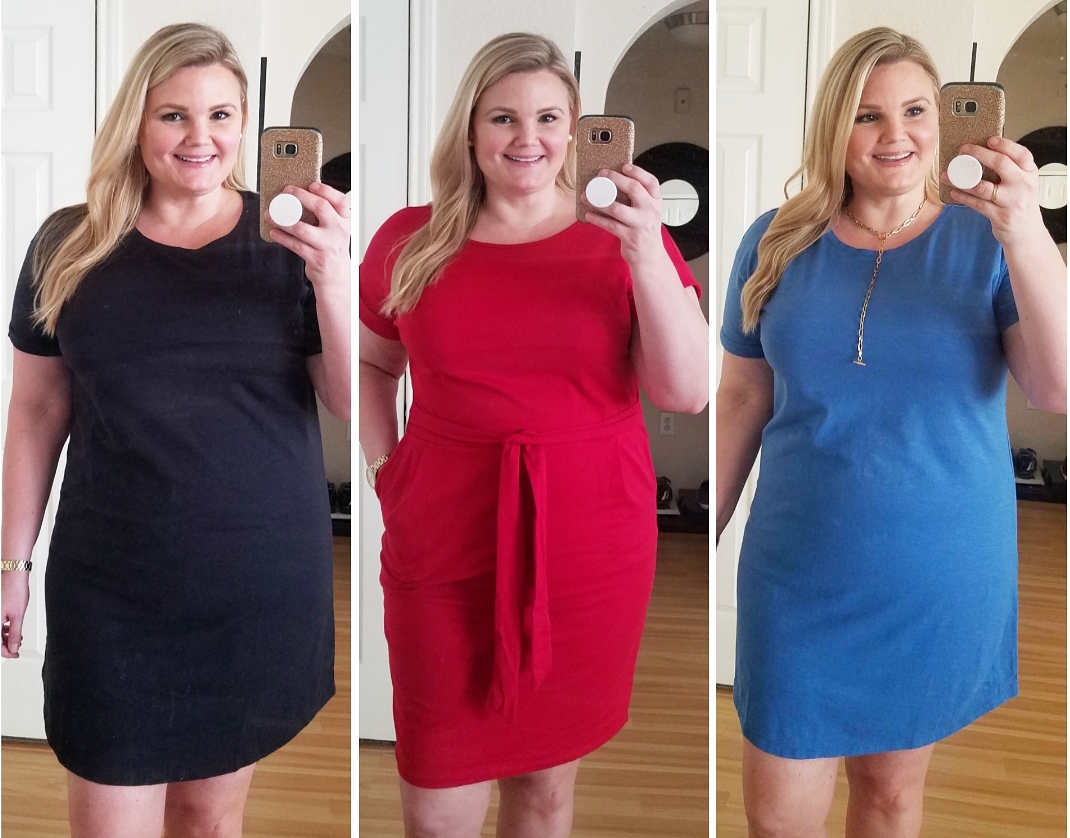 Shop here: BLACK DRESS  |  RED DRESS  |  BLUE DRESS
All three of these dresses are from Amazon and are amazing quality. The black dress and blue dress are the same and have become my favorite t-shirt dresses! The red dress has a tie in the front and pockets! All three are thicker, so they are not see-through at all and provide more coverage. I am 5'9″ and wearing a size XL in all three dresses. The blue and black dresses are $18.50 and the red dress (more maroon in person) is $24.99.
Tops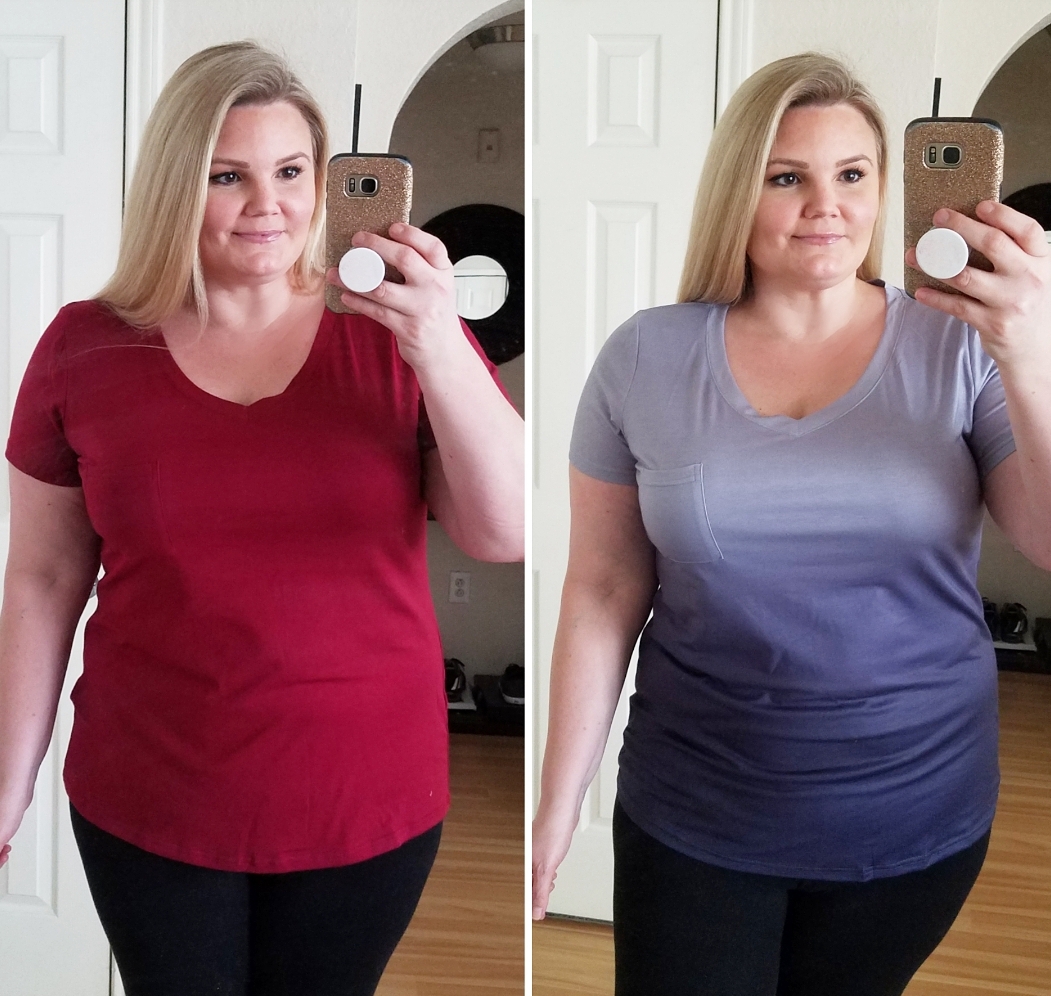 Shop these two tops HERE
These tops from Amazon come in 27 different colors and prints! I like that they are longer in length so you can wear them with leggings or knot them in the front. The solid colors seem to run a little larger than the tie dye (I am wearing the XL in both shown). These tops are very soft and stretchy and the v-neck is flattering. Prices range from $7.99-$17.99.
Shop these t-shirts HERE
These tees from Universal Thread at Target are a staple! I have them in 4 colors now. They are so soft and comfortable and come in 21 colors and prints. Also, they are only $8! A total steal! I am wearing the XL in both.
Shoes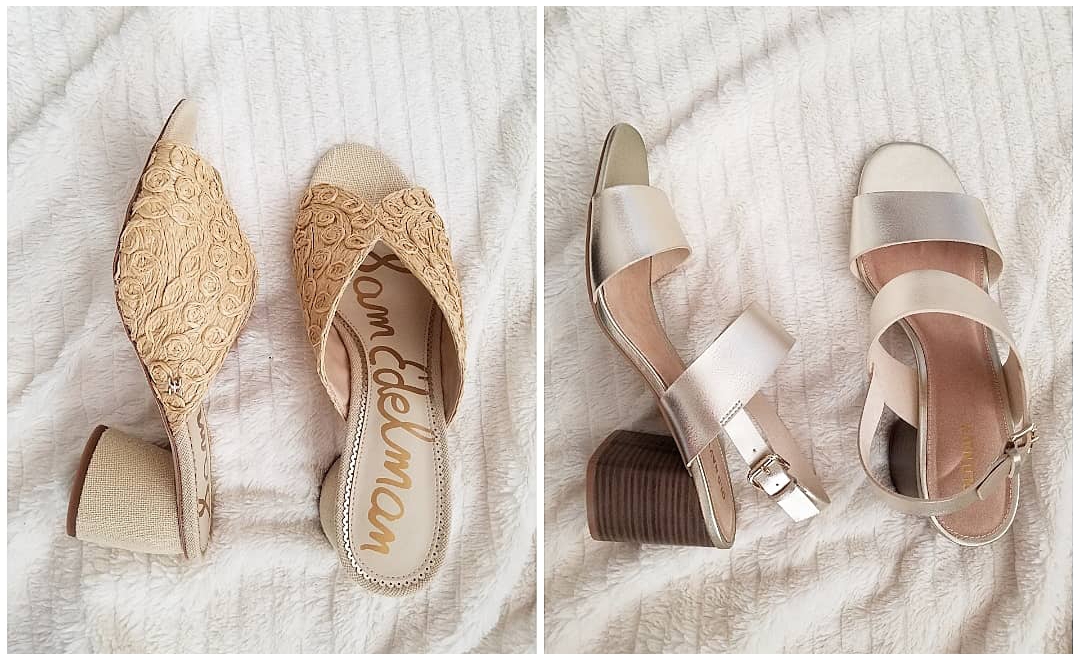 Shop here: SAM EDELMAN SHOES  |  OLD NAVY GOLD SHOES
I am all about the block heel! These two pairs of neutral-colored shoes go with almost anything and are very comfortable (can you tell comfort is a big factor for me?). They both run true to size. The Sam Edelman shoes are on sale for around $50, and the Old Navy shoes are on sale for $26.
Accessories
Accessories can completely make an outfit. I love wearing a simple dress or shirt and then adding in a statement accessory, like this woven, stretchy belt. It also comes in multiple other colors and buckle designs, and is just $15. It comes in two lengths; I am wearing the larger size. Can you believe this faux pearl and gold link necklace is from Amazon and is only $11.88?? I love it by itself or layered with a longer necklace. It is so chic!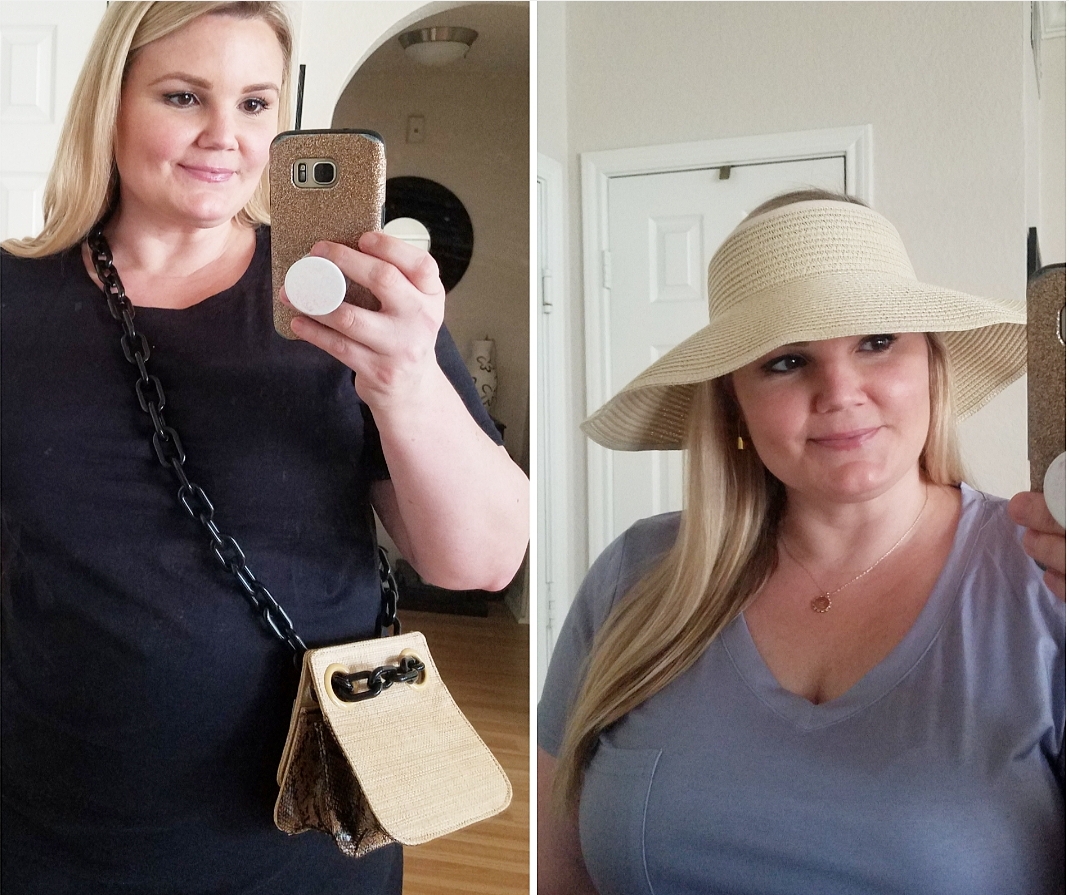 This purse from Amazon is probably my favorite new purchase! I love the chain strap, the woven fabric, and the snakeskin print. It can be worn crossbody, over one shoulder, or you can double the strap to wear on the shoulder or hold in your hand. It's a smaller bag but easily fits my phone, a compact, a card case, keys, and lipstick. It is on sale for just $36! I purchased the floppy visor on the right to wear to the beach, and I have no idea why I waited so long to purchase a visor! It's from Target and is only $8 but looks more expensive. It also rolls up so it would be easy to store or travel with. I love that I can wear a ponytail or high bun with it, and still lay back in my beach chair without ruining the hat.
I hope you can snag some of these affordable finds! Let me know if you have any of these items already!
Shop all of these affordable finds here: