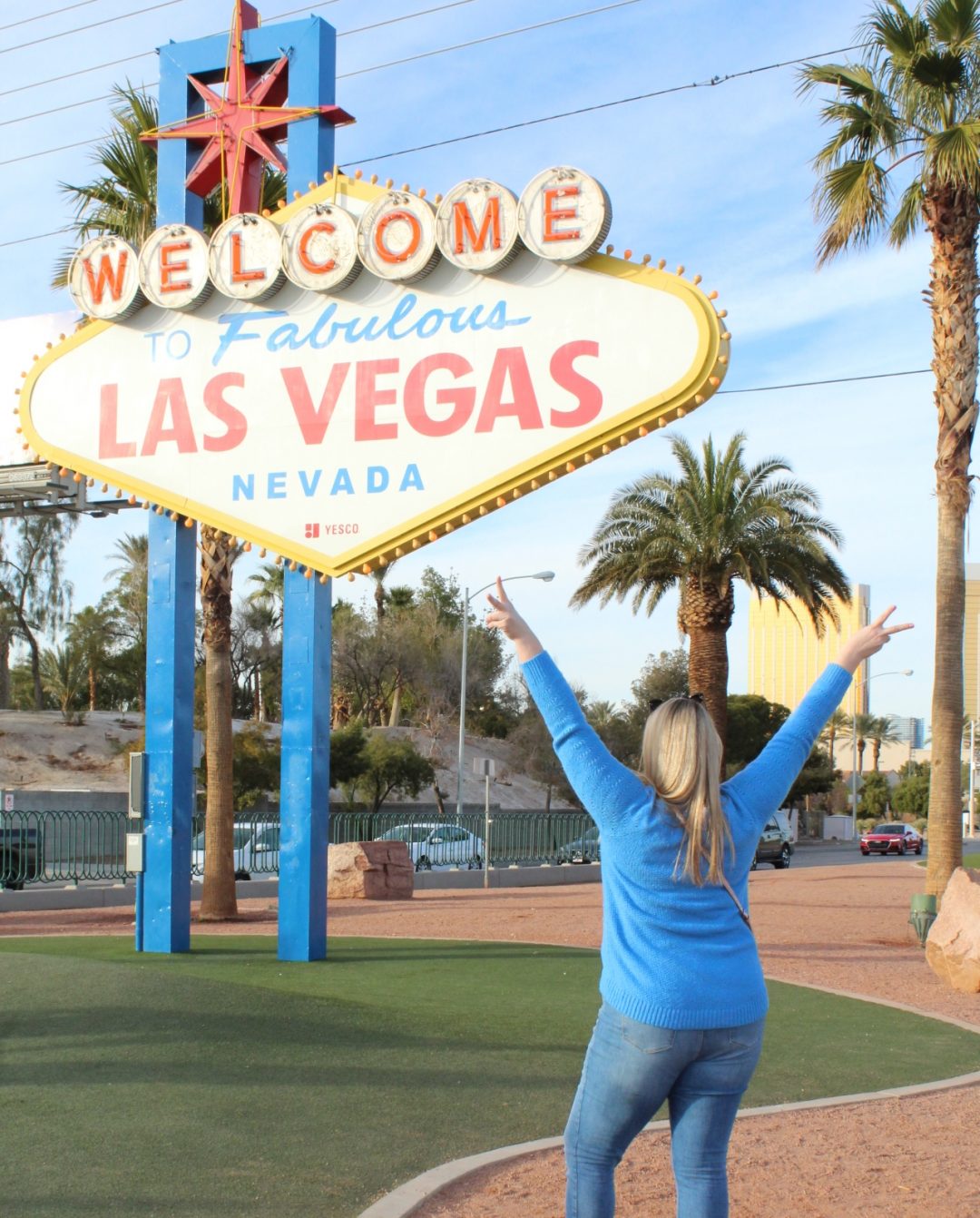 Viva Las Vegas! I vacationed in Las Vegas for my birthday in December with my boyfriend, my sister and brother-in-law, and my friend Tammy and her husband, Jeff. Since my birthday falls on Christmas, I generally don't really do anything to celebrate my birthday, except maybe a dinner out with family or friends. So this year, I wanted to do something big. I had the best time 10 years ago when I went to Vegas, so I decided it was time to go again. And there are so many great photos ops there too! We were there from a Thursday to Monday in early December, and the flight/hotel combo rates were surprisingly affordable through Travelocity. Although it wasn't super expensive to get there, Vegas can be very expensive once there! Eating or shopping on the Strip cost us quite a bit more than when we went off the Strip. Just be prepared for that!
We stayed busy the whole time we were there, and had an amazing time! Here's what we did each day and my thoughts and advice for each event!
Day 1 (Thursday):
We arrived in Las Vegas around 4pm and went straight to the Bellagio, where we stayed for the four nights. The Bellagio was decorated for Christmas and was STUNNING! We upgraded to a fountain view room (Strip view) on the 25th floor- again, breathtaking! The hotel is beautiful and the staff there were so nice and accommodating during our entire stay. Watching the fountains from our room was so cool, as you can turn on a certain channel on the TV that plays the coordinating music for each fountain show. Unfortunately, I caught a stomach bug the night before we left for our trip, and ended up resting in the hotel room the rest of our first night there. I had a fever pop up, but luckily it went down by the morning so I could enjoy the rest of the trip (thank goodness!). I'd recommend staying at the Bellagio, but in all honestly, there are so many gorgeous hotels we walked through that I'd stay at, so you cannot go wrong! It's all just about personal preference. But if you don't stay at the Bellagio, you definitely still need to go watch the fountains. They have different water fountain shows coordinated with music every 15-30 minutes and it's the coolest thing!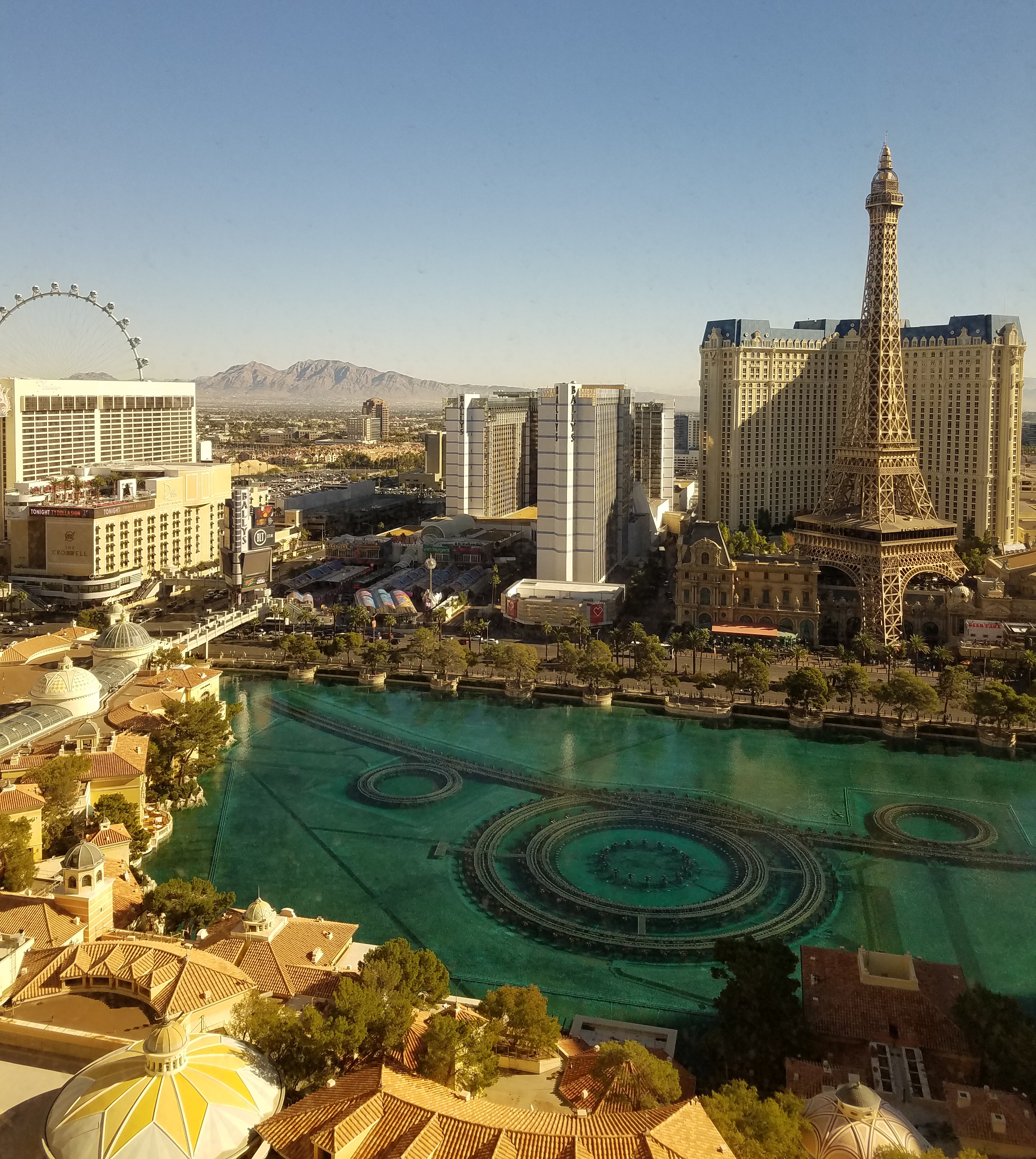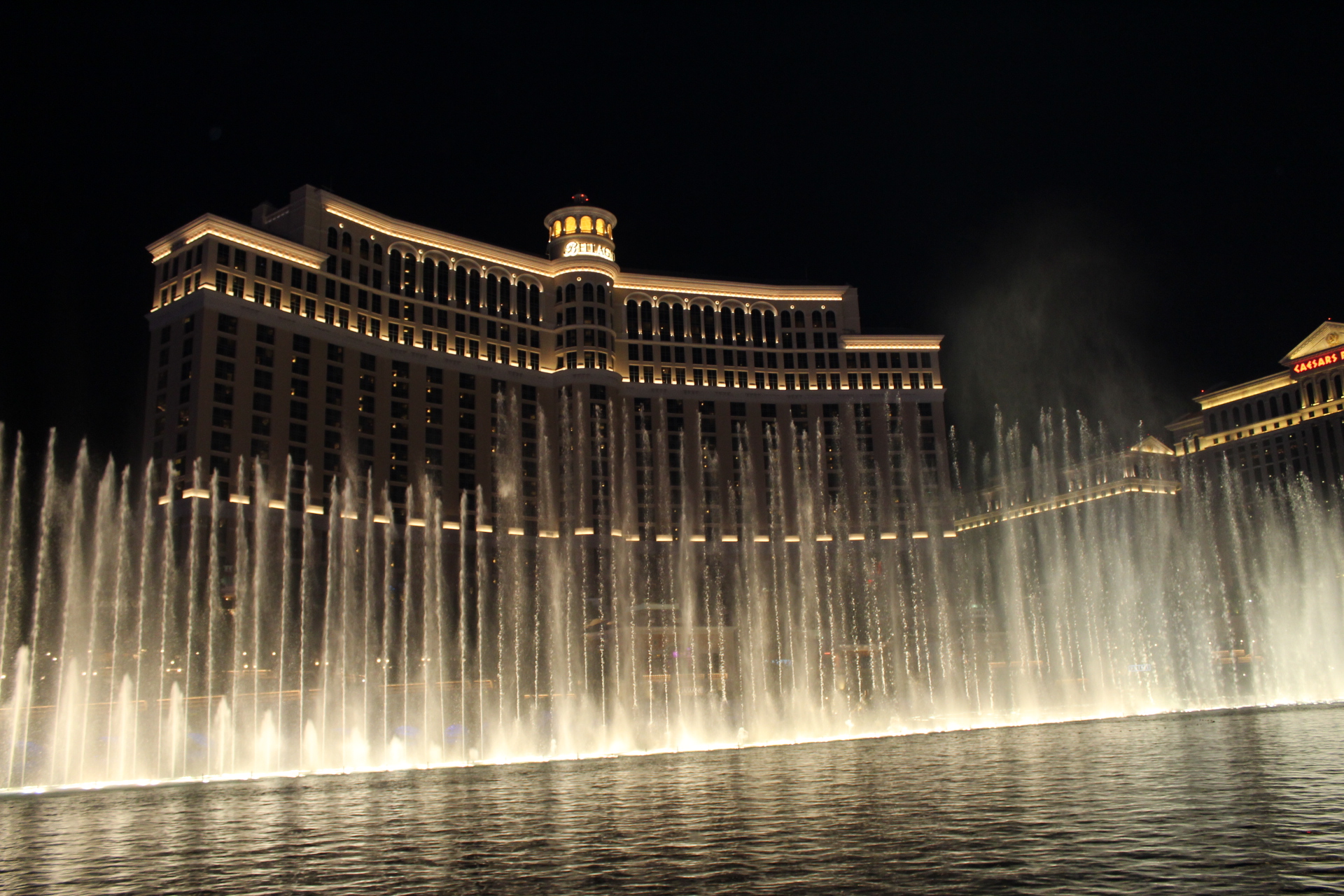 Day 2 (Friday):
We started Friday by getting breakfast at Eat., near Fremont Street (707 E. Carson Ave., Las Vegas). We each ordered something different, and we were all very happy with our food! I ordered the deviled eggs, and they were delicious! And fried! I have never had fried deviled eggs before, but I was impressed! Servings were large too. I would recommend stopping here for breakfast/brunch.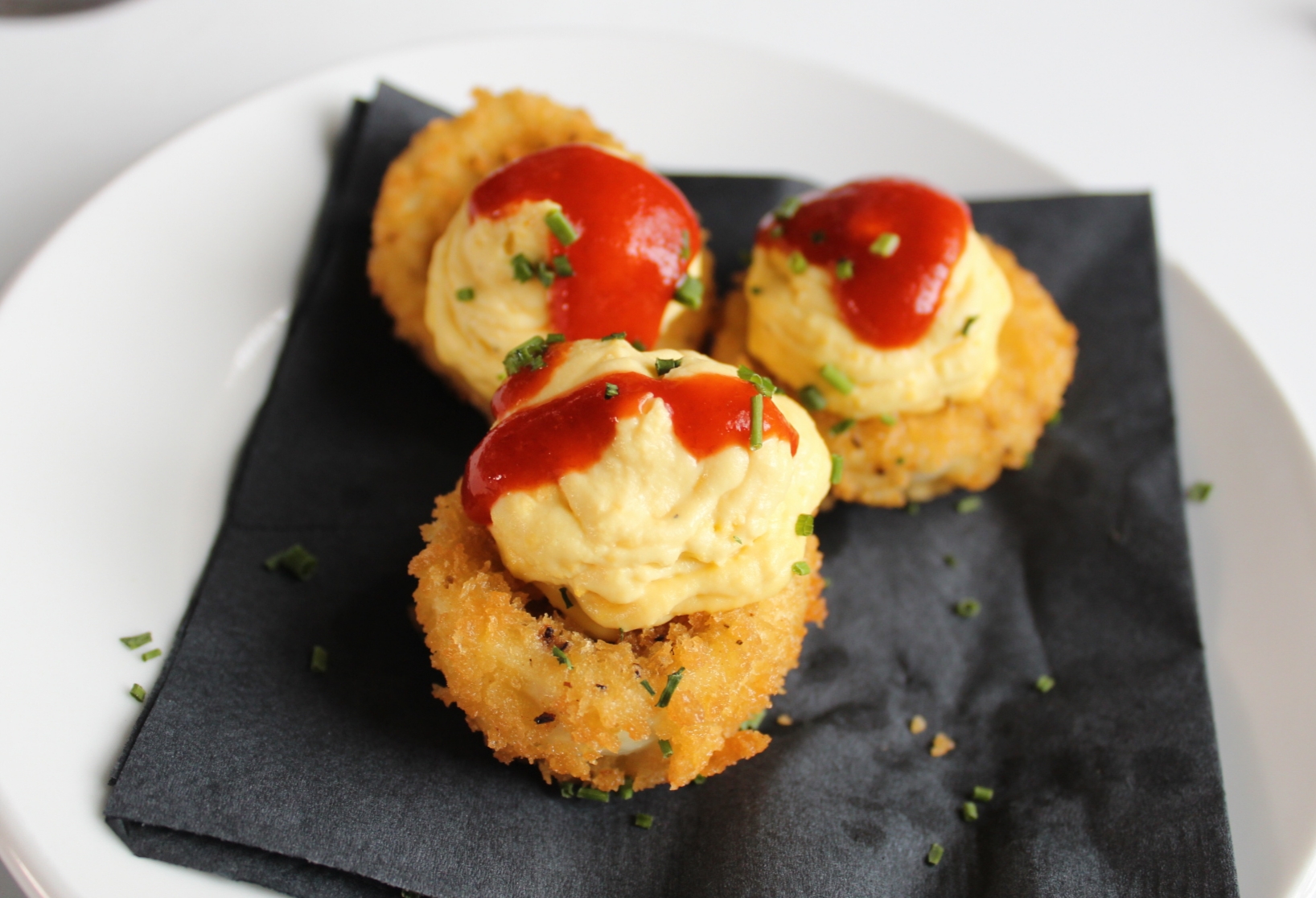 After breakfast, we went over to the Neon Museum (770 N. Las Vegas Blvd., Las Vegas), which is a non-profit museum that collects and displays old Vegas neon signs in what they call the Neon Boneyard. Parking was free, but general admission to get into the Boneyard was $20 ($15 with a student ID). You can walk through at your own pace and take as many photos as you want, but you are not allowed to film while there. It was a little smaller than I was expecting, and it took us less than an hour to go through, with multiple photo stops. We all liked it and it provided me with some great pictures. If you are into history and exploring, or like taking cool photos, then I would recommend the Neon Museum.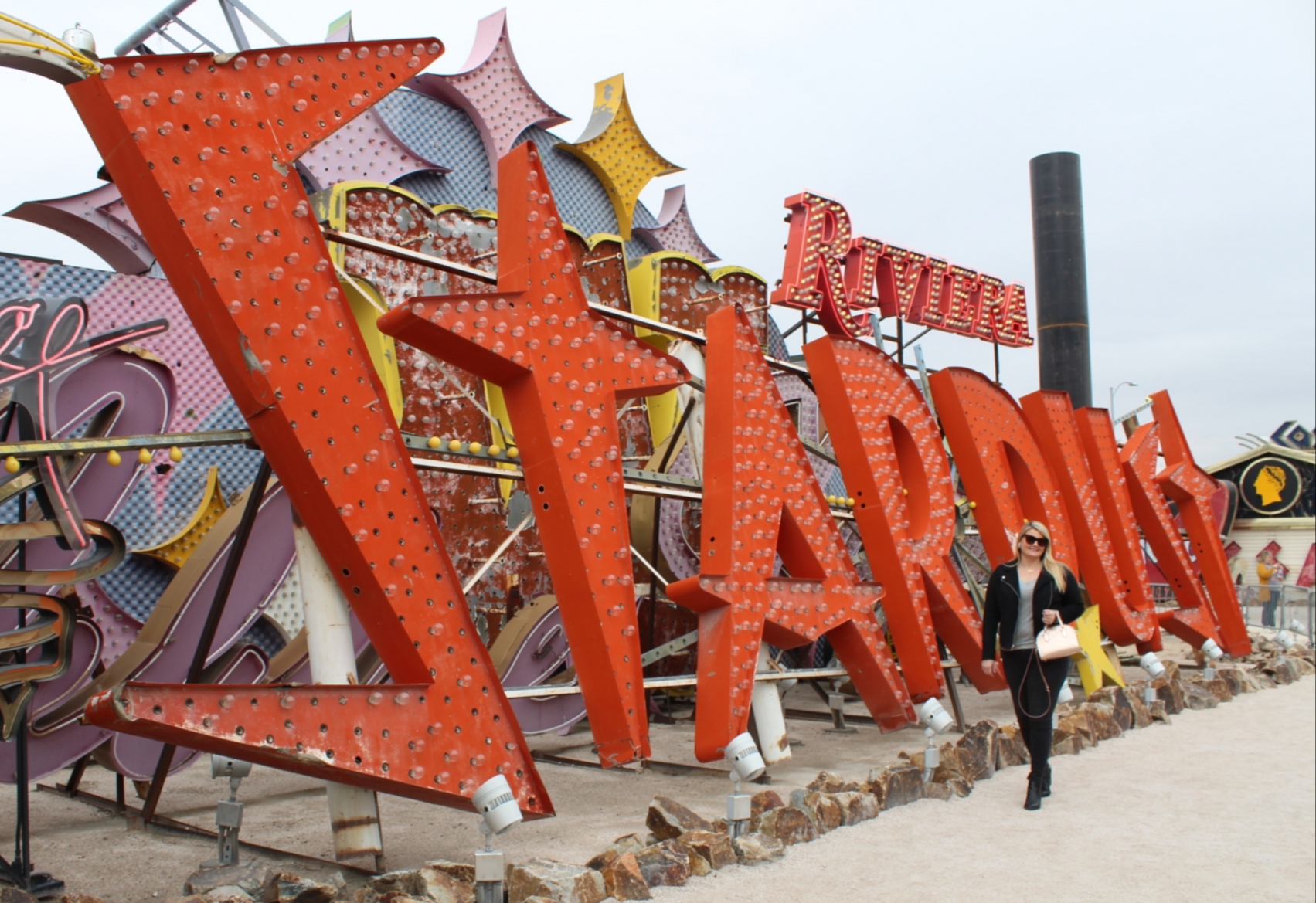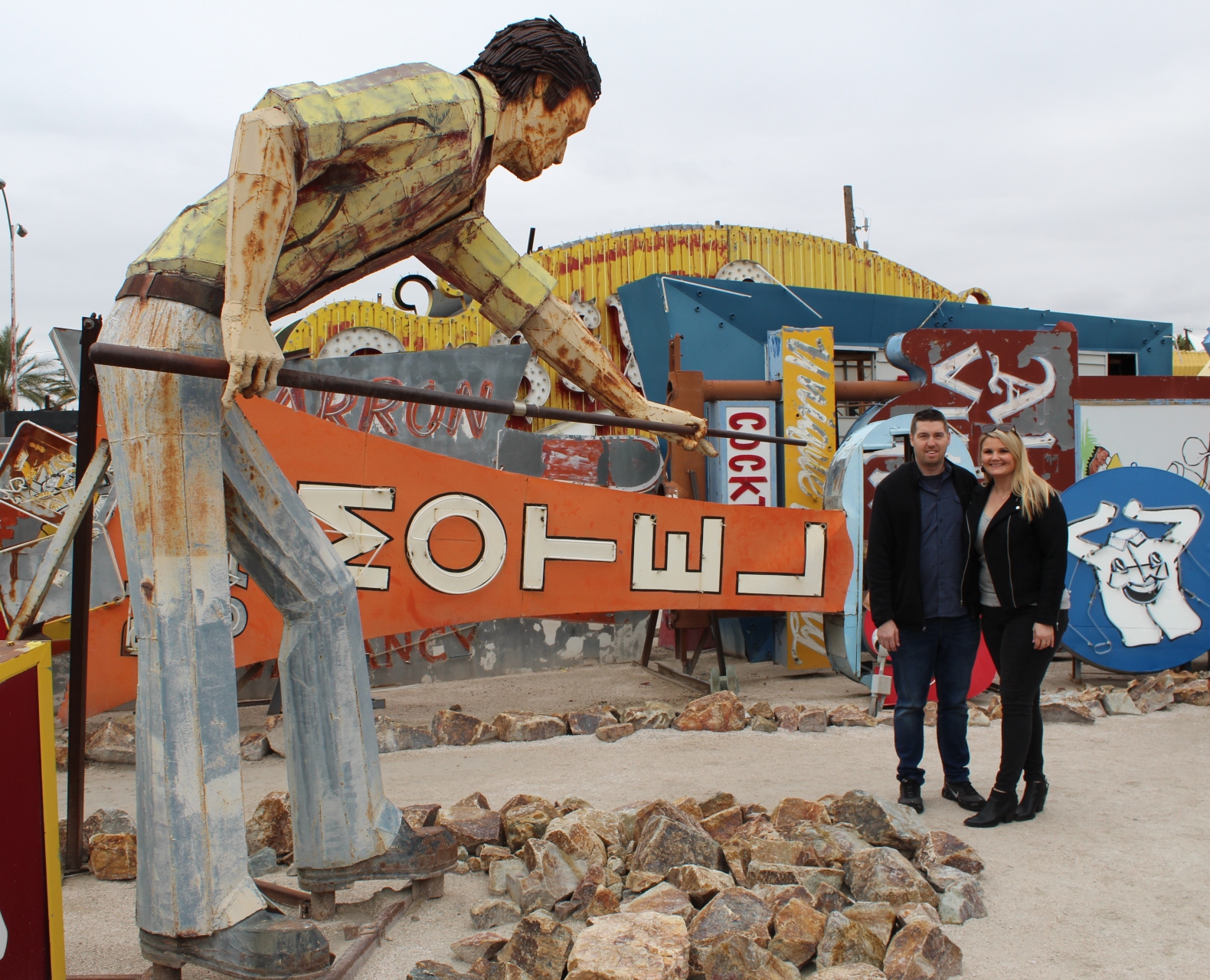 We then headed over to the Fremont Street Experience, which is the old downtown Las Vegas. They have a zipline that goes from one end to the other and looked like it would be fun, especially at night as they have a million lights overhead. We walked up and down Fremont, stopped into a couple of the old casinos and stores, and then ended up at a local brewery, Banger Brewing, for a couple of beers. Fremont Street is full of street acts and performers, and we had a good time. Next time, I would definitely go at night!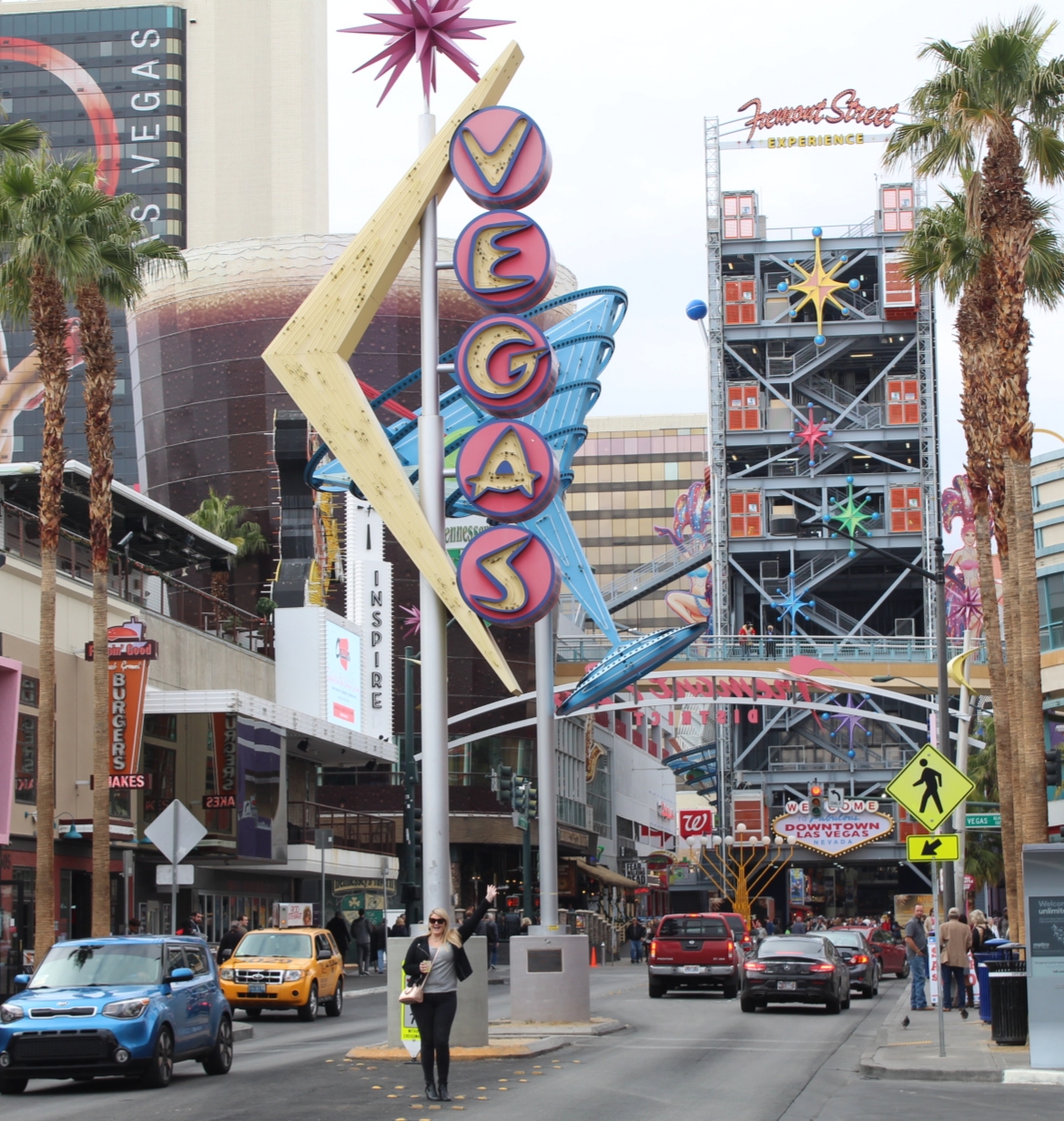 From Fremont, we went to the 107 SkyLounge at the Stratosphere for happy hour. As the name implies, it is located 107 floors up, with a 360 degree view of Las Vegas. Breathtaking! Definitely try to make it here if you are in Vegas. I felt very fancy drinking my Chardonnay and eating appetizers while gazing out to the Strip, which was all lit up as the sun was going down. You can also see all the mountains in the distance. Loved it!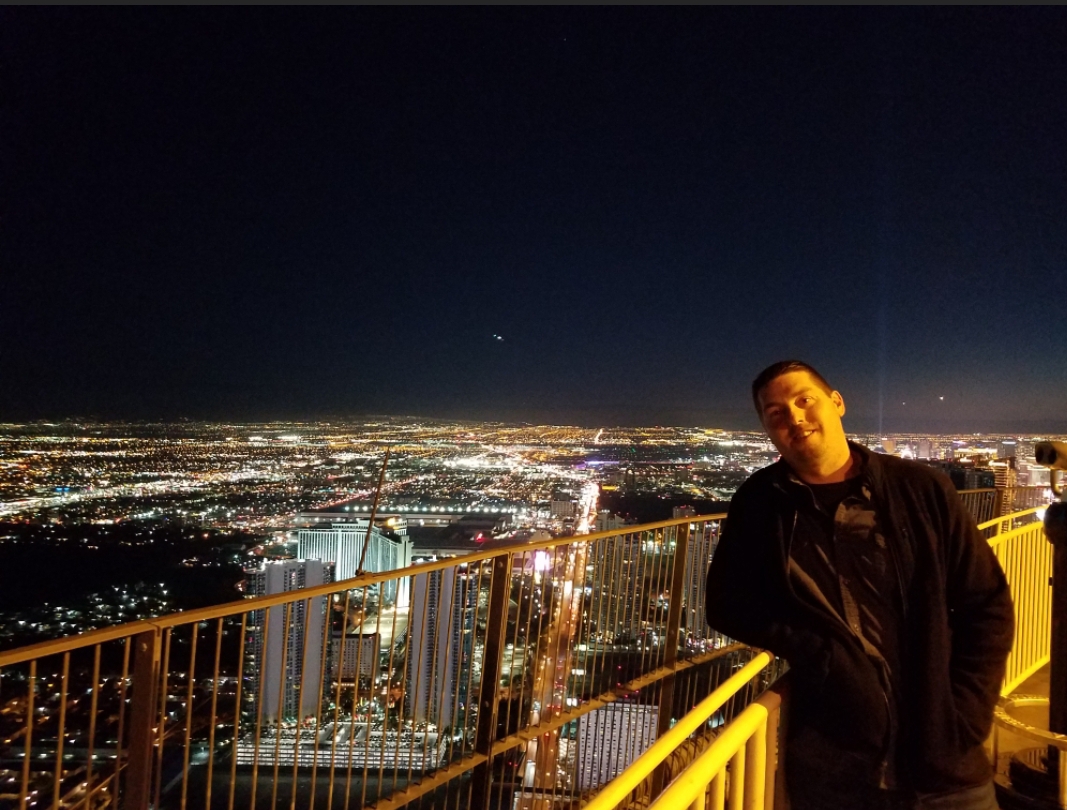 We went back to the Bellagio to change, then went off the Strip to get dinner (side note: we had a rental car while there and it was really useful for everything off the Strip). We went to Capo's Restaurant and Speakeasy (5675 W. Sahara Ave., Las Vegas), which looked very unassuming from the outside, but we were pleasantly surprised once we went through the back door… it is a speakeasy, after all! It has a Chicago mob-theme, with a dark interior and a piano player. The portions were huge AND delicious! We were all super impressed with this restaurant and I would go back next time I am in Vegas. Check it out!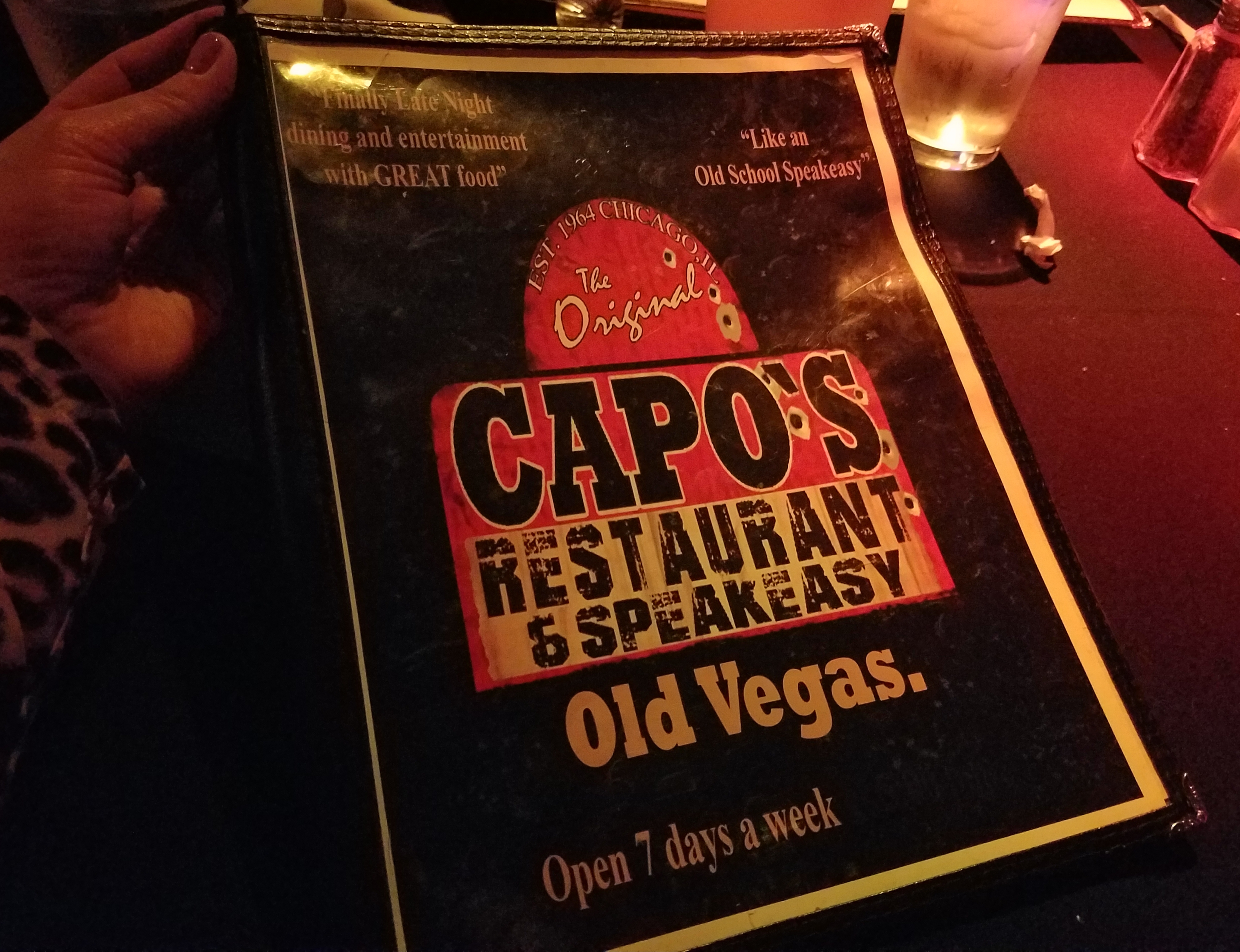 Day 3 (Saturday):
We drove out to Red Rock Canyon in the morning, which is about 25-30 minutes from the Strip. It is a national park with many hiking trails and observation areas. We decided to do the driving tour, which included multiple stops with hiking areas. It was so beautiful! And the weather was perfect, in the 50s and sunny, so we had a great time exploring. It took us about 2 hours from start to finish, and only cost $15 per car to enter the park. Coming from Florida, it was such a nice landscape change!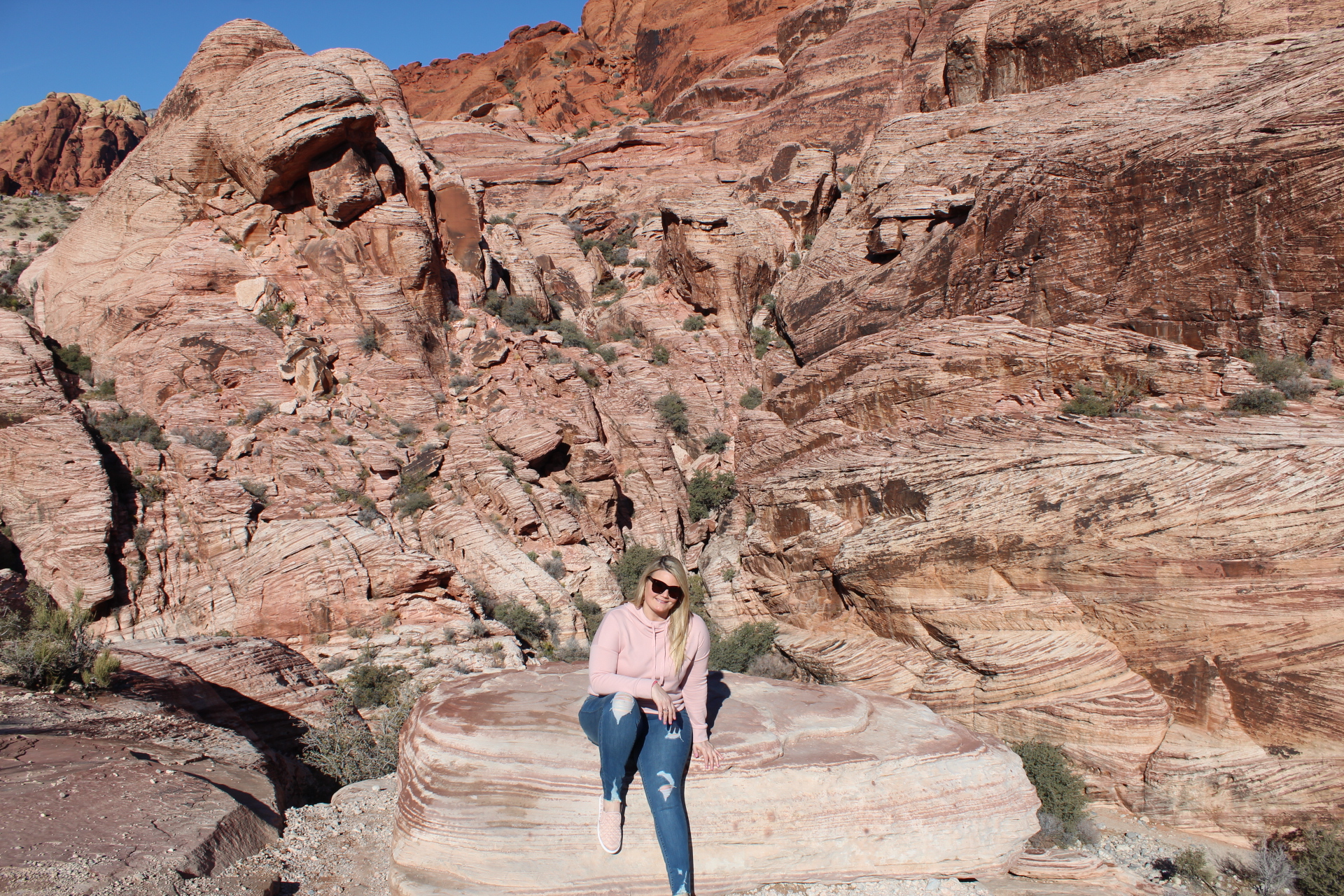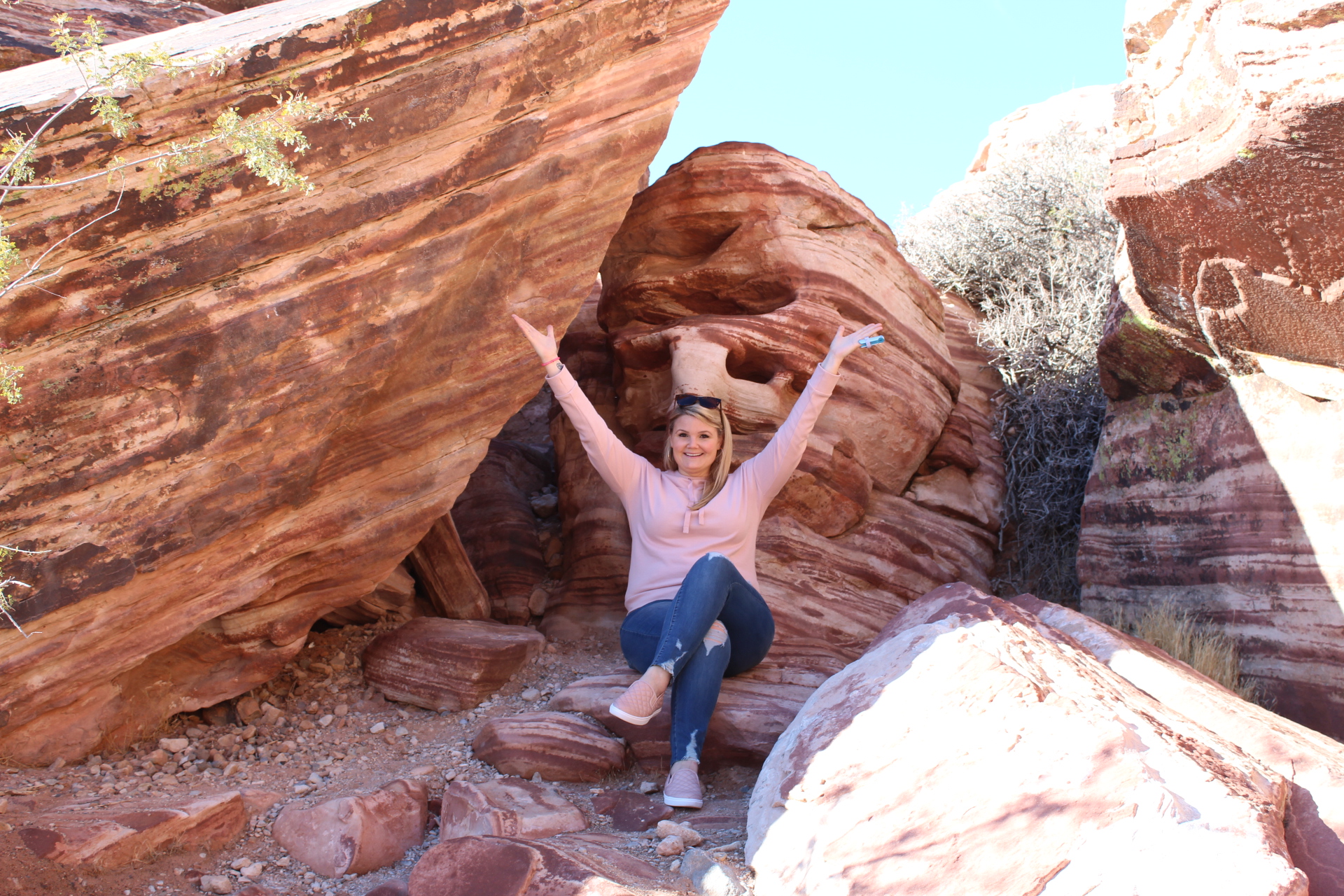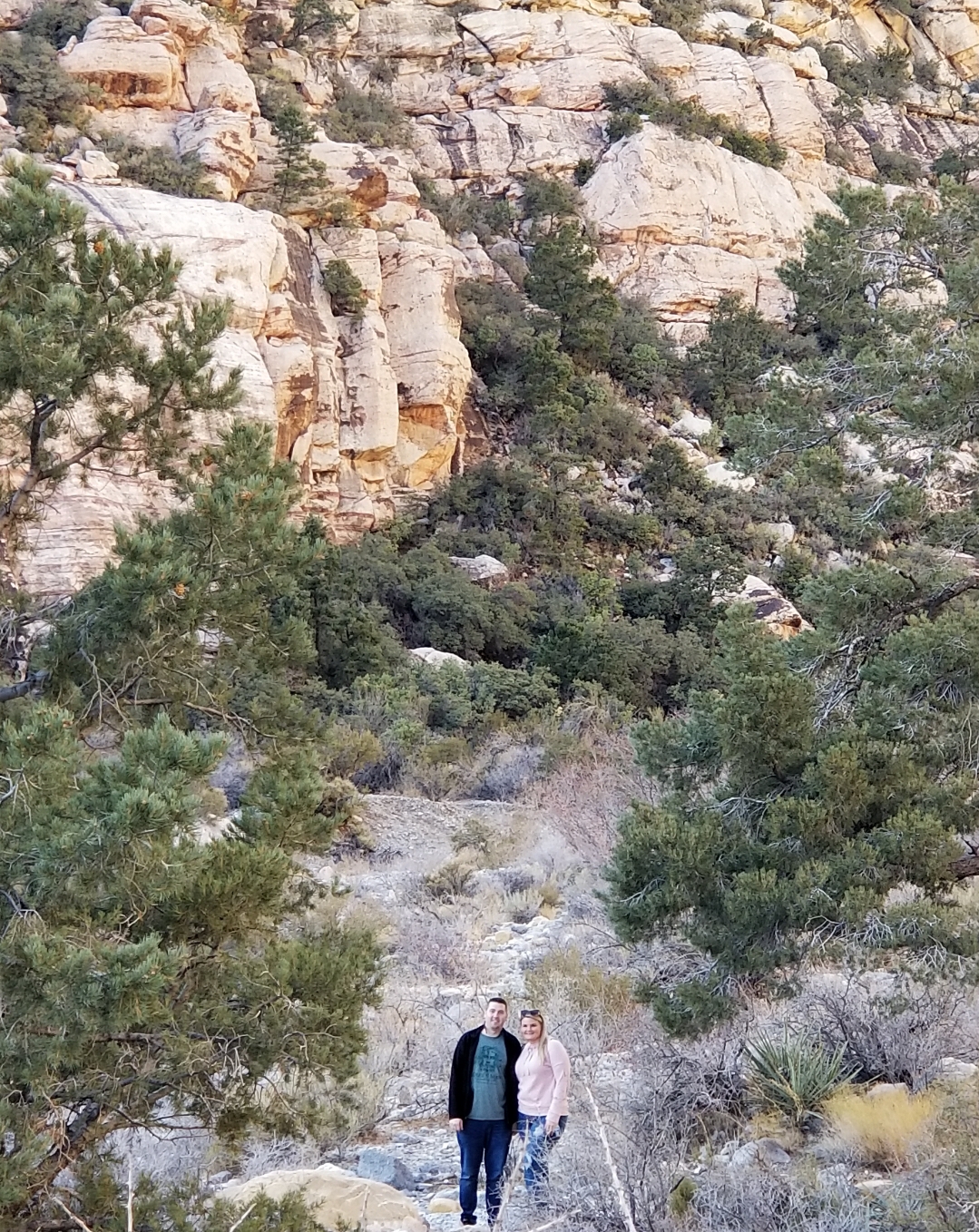 On the way back to the Strip, we stopped for lunch at Lazy Dog Restaurant in downtown Summerlin (1725 Festival Plaza Dr., Las Vegas). By the way, this was a really nice suburban area with large houses and new shopping plazas. Again, we were happy with our food and beer at Lazy Dog and would visit again, although the service was a bit slow to start.
After getting back to the Strip, we explored a few other hotels, including New York New York and Excalibur, before going back to the Bellagio to get ready for our night out. You must explore all the hotels while in Vegas! Grab a drink, walk around, play a slot machine or two- perfect afternoon! Also, Vegas has an open container law, so you can walk around the streets with alcoholic drinks in hand (which is awesome).
That night, we went to Tao Nightclub in the Venetian. There are club promoters all over, so as long as you can talk to one of them, you can likely get in for free. They'll add you to their guest list and give you a wristband. The promoter we talked to, outside of Tao, also gave me 6 free drink tickets. So we got in for free (after about a 30 minute wait), ladies drank free for the first hour (so we pounded rum and cokes as fast as we could before 11:30!), then all 6 of us had our free drink tickets. So I ended up only buying one drink the whole night- it was $15, but that's all I spent! Pretty good deal! We had a lot of fun dancing, and both Tammy and I ended up taking our shoes off because our feet hurt so bad! But it was worth it!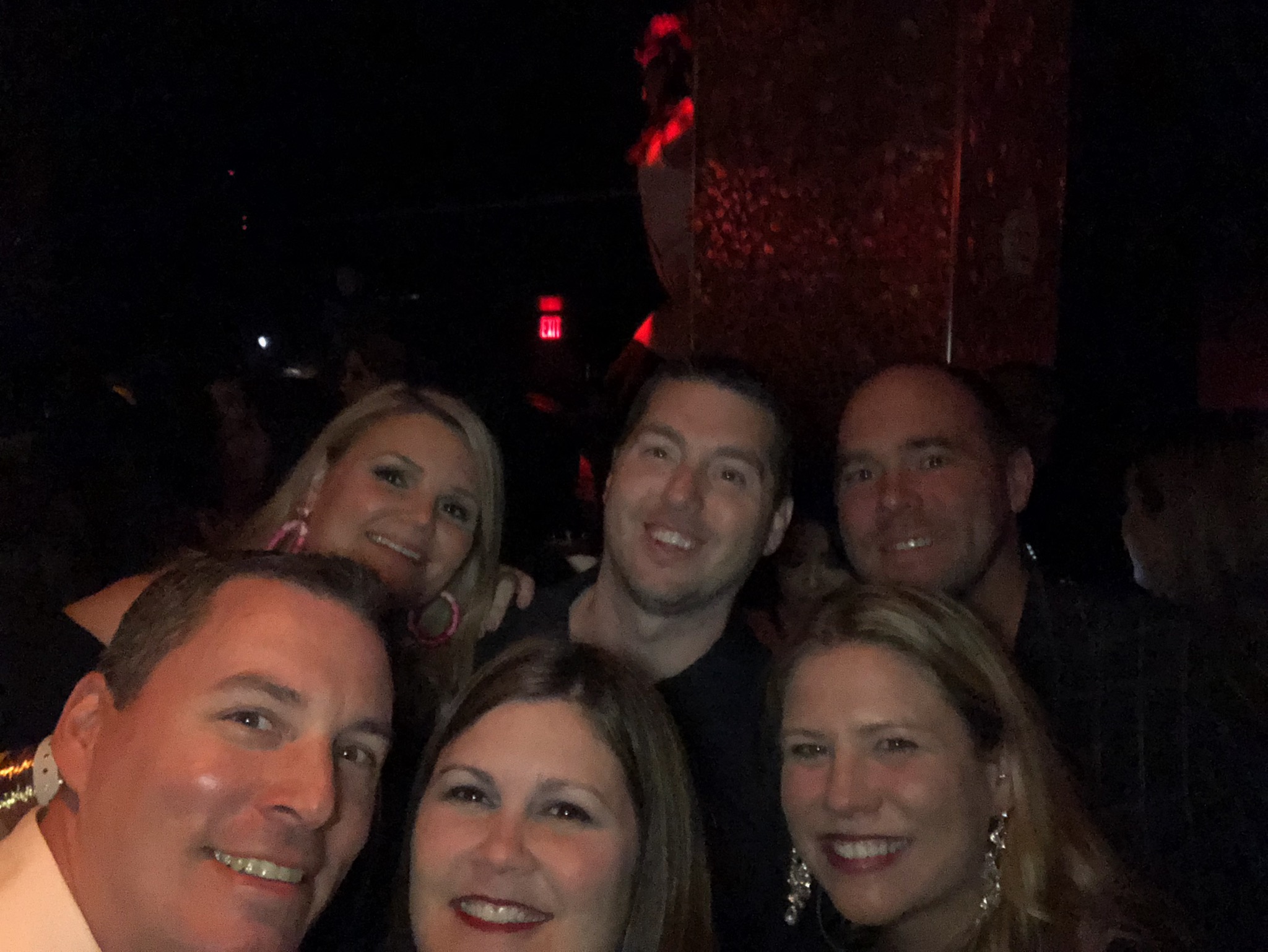 Day 4 (Sunday):
We had a lazy morning after partying late the night before, but eventually got ourselves together for some more sight-seeing on our last full day. Chris and Greg went across the street to Beer Park (at Paris hotel) to watch some football with a beer, then we ate lunch downstairs at HEXX. I had the best veggie pizza ever, and the waiter turned me onto dipping it into ranch dressing- definitely not the healthiest, but it was vacation!
Chris decided to stay at the hotel to watch his Cowboys play, while the rest of us drove out to the Seven Magic Mountains, about 20 minutes south of the Strip. I had seen pictures of this art installation on Instagram last year, and was so excited to get to see it in person! We weren't there for that long, but enough time to get in a bunch of pictures. There were several other people there so it was hard to get a clear shot, but it was super cool. There is no charge to visit.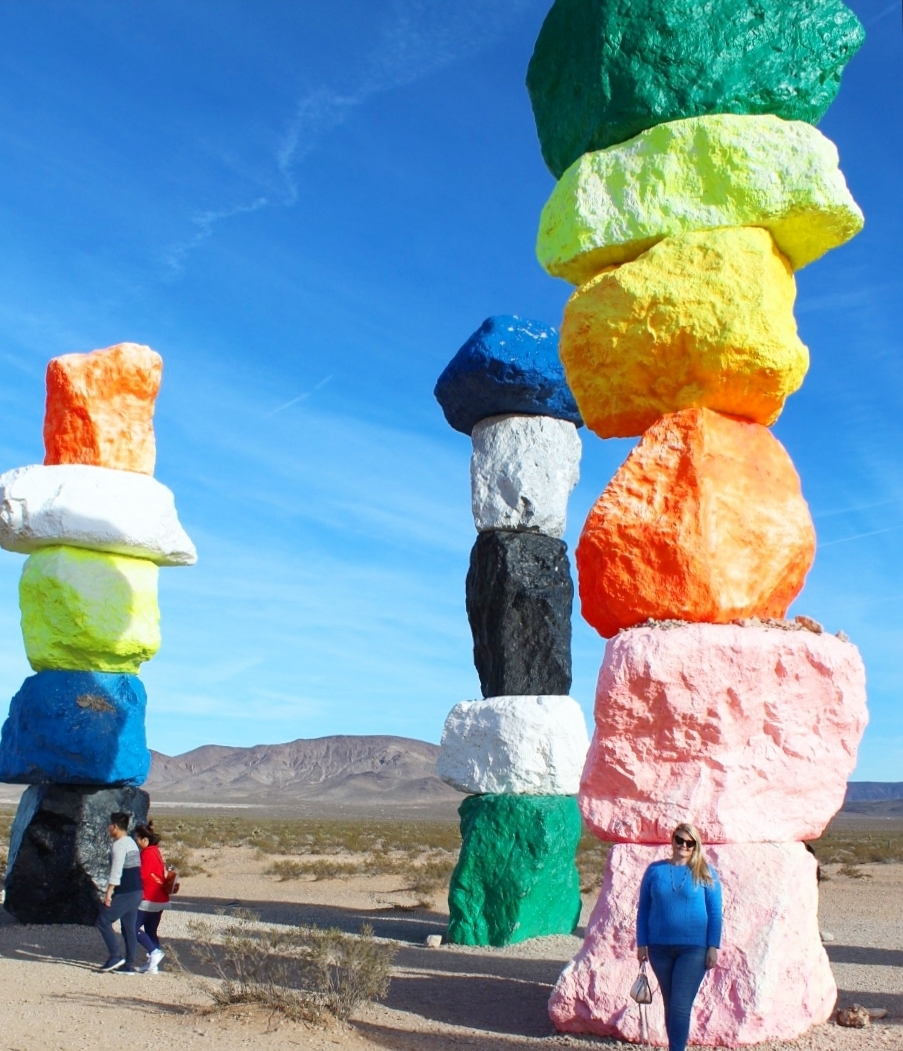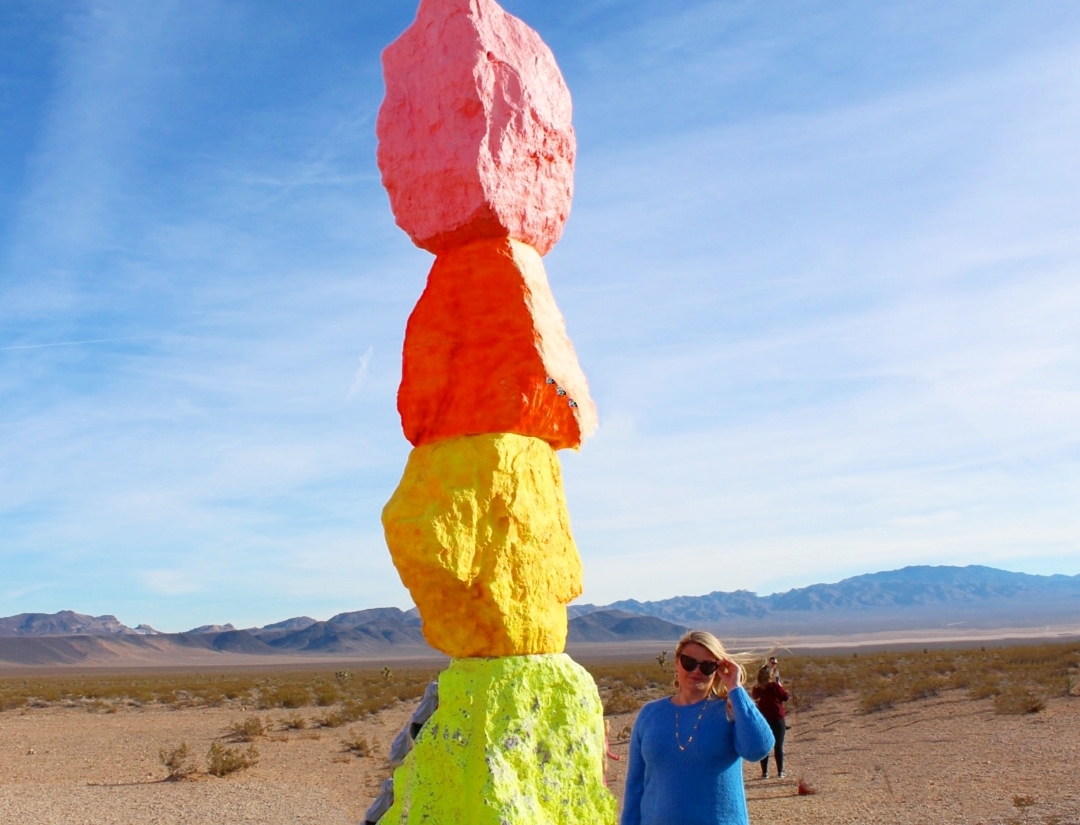 We stopped at the 'Welcome to Fabulous Las Vegas' sign while heading back to our hotel. The line for pictures was really long and slow! After waiting about 15 minutes, we ended up actually skipping the line and taking pics from the side to avoid waiting any longer. Other people were doing it as well, and I think the pictures turned out just as good as the straight-on pictures. If you plan on visiting this sign for pictures, and you should, you may want to get there super early, or be prepared to wait. Or, do what we did and just take off-center photos!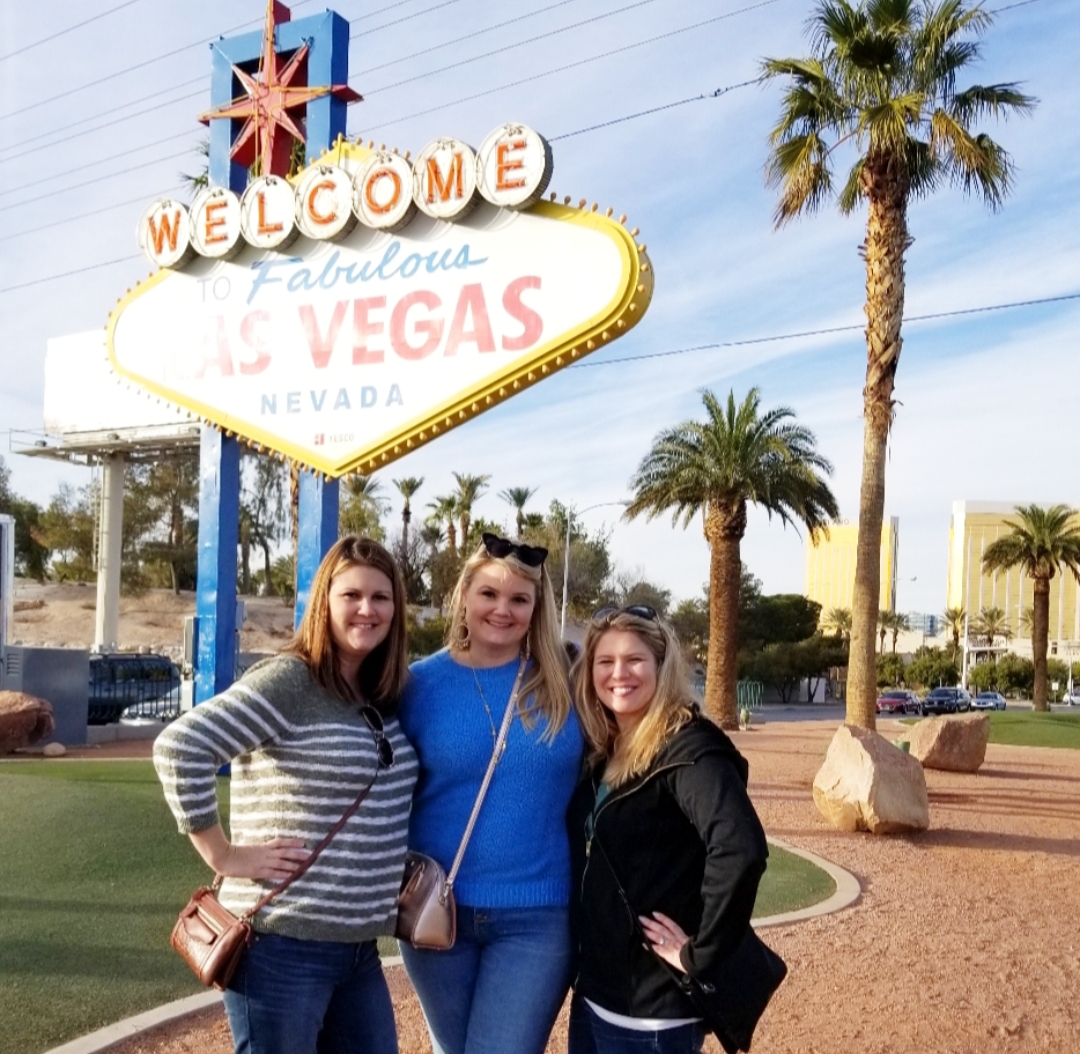 We went back to the Bellagio to change for the night, and walked next door to the Cosmopolitan Hotel. This was my kind of hotel! They had giant high heeled shoes and crystals and sparkly things all over! So fancy! We had a drink at their Chandelier Bar, which had a beautiful ambiance.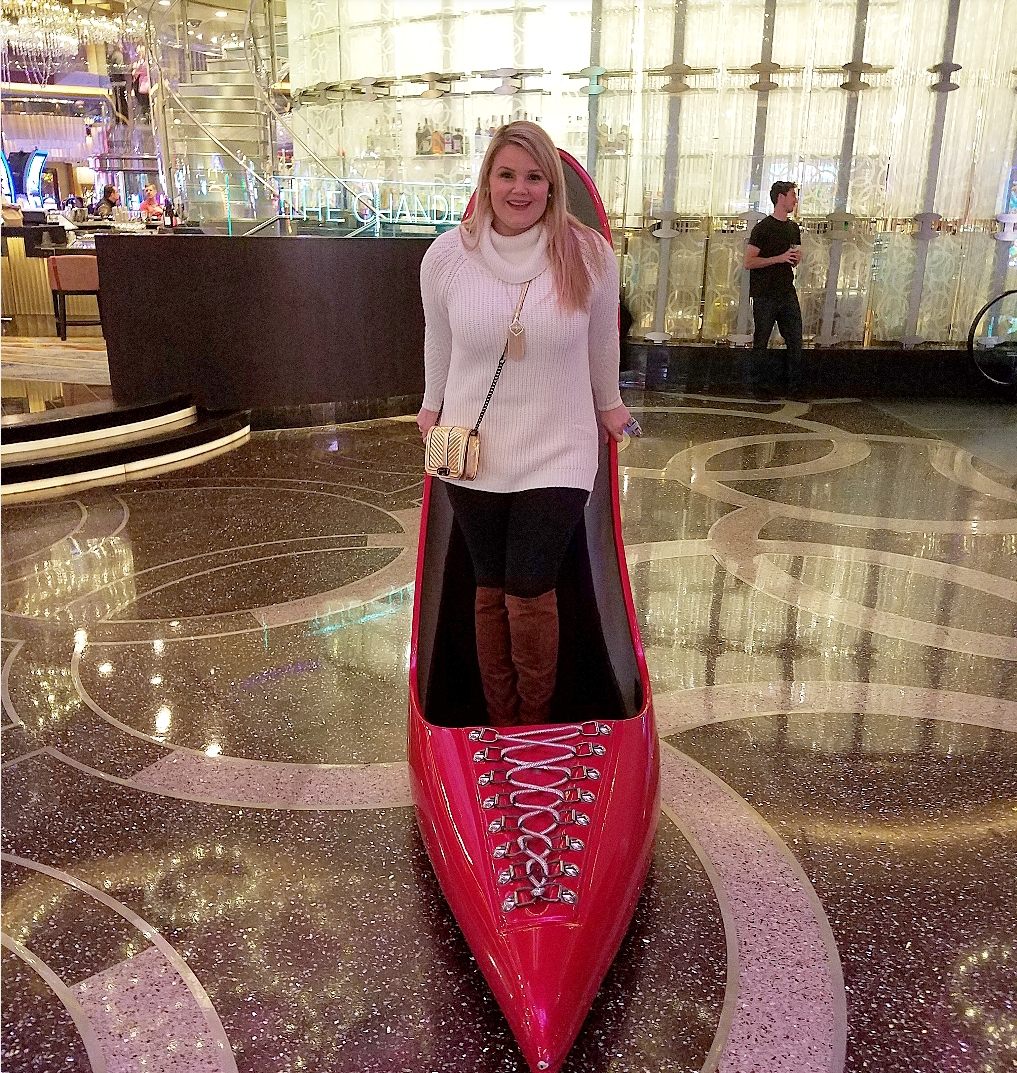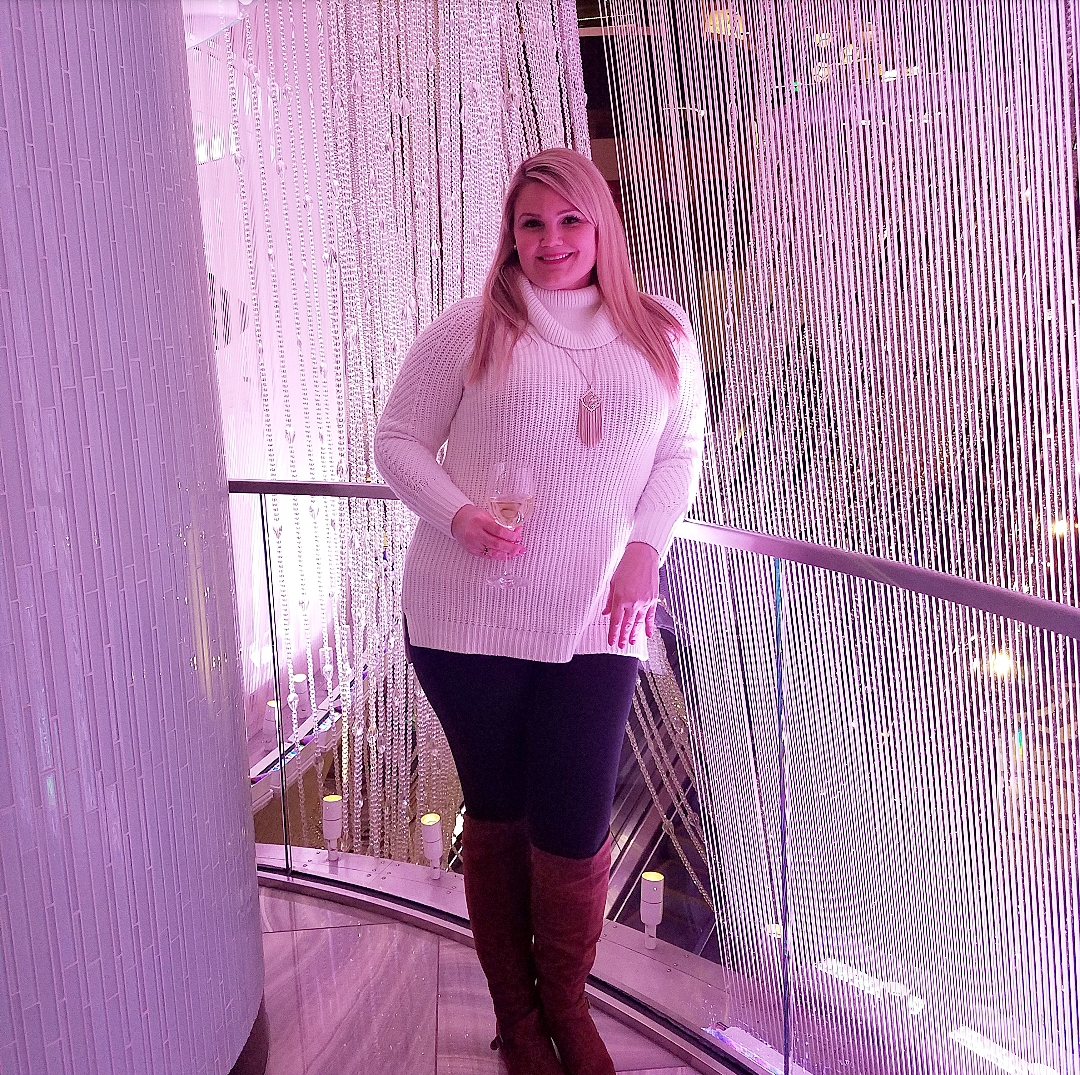 That night, we had tickets to the Cirque du Soleil Michael Jackson One show, in Mandalay Bay. The show didn't start until 9pm, so we went to Mandalay Bay early and had dinner at Border Grill, a Mexican restaurant within the hotel. It was really good, and my friends surprised me with a Dulce de Leche dessert for my birthday after we ate! We then each got another drink, and headed to the show. You guys, the show was so good! I was entertained the entire 90 minutes, and would absolutely recommend it!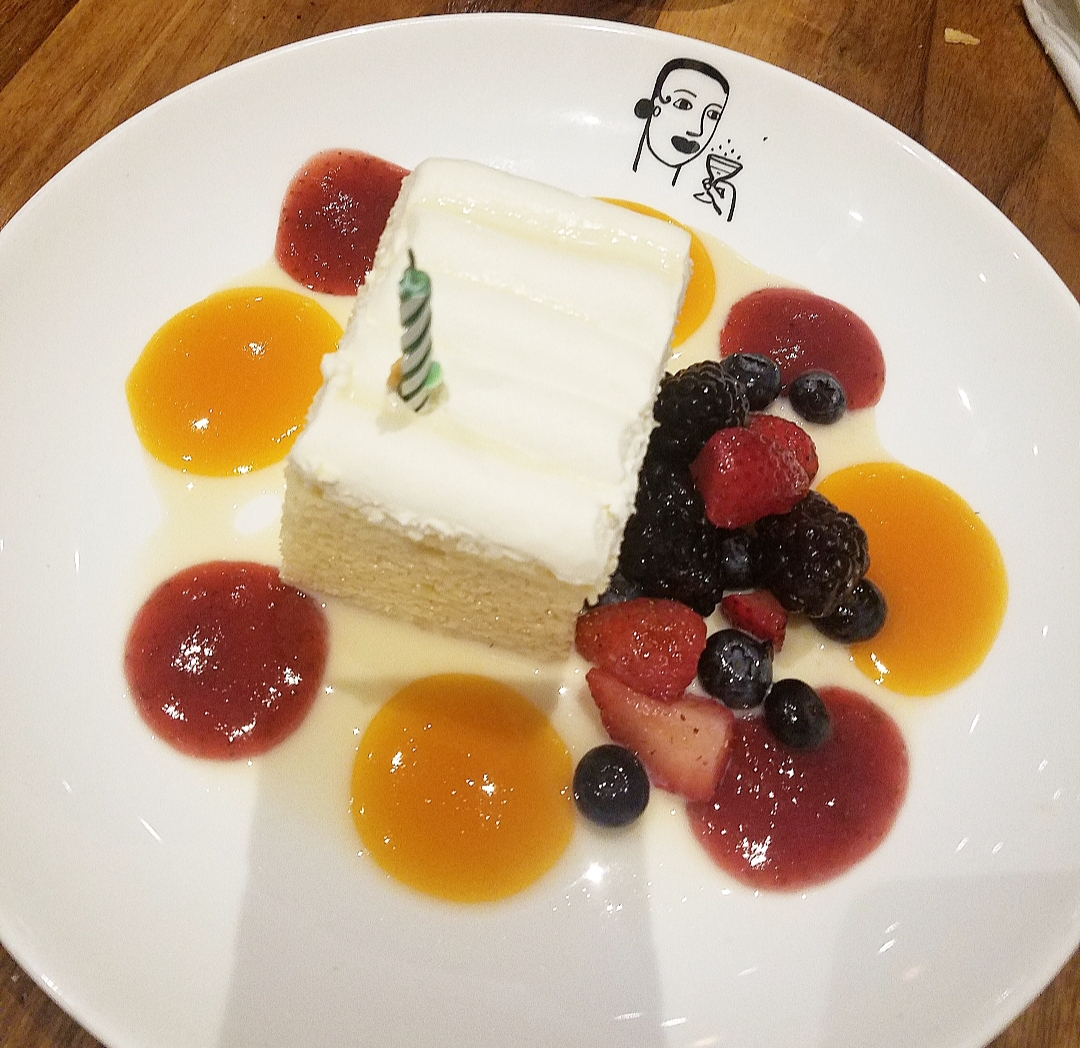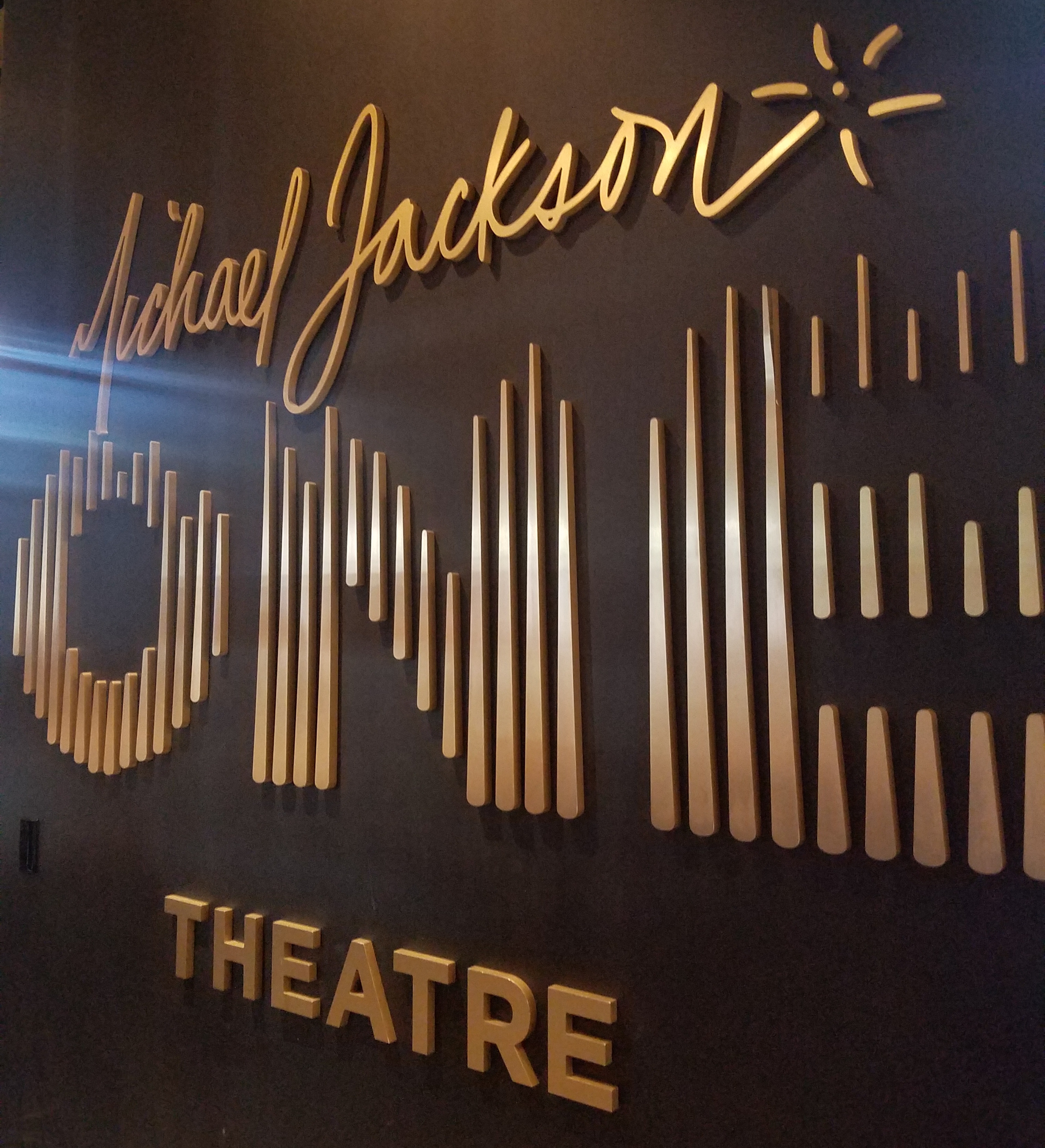 Day 5 (Monday):
Travel day! Our flight was at noon, so Chris and I just had breakfast downstairs at the Bellagio Patisserie. They have so many yummy looking pastries! But beware, the prices are high! The two of us each got a coffee, a pastry, and an omelet, and it came to over $60. But it was convenient and tasty, so oh well! We finished packing, checked out of our room, and took an Uber to the airport. The airport is really close to the strip, so the Uber ride was only about $11 (my sister and brother-in-law had an earlier flight and returned the rental car).
Overall, we had so much fun on this trip! I honestly could have used an extra day to do even more, but that just means I'll need to go back! When I went 10 years ago, I partied a lot more than I did on this trip, and did a lot less exploring. I wanted this trip to be different, and wanted to see so many things! So while we always had a drink in hand, we really only "partied" the one night. And it was wonderful! If you haven't been, go! There is so much to do and see, and we ate so much good food!
If you've been to Vegas, what other recs do you have for a first timer?