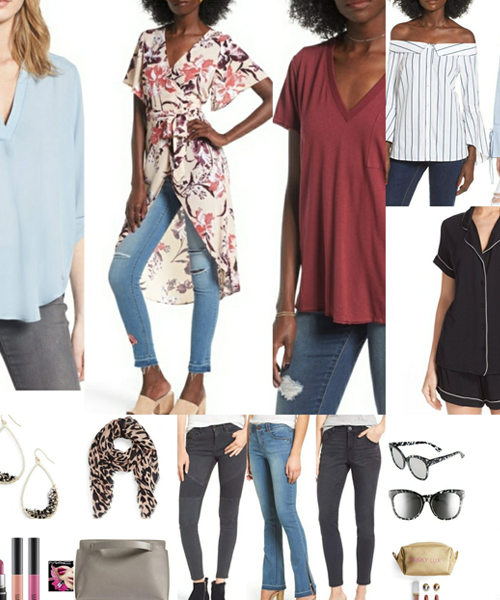 My Purchases & Returns from the Nordstrom Sale 🛍
Just like last year, I went a little crazy this year during the Nordstrom Anniversary Sale. But there were some great things on discount that I had to have. I did try to get more basics that would last several seasons- that was my plan going into the sale, and I think I did a pretty good job! Here I'll share what I bought and loved, as well as those items I ended up returning. I ordered everything below online since the nearest Nordstrom is an hour away and Nordstrom makes shipping and returning so easy. I'm also including how things fit, which hopefully will help the ladies out there who are more 'average' sized, like me! For length reference, I'm 5'9″.
What Worked: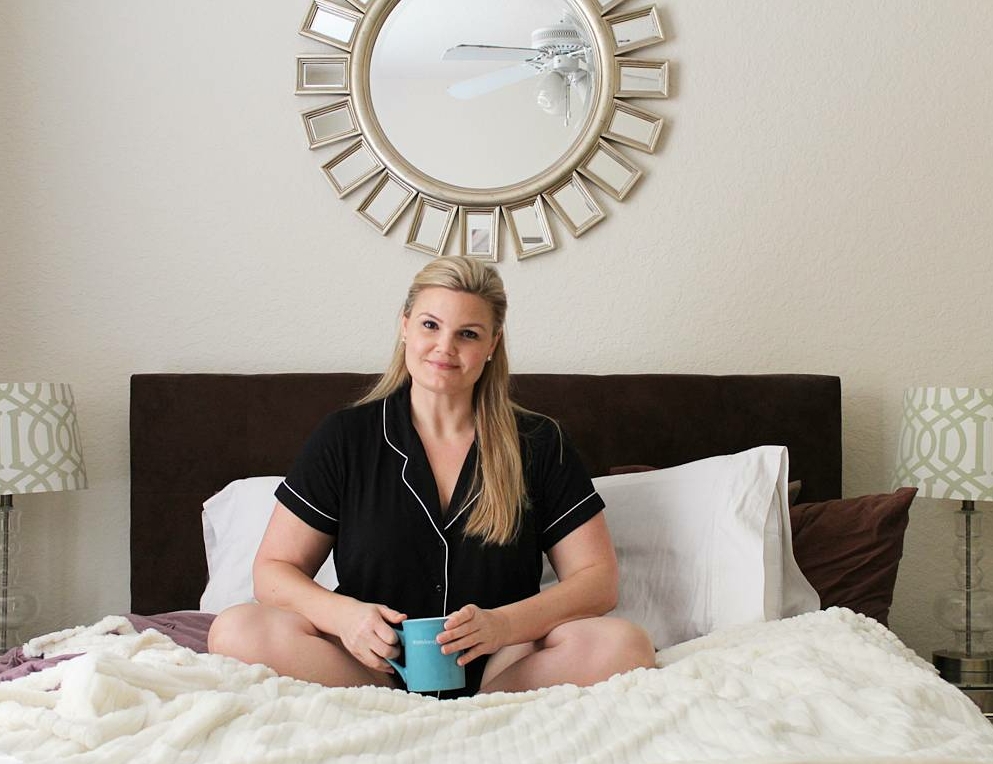 For starters, the Nordstrom Lingerie Moonlight pajamas I'm wearing above have easily become my favorite PJ's to wear since I purchased them. They are so soft and comfortable, and the shorts aren't too short for me. I got the large because I wanted to make sure the top and bottoms were long enough, but could have also easily gotten the medium, so I feel they fit true to size. Highly recommend!
This Lush Raw Edge Side Slit top was so popular that it sold out, was restocked, and sold out again and again during the sale! It's the perfect basic tee, and I especially like that it's longer in length. It's pretty roomy, but I ordered my normal size and it's perfect. I got the red color and the white. Recommend!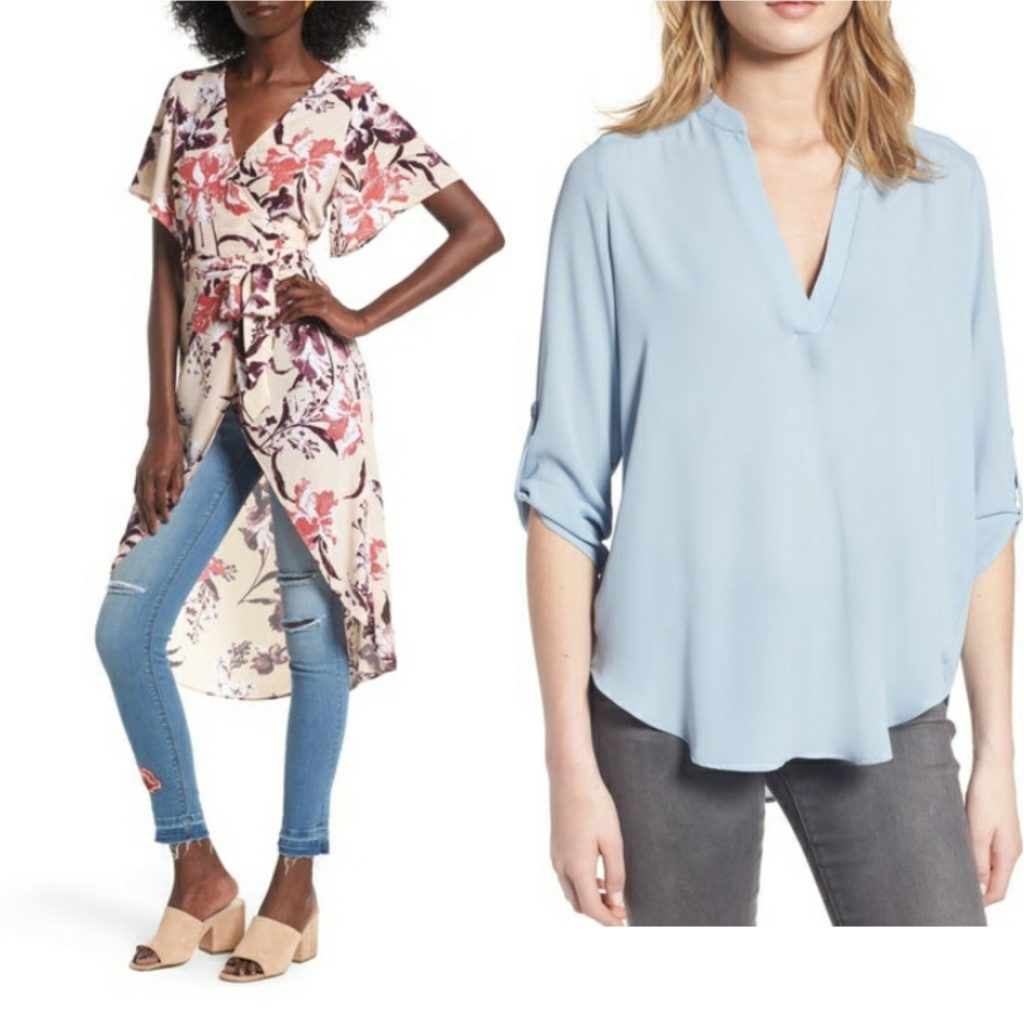 These tops are two more that I'm definitely keeping from the sale. The Leith Hi/Low Wrap Tunic on the left is the prettiest wrap! I almost didn't buy it because I was afraid it wouldn't look as good on a taller, larger frame. But I was wrong and I love it! It runs pretty true to size, but if you have a larger chest or broader shoulders like me, you may need a cami underneath. It doesn't close all the way across my chest, but I wore it with a white cami and it looks just as good (see below pic). The Lush Roll Tab Sleeve Woven Shirt, on the right, is an essential piece in my wardrobe! I own four colors in the longer tunic length of this top, and this length is just as good. Runs true to size. If you have larger arms, do not size down as some reviews suggest. The sleeves do not stretch. Recommend both!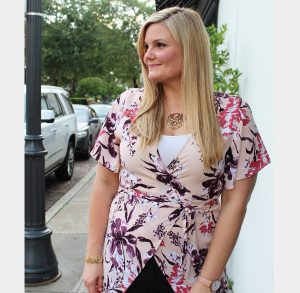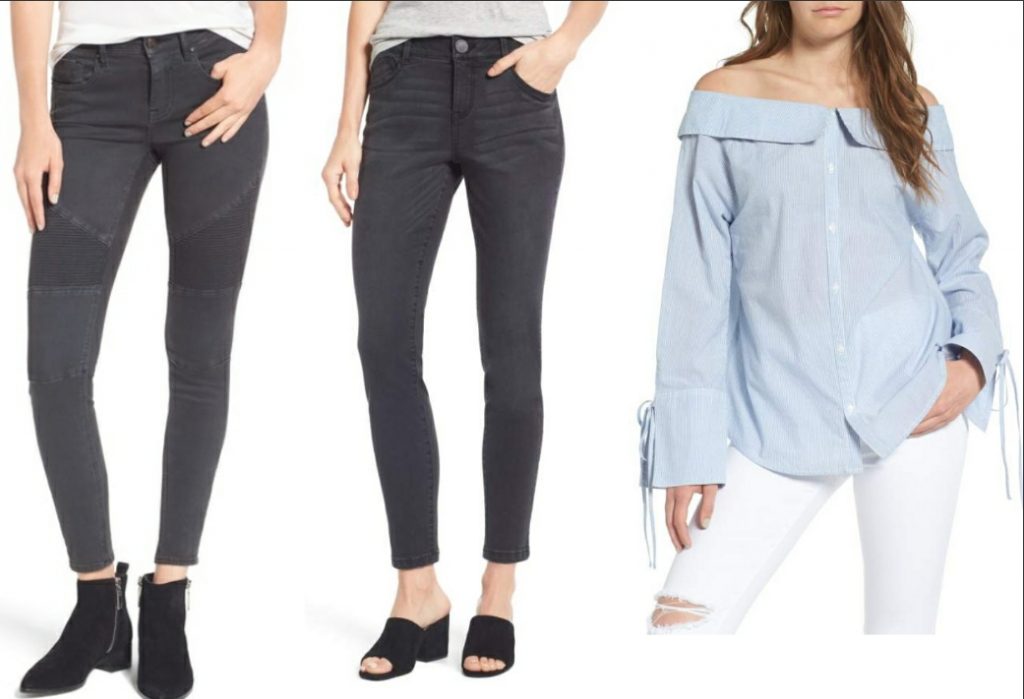 I probably did not need two new pairs of jeans that are essentially the same color, but each of these were $45, so I grabbed them up! I've been looking for a pair of moto jeans for some time, and the Vigoss Moto Skinny Jeans (left) have fit the bill! They add a little more edge to your average skinny jeans, and these are stretchy. I like that the inseam is a little shorter so I can pair these with booties or ankle-strap shoes. The Wit & Wisdom Ab-solution Stretch Ankle Skinny jeans (middle) in gray are so comfortable and flattering. They have an internal elastic waist band that is supposed to smooth and hold you in. I'm not sure about that, but I did notice that they did not slide down at all while wearing, which can be a problem with stretchy jeans sometimes. And, they make my butt look good! The BP. Portrait Collar top on the right was a last minute purchase, and I half-expected to return it once I tried it on. But nope! Super cute! It is not as baggy on me as the model, and the sleeves are not as drapey- it may be because of my height and broader shoulders, but it works. There's elastic in the back so the portrait collar is not too tight. I bought my regular size in this. Recommend both jeans and top above!
The accessories and beauty items in the sale were pretty fab, and it was hard to not buy a ton of stuff! The Panacea Crystal earrings (top left) are even prettier and shinier in person, and will match almost any outfit. They also come in a pale blush color. The only cold-weather item I bought was this BP. Leopard Print Scarf (top right). Since I live in Florida, I couldn't justify buying a bunch of sweaters since we really only get cold for about a week. But we do have several days where a long sleeve shirt and lightweight scarf is just perfect. I'm a sucker for anything leopard print, and at under $12, this scarf was a total steal! I've told you all before that I now probably own just as many clutches as I do purses with straps. Well, add one more clutch to the collection! I was looking for a gray clutch in faux leather, and this BP. Clutch (bottom right) not only matched that, but it's also super roomy (fits my large wallet, phone, lipgloss, keys, compact, and more), and I love the strap on the side to slip my hand through. I wish it was a little darker gray, but I'm still keeping it. It also comes in other colors and is just $23 during the sale (see below pic). I usually do not buy makeup online unless I've tried the colors out beforehand, but I went ahead and ordered this MAC Box in Baby Be Cool. I almost got the nude kit, but my fairer skin does better with pinks. The little lipsticks and lipglosses are super cute and portable, and the colors are pretty. One of the colors is pretty bright but can be toned down with the lighter gloss. Recommend all four!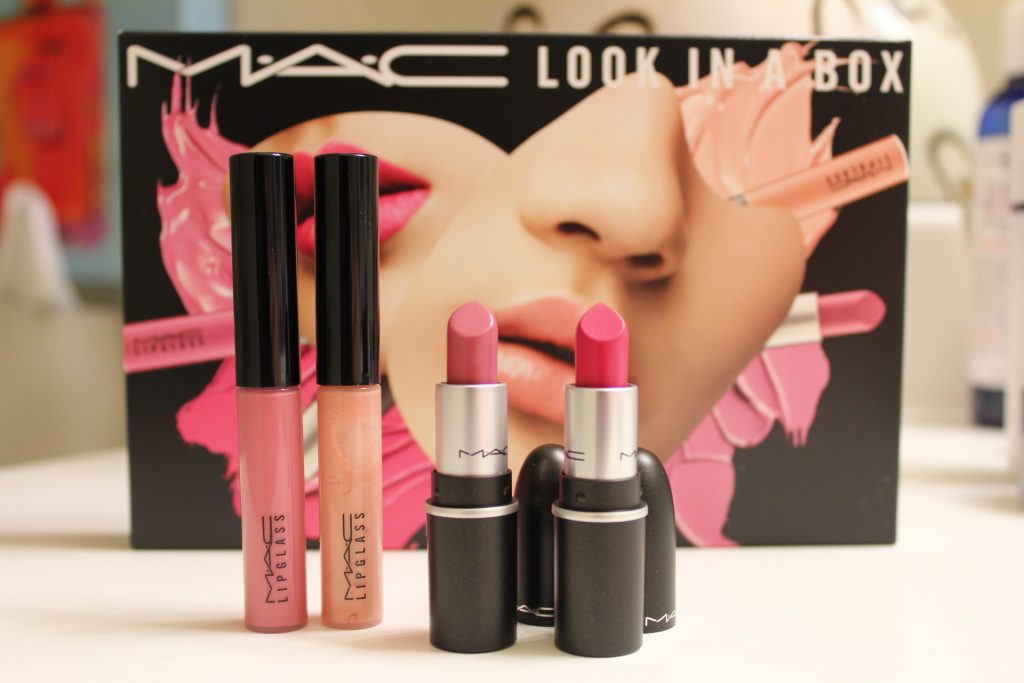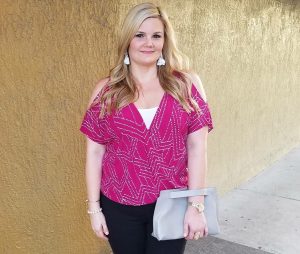 What didn't work: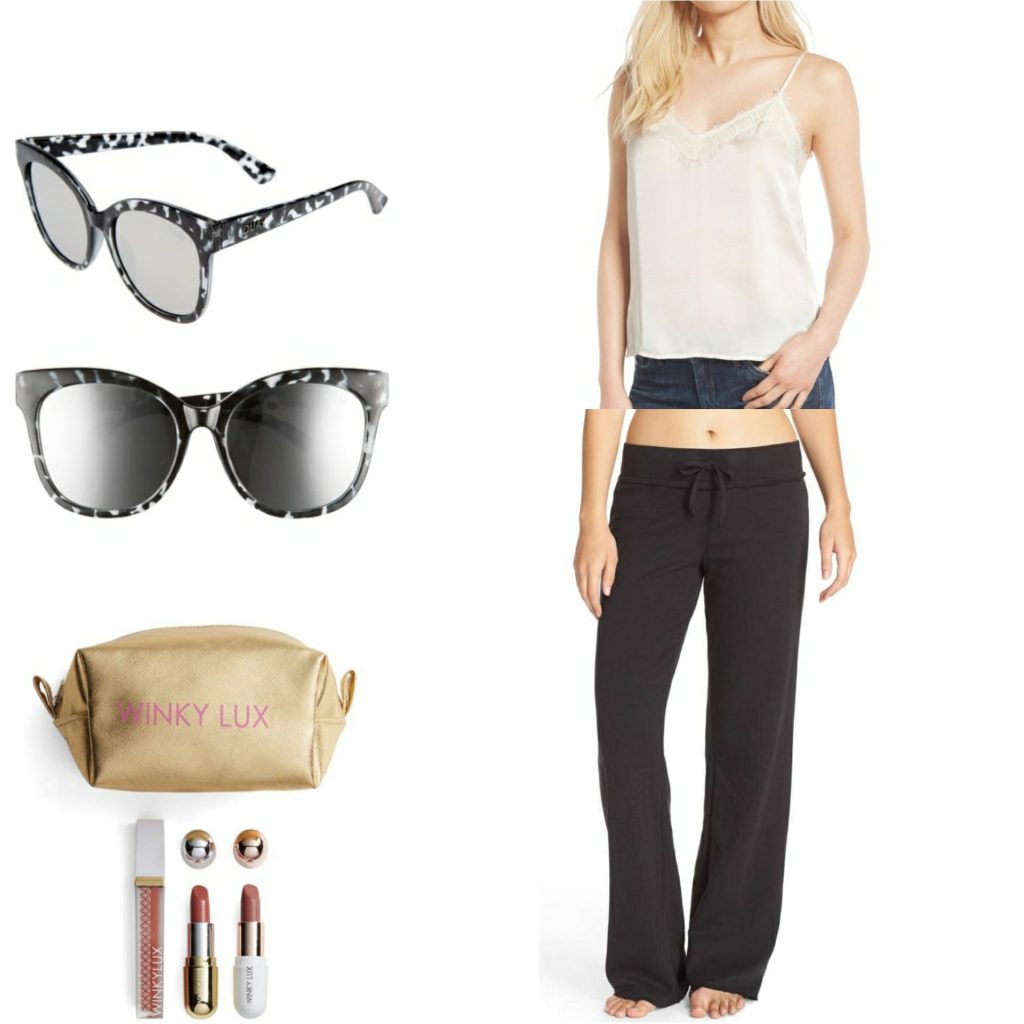 I love oversized sunglasses, so I was excited to receive these Quay It's My Way sunnies (top left). But they looked too big on my face and felt a little cheap. I returned them. I saw so many bloggers singing the praises of this BP. Lace Trim Camisole (top right), so this was one of my first purchases. Unfortunately, it didn't work on me- it was snug across the chest but loose in the stomach area, and was about two inches too short. It would likely fit a smaller frame and smaller chest better- returned. After being so happy with my pajamas in the second pic in this post, I ordered these Nordstrom Lingerie Lazy Mornings Lounge Pants so I could switch out to longer pants when I wanted. Although comfortable, they weren't quite as soft as the other PJ's, and the legs were quite wide and again, about two inches too short on me. Also returned. I was also excited to receive the Winky Lux Your Bestie The Nudes three-piece set, but the colors look much browner on me than they look in the photos online. The textures were nice, but too dark for my fair skin. This kit was returned, but I would recommend it for anyone who wants true nude shades.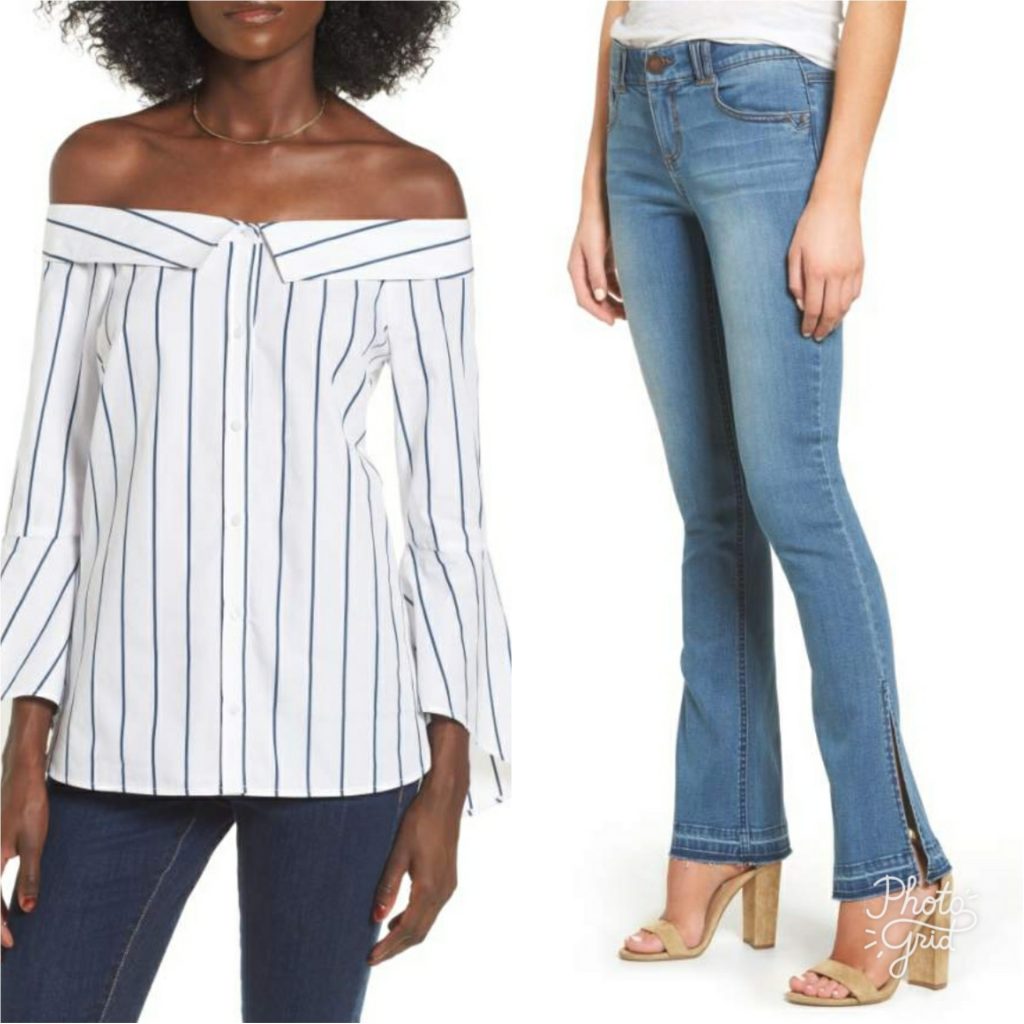 I ordered the Leith Portrait Collar Blouse (left) at the same time as the BP. Blouse earlier in this post. I really liked this one online but some reviewers did not recommend it for broader shoulders, so on a whim, I got both tops and said I would return whichever didn't work once I tried them on at home. I couldn't even get this one over my arms in my normal size! There's no stretch at all in this one, so if you have broad shoulders or bigger arms, you probably want to skip this one or size up. After I received my gray Wit & Wisdom skinnies and wore them for a day, I immediately came home and ordered this pair (right) of Wit & Wisdom Ab-solution Split Release Hem Jeans. They are just as soft and comfortable as the other pair, except the cut just didn't work for my shape. They felt like they fit big too- I might recommend sizing down. The inseam was also a little short for me; the hems ended at the top of my ankles, and then flared out and just looked like I was wearing too-short jeans. I have larger thighs too, so it didn't balance out. If you are tall and carry weight in your thighs, I wouldn't recommend these. If you are thinner and shorter than me- go for it! Both of these items are being returned.
To be determined: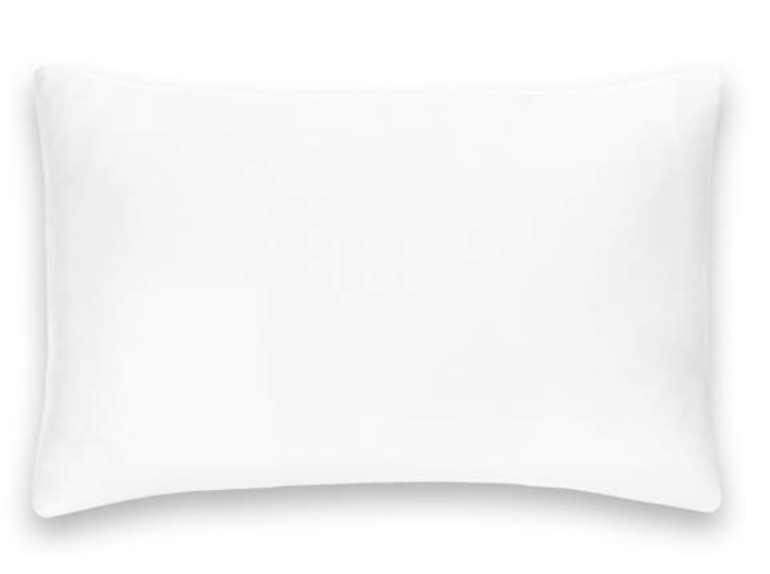 I've always heard that you should sleep on a silk pillowcase to prevent creases and wrinkles on your face, and prevent hair tangles while you sleep. These Me Glow Beauty Boosting pillowcases are supposed to do even more for your skin with copper-infused threads. Whenever something claims to smooth fine lines, I'm all in for trying it out! I went ahead and ordered one pillowcase because it had good reviews and is on sale, but only time will tell if it works- I'll keep you guys posted!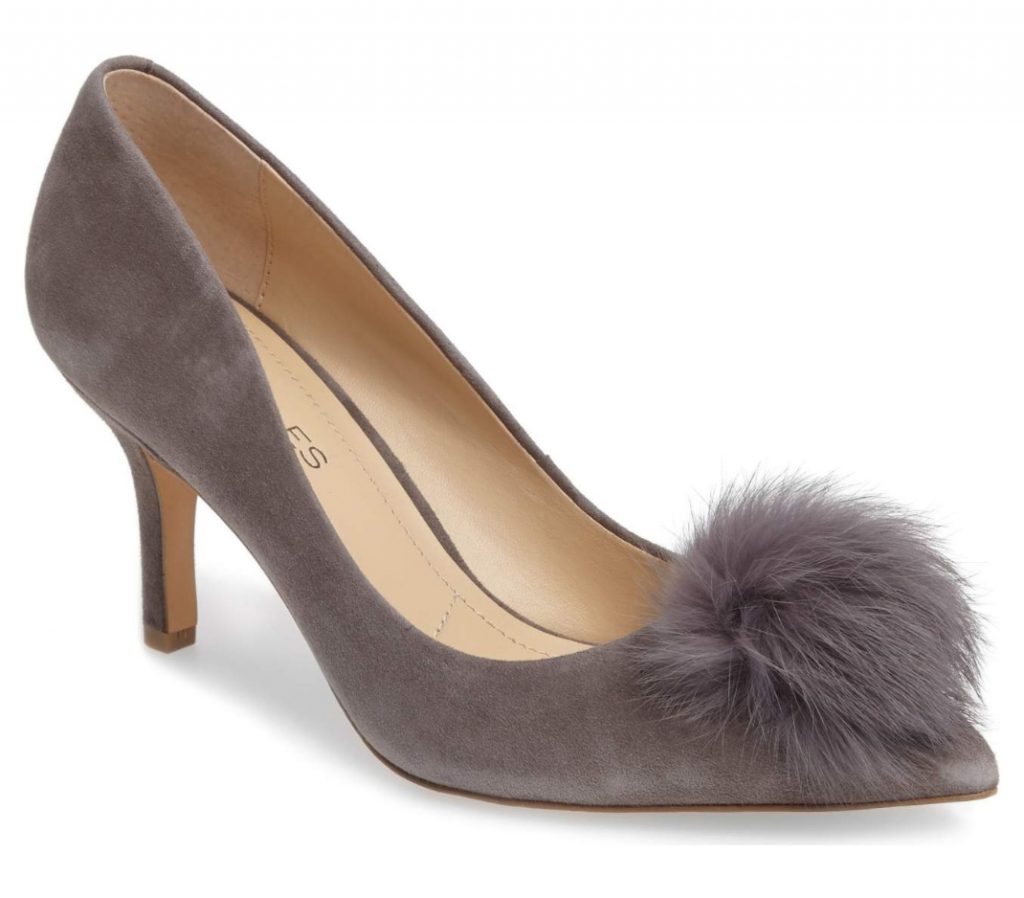 I ordered these slate Charles by Charles David Sadie Pumps last week, but they haven't arrived yet so you'll have to wait to see what I think! I'll update this post once I get them though!
Ok, phew! I love the Nordy Anniversary Sale, but I must say that I'm glad it's coming to an end in a few days so that I don't keep buying more stuff! Overall, I am super happy with the things I'm keeping and think they are all great basics that will stand the test of time. And honestly, I'm happy that I returned some stuff, because I did not need to spend so much money!
What did you find and love in the sale this year?