Poshmark Tips and Tricks: How to Buy and Sell on Poshmark
These Poshmark tips and tricks were originally published in April 2017 and updated in January 2020.
I love a great deal as much as the next person, and the easier it is to find one, the better.
About five years ago, I was introduced to Poshmark by a coworker, after I complained about my over-stuffed closet. Poshmark is a phone app, compatible with both Apple and Android, where you can sell and buy new or gently used clothing, shoes, and accessories. It started as an app with only women's items, but has expanded into children's and men's clothing and accessories, and even home decor.
Poshmark is different than eBay in that you have to gain followers (like Instagram), and you have to "share" your items to generate views. People can search for and purchase your items without following you, but the most successful "poshers" are those with a healthy following. Here's a screenshot of my Poshmark closet!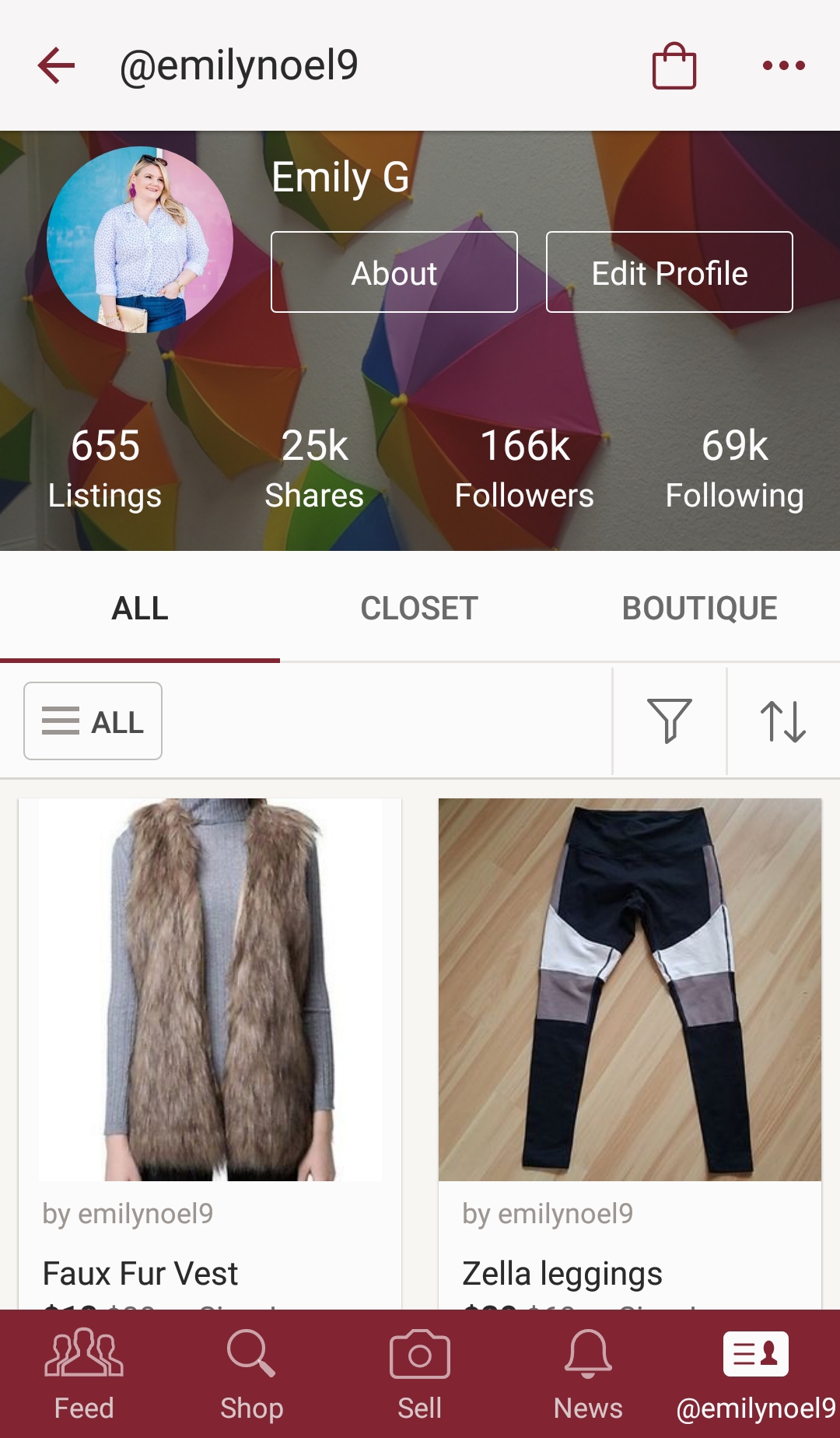 Poshmark Tips and Tricks: How to Buy and Sell on Poshmark
I've sold thousands of dollars worth of clothes, shoes, handbags, and jewelry on Poshmark over the years. I am a "Posh Ambassador," which means I've followed the rules, have a good selling and buying history. It's been a catalyst for me to clean out my closet more frequently, and I've made back some of the money I've spent purchasing these items. So I've put together a buying and selling guide for you, with Poshmark tips and tricks to make your experience easier and more profitable!
5 Top Tips for Selling on Poshmark:
1. Only sell items that are not damaged, ripped, or stained.
The best way to earn trust of other Poshers is to have quality items that are new or gently used. You may not wear the item anymore because it doesn't fit your style, but it should be in good condition and wearable.
2. Take clear, well-lit pictures.
Poshmark allows 8 pictures per item, and I recommend taking a minimum of four or five pics. As a side note, Poshmark photos are square, so I recommend taking your photos directly within the app. You can upload photos but they will be cropped in the app.
3. Price fairly.
Poshmark does take a 20% commission when you sell an item; it's how they keep the app up and running. While 20% is more than other places, they make shipping extremely simple. Once someone purchases an item, Poshmark emails you a shipping label. You then just tape the label onto your package and drop it off at the post office. You can use any box you want, including the Priority Mail and Flat Rate boxes that are free at the US Post Office. When pricing your items, you do have to take into account the 20% cut. The buyer pays for shipping, which is currently $7.11 flat for any item purchased, as well as tax. I recommend searching for similar or the same items on the site first before pricing your item, to remain competitive.
4. Always include a thorough description of the item.
Including any wear, condition, and measurements increases your chances of a sale. Details are key.
5. Follow other poshers and share their listings.
When you first start out on Poshmark, you'll have very few followers. So you have to be active on the site by following others, sharing their items, and sharing your own items. A lot. Poshmark has "parties" several times per day that each have a unique theme, such as "Best in Tops" or "Louis Vuitton, Gucci, Valentino." These parties are the best way to get more views and followers. You simply "share" your items that fit the theme during the party, and you'll automatically be visible to anyone else searching or sharing during that party. The more you follow others and share, the more people will see your items, leading to more sales. It does take some effort to build your following, but it is worth it (and easier than Instagram!).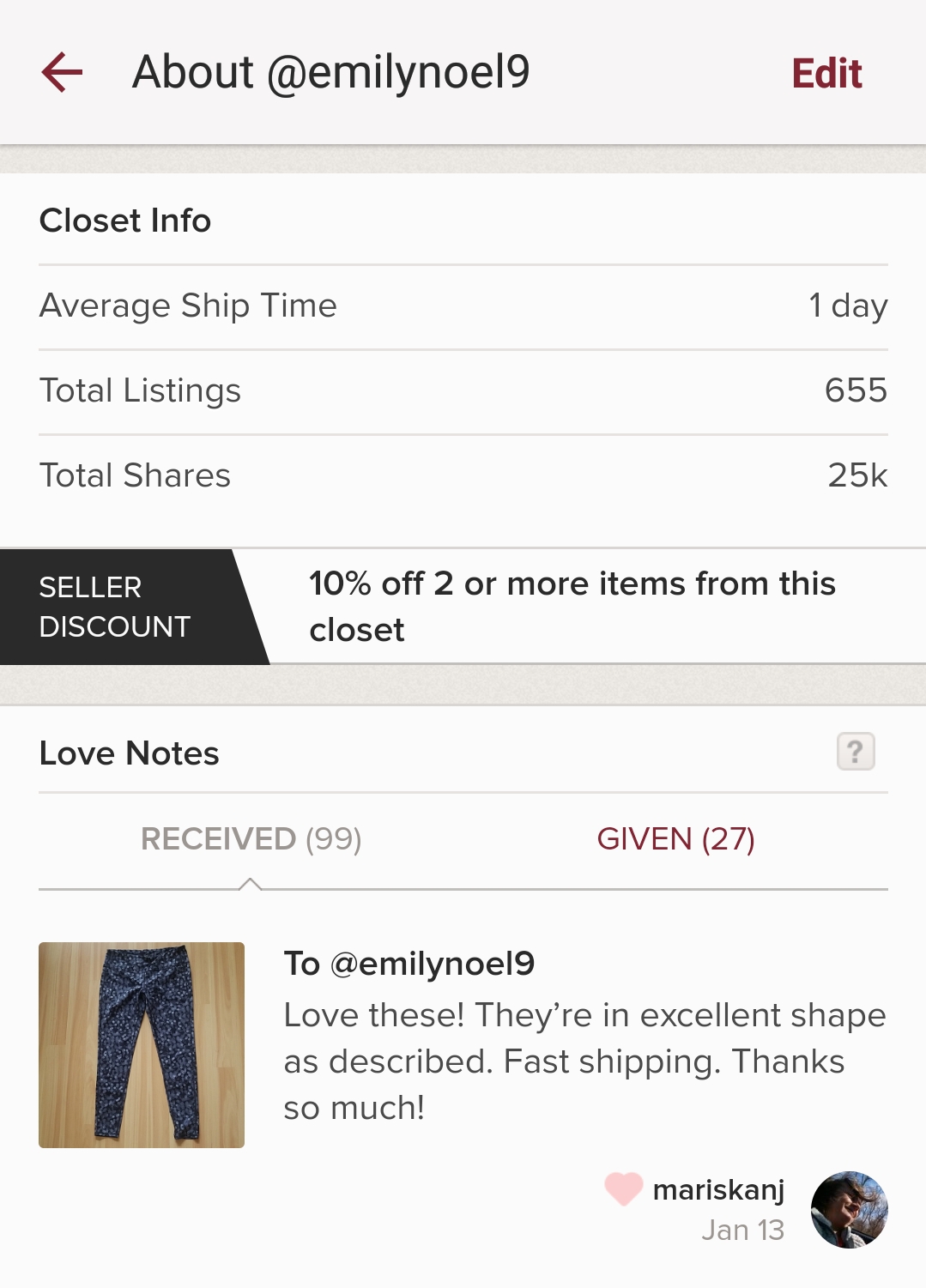 5 Top Tips for Buying on Poshmark:
1. Do your research on the seller.
When you first join Poshmark, you may get sucked into the thrill of purchasing items at a discount, like I did and end up with things you may not love. In my first year, I spent more than I made. Now I'm much pickier about what I buy, and it has to be something I've been searching for. Now, before purchasing, I check out the seller's page to see what else she has sold and to see her feedback. A good thing about PM is that each seller has an About page that includes their positive feedback received. If you notice that someone has sold a ton of items, but no one has left any positive feedback, you may want to ask more questions to get as many specifics as possible. I posted a screenshot of my About page above.
2. Bundle items for a discount.
Poshmark has a bundle feature, and each seller sets their own discount if you bundle 2 or more items from their closet. My personal bundle discount is set at 10%, but you can also add several items to a bundle, and make an offer that is less than the established discount. If you want to purchase an item, check out the rest of the seller's closet to see if you can get a discount if you purchase multiple items.
3. Don't make low-ball offers.
Poshmark gives the buyer the option to make private offers on items. I generally accept any offers that are within 10-15% of my listing price. There's nothing more insulting than when someone makes an offer that is more than 50% off my asking price.
4. Research the item you are considering.
Before purchasing something on Poshmark, mostly if it's an item over $50, I search for other listings of the same item and compare prices, condition, and history of the seller. I've purchased items in the past, and then found the same item at a lower price a couple of days later. Ugh, it's the worst! So just make sure to look around first before hitting that purchase button!
5. Provide feedback to the seller once the item is received.
If the item comes as described, undamaged, and adequately packaged, make sure to "accept" the item so the seller can get paid, and leave a fair rating with feedback. I almost always give a 5 star rating unless the item is not as described or is damaged. Don't give a lower rating just because something does not fit or you decide you do not like it. And if you love it or the seller packaged your item beautifully, make sure to provide that feedback- it will give you the option to write feedback once you accept the package on the app. Sellers love to get positive feedback!
Have fun on Poshmark!
After these Poshmark tips and tricks, if you decide to download the Poshmark app to buy and sell, remember to have fun with it! I love using the app and am on it daily. It's such a great way to clean your closet and possibly add some discounted designer items that weren't in the budget at retail price.
My best purchase yet was my Louis Vuitton Neverfull MM in Damier Ebene- it currently sells for $1260 at the LV store. I found my bag on Poshmark that is a few years old, but in great condition, for just $710. No one would know that it is secondhand and I saved almost half off the regular price. And Poshmark has an authentication service when you purchase an item over $500. If the buyer chooses to use the service, it is first shipped to Poshmark, they authenticate it and then send to the buyer with confirmation of authenticity. It's a great service for those higher-end items and it's free!
Let me know if you currently use Poshmark, and if you've gotten any great steals! I'd love to hear about your Poshmark tips and tricks!
Oh, and check out my Poshmark closet: my username is emilynoel9. If you sign up for Poshmark, be sure to use the code EMILYNOEL9 to get a $10 credit! If you see something you like in my closet, let me know you read this blog and I'll give you a good deal!