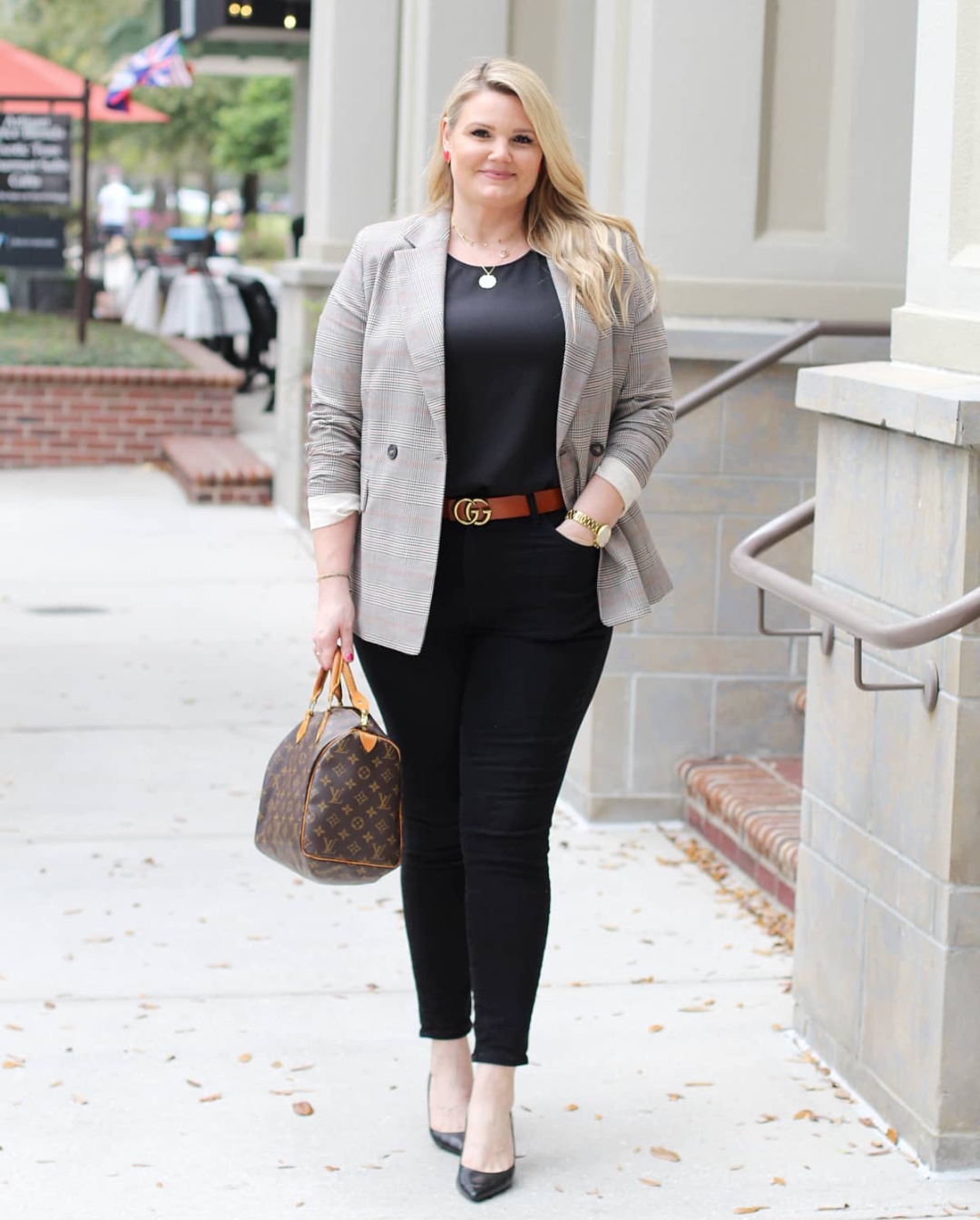 10 Wardrobe Essentials for Work
Dress for the job you want, not the one you have.
I've been working a full-time office job since 2005, so I have quite a bit of experience in building my work wardrobe! My office is considered business casual, and many people wear jeans pretty often. While I love having the option of wearing jeans, I usually save them for Fridays. I actually really enjoy getting dressed for work. There's something so satisfying about putting on a blazer and heels and feeling professional!
I put together my top 10 must-have workwear wardrobe essentials here; as well as some tips on what not to wear! Whether you've been in the workforce for years, or you are just starting your professional career after graduating, these wardrobe essentials for the office are for you!
10 Wardrobe Essentials for Work:
1. Black Dress
This is probably the most versatile item on this list! You can wear a black dress anywhere, and it always looks pulled together. Here's some easy options:

2. Black Pants
Again, another incredibly versatile item! I probably own 6 pairs of black pants – they go with everything! Just don't fall into the trap of wearing black pants every day! A few great choices here:

3. Blouses/Camis
Having a few options of blouses and a couple of camis is necessary! I see so many people wearing tee shirts to the office (with black pants!). It makes such a difference, and just as much effort, to put on a nice blouse instead of a cotton tee! Also, while you should have a couple of camisoles for work, please do not wear them without a cardigan or blazer over them! No spaghetti straps in the office please! Here are some cute options out now:

4. Blazer
If you have followed my Instagram page for any amount of time, you know I love blazers! I own about a dozen different colors and patterns, and default to them when I want to look more pulled together. I also love wearing a great blazer with jeans on casual Fridays. It steps your look up a notch! Some of my faves:

5. Patterned Dress
While a black dress is a staple, you should also have a fun patterned or colorful dress in your rotation. There are so many pretty dresses out there, it was hard to narrow them down for this post! Make sure your dress is long enough for the office. I am tall, so I often have to order a long length dress or take out the hem of my dress. For reference, I am 5'9″ and I prefer dresses that are 38″ or longer for the office, and 40″ or longer is best! If you are shorter than me, 36″ should be fine.

6. Non-black Pants
Just as I recommend adding a patterned dress into your wardrobe, you should add in a pair of pants in a different color or pattern. I seem to always get compliments on my non-black pants! Here are a few great ones:

7. Pencil Skirt
Pencil skirts are so classic and flattering on so many body types! They just scream professional to me! I like that they are longer in length, yet fitted, so they have a good mix of modesty and femininity. But my advice is to wear a looser top with your pencil skirt instead of a bodysuit or tight top so you still look work-appropriate.

8. Black Pumps
I will always have a great pair of pointy-toe black pumps in my shoe rotation. When one pair gets worn out, I start my search for the next great pair. They need to be sleek, yet comfortable enough to wear for 8 hours. Here are a few great black pumps:

9. Nude Pumps
My nude pumps are probably the shoes I wear the most to work! They go with everything, and when paired with a dress or skirt, make your legs look longer. These are a must in your work wardrobe!

10. Flats
Not everyone wants to wear heels everyday. I get it. Some days when I know I'll be running around a lot or am conducting a training, I wear a pair of flats. Luckily, there are amazing, professional options all over! Check out my favorites here: