Blogiversary: 5 Fun Facts About Me PLUS a Beauty Giveaway!

I have always loved writing and have always loved style, but it wasn't until my sister convinced me to start a blog in 2017 that I actually put those two interests together. I started my blog by googling, "how to start a blog," and read as much as I possibly could on other fashion blogger's sites in order to start building mine. Once I launched my site on March 9, 2017, I was so proud of it! Now I look back at my first design and shake my head! We all start from somewhere, right?
I've since updated my website and made it look more professional (with help). I love my website but I also know there is always room for improvement. Who knows, it could look completely different for my 6th blogiversary!
In honor of my 3rd Blogiversary, I thought I'd share with you 5 fun facts you may not know about me, and hold a GIVEAWAY for my followers! Woohoo! The giveaway is super simple to enter- instructions are below.
Blogiversary: 5 Fun Facts About Me
1. I'm an extrovert and an introvert. I love being with people and socializing and talking, yet I also love being alone. I need a good balance to be most content.
2. One of my jobs in high school was as a phone psychic. Yep, you read that right. I was 17 years old and pretending I was reading people's tarot cards over the phone. It was all a script! It actually made me really uncomfortable. I didn't stay there long!
3. I changed my major 3 times in college. First, I was an English major because I wanted to be a writer. But the classes were so boring! So I changed to Communication, but because everyone wanted to be a Communication major, you had to be accepted into the program. And then I didn't get in! I was a junior at this point and panicked. I had taken a couple of psychology classes and really enjoyed them so I decided to declare my major as Psychology, without any future plans in place. And that is why I am now in social work!
4. I never wanted children. Don't get me wrong, I love kids and I absolutely adore my nieces and nephew, but I have never had that so-called biological clock ticking. When I was a teen and into my 20s, everyone said I would change my mind. I went through periods of thinking I should have a child, and seriously considered it when my first niece was born 14 years ago because I loved her immediately so much, but just never went through with it. Now that I'm older and know that it's likely never going to happen, sometimes I wonder if I'll regret it later in life. I could go on and on about this struggle as a woman, but I think that's a whole blog post in itself! Stay tuned for that one!
5. I live in Florida, the flip flop capital, yet I will only wear flip flops to the beach or to yoga. Rubber flip flops are the worst! Some people wear them to work, and I just can't deal! I love a great sandal in the summer, but just say no to flippity floppities!
 The Beauty Giveaway!
Ok, now that you got to know more about me, how about a little giveaway, just for supporting me and following me on this blogging journey? I will be sending this big bundle of goodies to one person: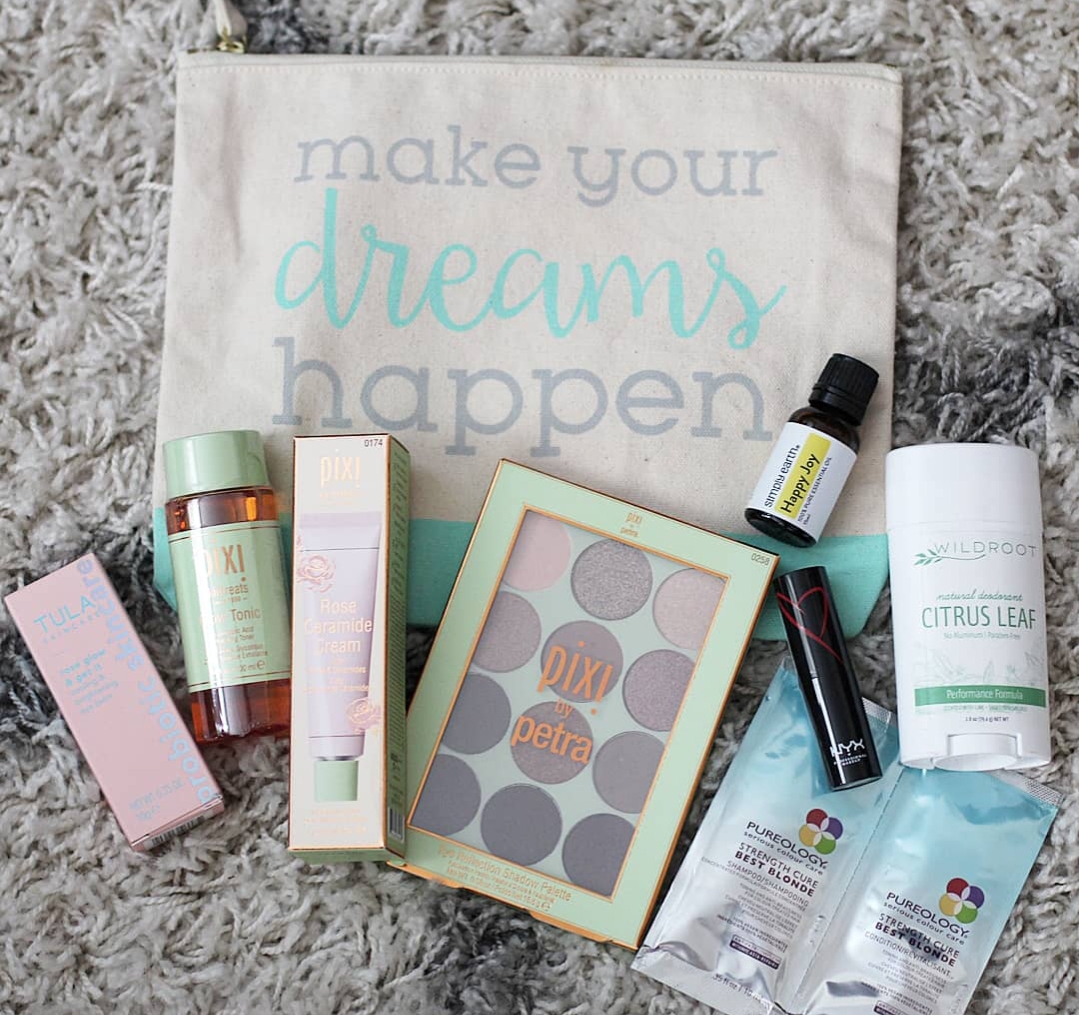 How to Enter the Beauty Giveaway:
Subscribe to my blog. You can enter your first name and email in the subscribe pop-up or on my side panel or bottom panel of this website.
Follow me on Instagram. Click here to head to my IG page.
"Like" my most recent 3 posts on Instagram.
Leave a comment below on this post- something about you or just saying hi! But let me know you are entering the giveaway in your comment and be sure to leave your IG handle in the comment too so I can get in touch with you if you win! As an alternative to leaving a comment below, you can also leave me a comment on my most recent post on Instagram to let me know you have entered.
And that's it! All of these products in the giveaway are amazing and I can't wait to share them with one of you! Giveaway will end on March 18, 2020. Good luck!
Shop my dress here.
You can check out my post from my 2nd blogiversary here!