How I Stay Organized *and* a Giveaway!
If you've been following me for any amount of time, you know that this blog is my second job that I work on at night and on weekends. During the week, I work full time as a development manager (leadership trainer) at a child welfare agency that serves 3 large counties in Florida. I also teach yoga on the weekends. You could say I'm busy! But I wouldn't change it- I love both my full-time job and creating content for my blog and Instagram, and cannot see giving up or scaling down on either any time in the near future. That is why time management and staying organized are so essential to my daily life. If I don't write it down, I'll likely forget it- so I write everything down! Here are some of the ways I stay organized day-to-day and month-to-month to make sure I am not only getting everything done, but getting everything done on time or early so that I still have some down time. And don't forget to enter the giveaway at the end of this post to win your own Erin Condren planner! It's the absolute best!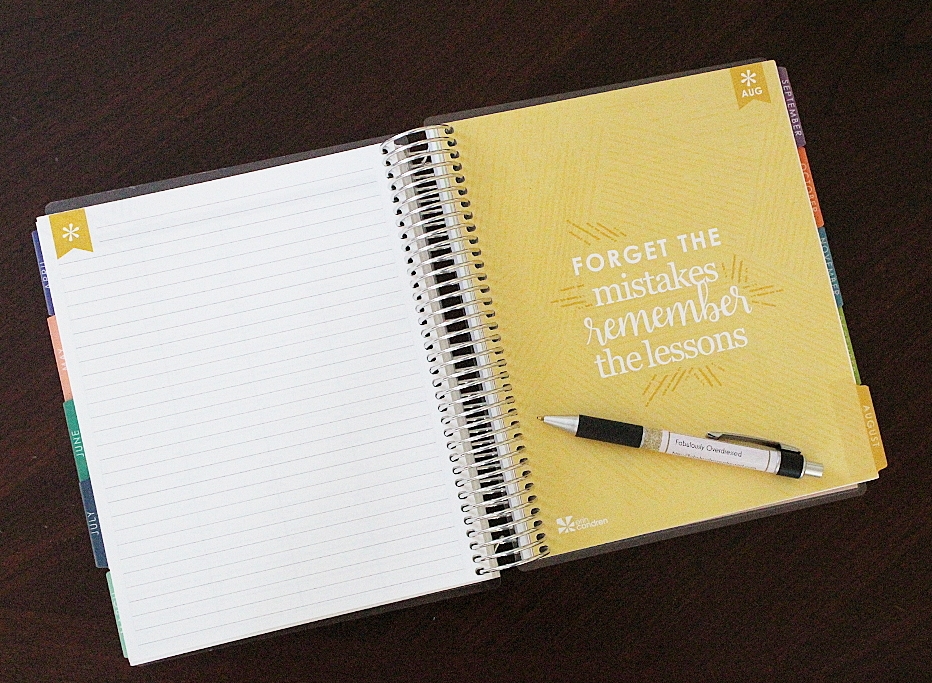 I mentioned this before, but I'll say it again- I WRITE EVERYTHING DOWN! Even if it's just to remind myself about a 5 minute phone call I need to make or copies to be made. Some may say it's excessive, but I keep two planners- one on my phone, and one with a paper planner. I have a personalized Erin Condren planner and I couldn't live without it. I keep both forms of planners because actually hand-writing appointments and to-do lists helps me remember them, and the phone planner can give me sound alerts a day before, an hour before, or 15 minutes before any appointments I track. In my Erin Condren planner, I chose the format that separates my days by the hour, so I can block out times of the day for meetings, appointments, trainings, etc. You can have your Erin Condren planner formatted to fit you! After I write out the appointment in my planner, I draw either a square around the set time for work related events, or a circle around the time for blog/IG related events. That helps me visually track which job I need to focus on.
I make a to-do list every week (sometimes every day!). At the very start of my week on Monday morning, I write down my to-do list in my planner (there's a specific spot for this in every week!). This usually includes reminders to follow-up with emails, which photos I need to take that week, and which sponsored posts are due that week. As I complete these tasks, I simply check them off. There are few things more satisfying than a completed to-do list!
Every Friday before I leave my office job, I check my schedule for the next week to see if there's anything I need to do before I go home for the weekend. If time permits, I try to get ahead and prep for the next week. For instance, if I am presenting a training next Tuesday, I'll print out all the PowerPoints, sign in sheet, certificates, etc. the Friday before so that I don't have to try to squeeze it in on a hectic Monday.
Every weeknight, I check my calendar for the next couple of days to mentally prepare for what's to come. I travel between 5 different offices in three counties for my job, sometimes all within the same week! So knowing exactly where I need to be in the morning before even setting my alarm is essential.
This is probably the most important tip I can give: After checking my planner each night, I pick out what I am going to wear the next day. I've literally been doing this since middle school. I actually used to write down my outfits everyday all through middle and high school so that I wouldn't repeat an outfit within a couple of weeks! I don't write down my outfits anymore, but it's not such a bad idea! But I would highly recommend taking the time before bed to choose your outfit for the next day. On days I don't do this, it takes me at least 15-20 extra minutes to get out the door, and I always get annoyed when I'm running late.
To stay more organized for my Instagram content, I keep track throughout the week (in my planner) of the outfits I need to shoot over the weekend. I try to shoot at least 3 different looks over the weekend so that weekday evenings are more open for events or just relaxing. I give myself due dates for sponsored blog posts or IG posts so that I will always have it ready in advance.
And lastly, the running theme throughout this post is to use a planner! I would be lost without mine- it is always with me! The older I get, the more I forget things that people told me or asked me to do, so I write it down. If I don't write it down, there's a 50% chance I will forget it, and I'm not willing to forget things 50% of the time!
Hopefully you can use some of these tips for yourself! Now you have the chance to win $50 to Erin Condren AND a $100 Amazon giftcard- woohoo! It's pretty simple- just follow through the steps in the Rafflecopter below and you'll be entered! Good luck!