Why Your Next Staycation Should Be At The Hard Rock Hotel Daytona Beach!
This post is sponsored by the Hard Rock Hotel Daytona Beach, although all thoughts and opinions in this post are completely my own! Save 20% on your stay at the Hard Rock with code EMILYROCKS.
Why Your Next Staycation Should Be At The Hard Rock Hotel Daytona Beach
Vacations have been canceled left and right due to Covid-19, including our cruise a couple of months ago. I've been stuck in the house for so long that I was going a little stir-crazy! I decided that a local staycation was in order, so we booked a two-night stay at the Hard Rock Hotel in Daytona Beach after learning that they were a model site for their Safe + Sound protocols to ensure top-notch safety and cleanliness. I've been scared to travel at all, so I wanted to stay within driving distance of Orlando, while staying on the beach. My boyfriend and I stayed at the Hard Rock in Daytona Beach last year and loved it. It was an easy decision! If you decide to book a stay at the Hard Rock, you can save 20% through my link here or use code EMILYROCKS at checkout!
Hard Rock Hotel Daytona Beach
We booked our staycation for a Tuesday and Wednesday night. It was great because the hotel wasn't as crowded and there was plenty of space to social distance. If you are afraid to travel during this time but need to get away, I highly recommend the Daytona Beach Hard Rock!
Traveling in the Time of Covid-19
There were multiple safety and sanitation practices in place that made me feel comfortable at the hotel, including: required face masks for all employees and guests as well as 6-foot social distancing markers on the floor; a maximum of two people allowed in the elevator at a time (unless within the same family); no housekeeping entering your guest room during your stay; hand sanitizers located throughout the hotel; temperature checks before entering the on-site spa (and only two people allowed inside at a time) and temperature checks daily for all employees and vendors; luggage sanitation; a seal of safe + sound on every guest room door upon check-in; and social distancing at the pool area. You can read more about additional procedures here.
Parking Options
You have the option to valet park or self-park your vehicle. To be extra safe and avoid having anyone else in my car, we chose to self-park, which is free. There are two self-parking lots across the street from the hotel. Also, when we got into our room, I did some additional cleaning of my own with Lysol spray and wipes.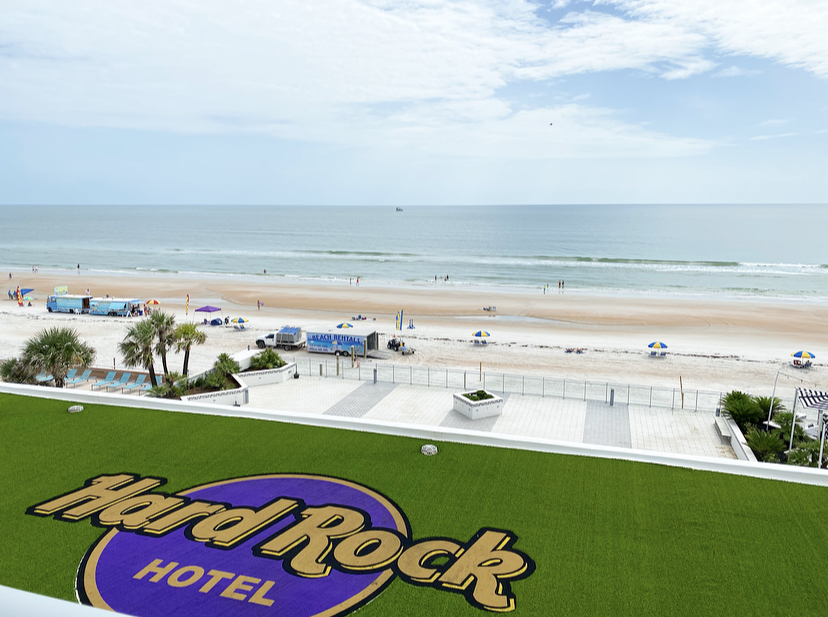 Just look at that view from our balcony! You must book an ocean-front room- SO worth it!
Dining at the Hard Rock Hotel
The Hard Rock Hotel Daytona Beach has an on-site restaurant, Sessions, as well as a counter-service coffee shop/dessert/pizza cafe named Constant Grind. You can also order off the Sessions Restaurant menu while lounging at the pool. We ate at Sessions for both dinners and one lunch because it was good! They have vegetarian options for me and meat and fish options for Chris. By the way, he absolutely loved the Mahi platter! We were required to wear our masks until we were seated at our table, and we were no closer than 20 feet to the next table of people.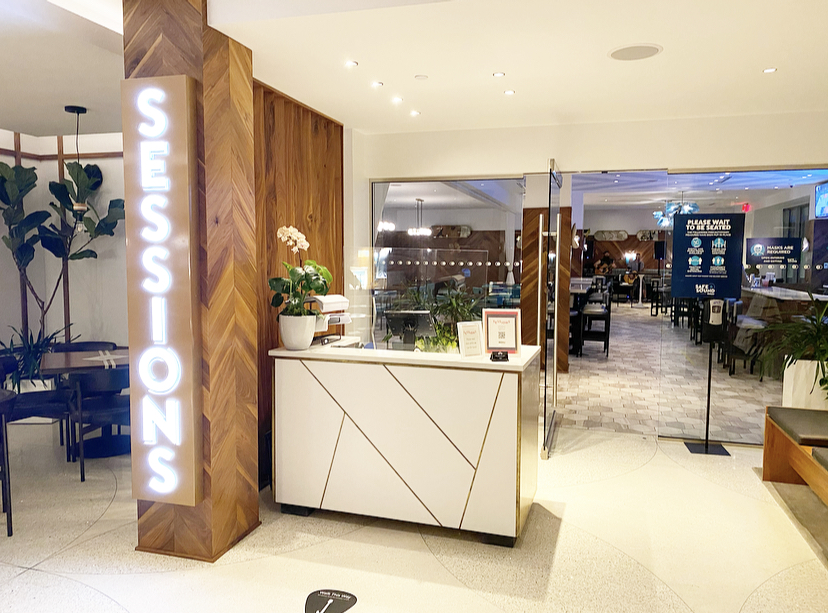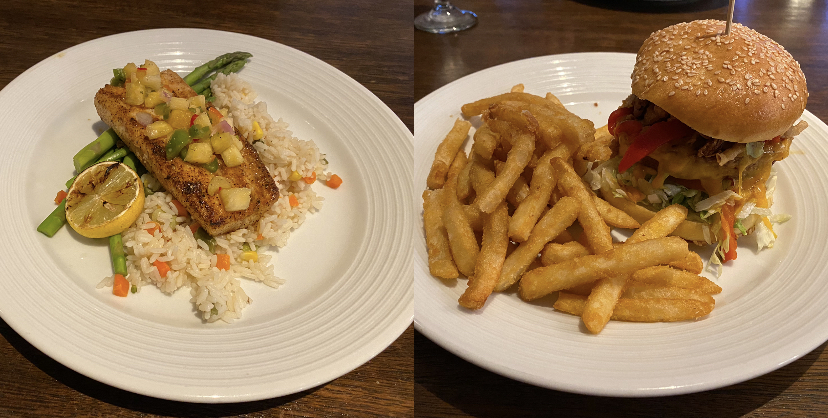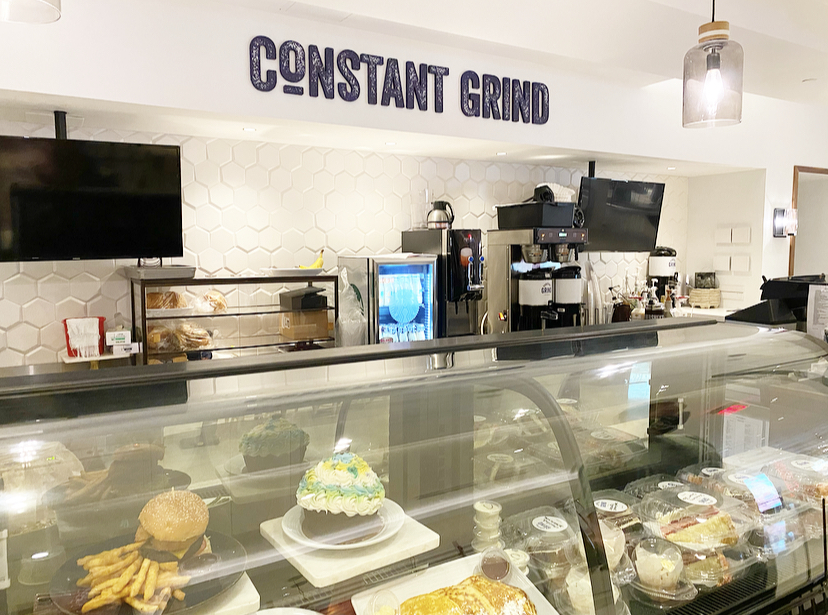 The Pool and Beach
Hard Rock Hotel Daytona Beach is located right on the beach, and has private access through the pool area. They also have the cutest surfboard showers you can use as you come in from the beach! The beach there is gorgeous- sprawling and beautiful! At the pool, you can reserve a cabana or just use the lounge chairs positioned around the pool. They also have a guitar-shaped kids pool!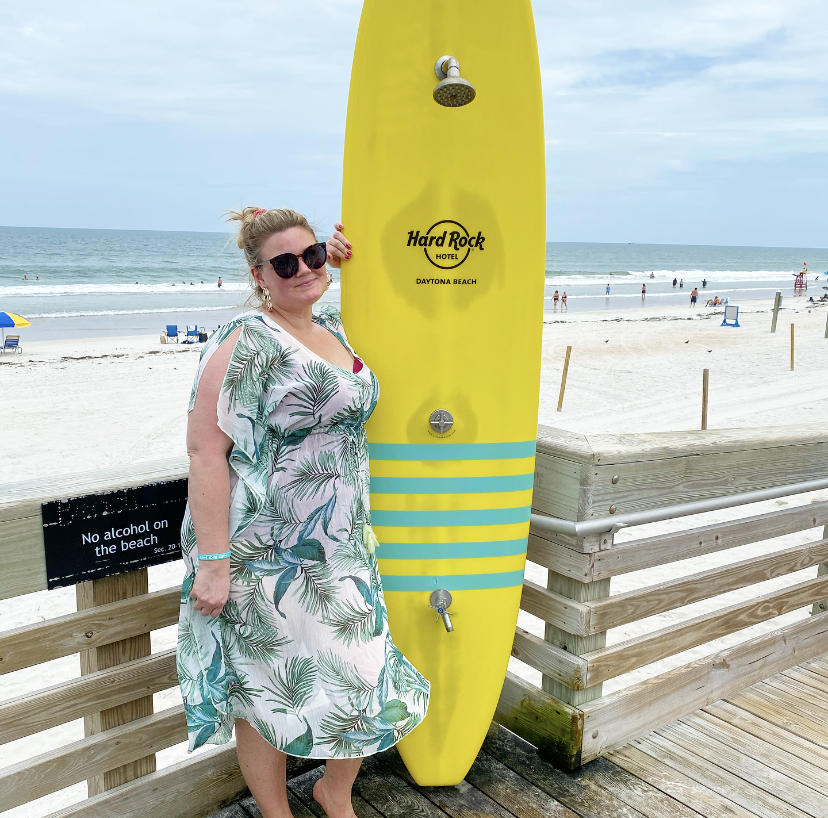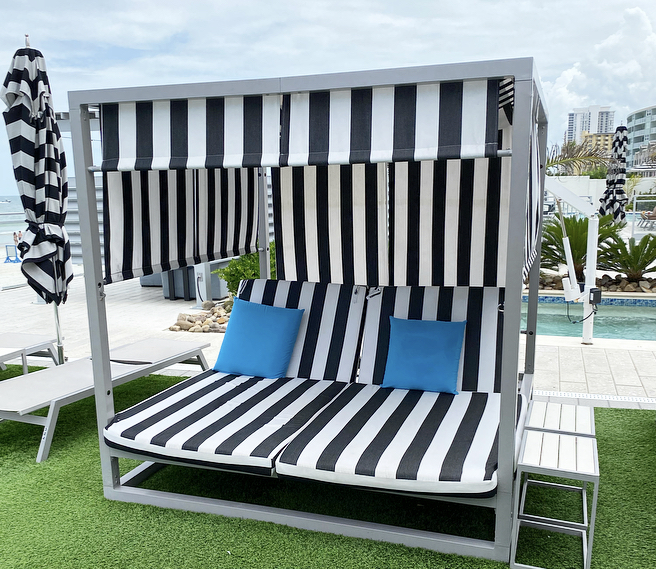 Hard Rock Spa and Salon
Since we wanted to remain on site during our visit to avoid any exposure outside the hotel, we decided to book manicures at the Rock Spa and Salon. And yes, Chris had his first manicure! I felt comfortable at the Spa because they took our temperatures upon entry and kept the main Spa door locked so they could control only allowing two people inside at a time. Everything was sparkly clean too! My manicure was fantastic! I wish we had more time to get massages and facials too- basically spend a day at the spa!
Your Stay at the Hard Rock Daytona Beach
As you know, the Hard Rock is known for music! In your room, you have access through the TV to any type of music you want. You can also rent a guitar or record player for your room during your stay. The lobby and each floor of the hotel are filled with signed outfits and guitars from various musicians. Perfect for the music lover in all of us!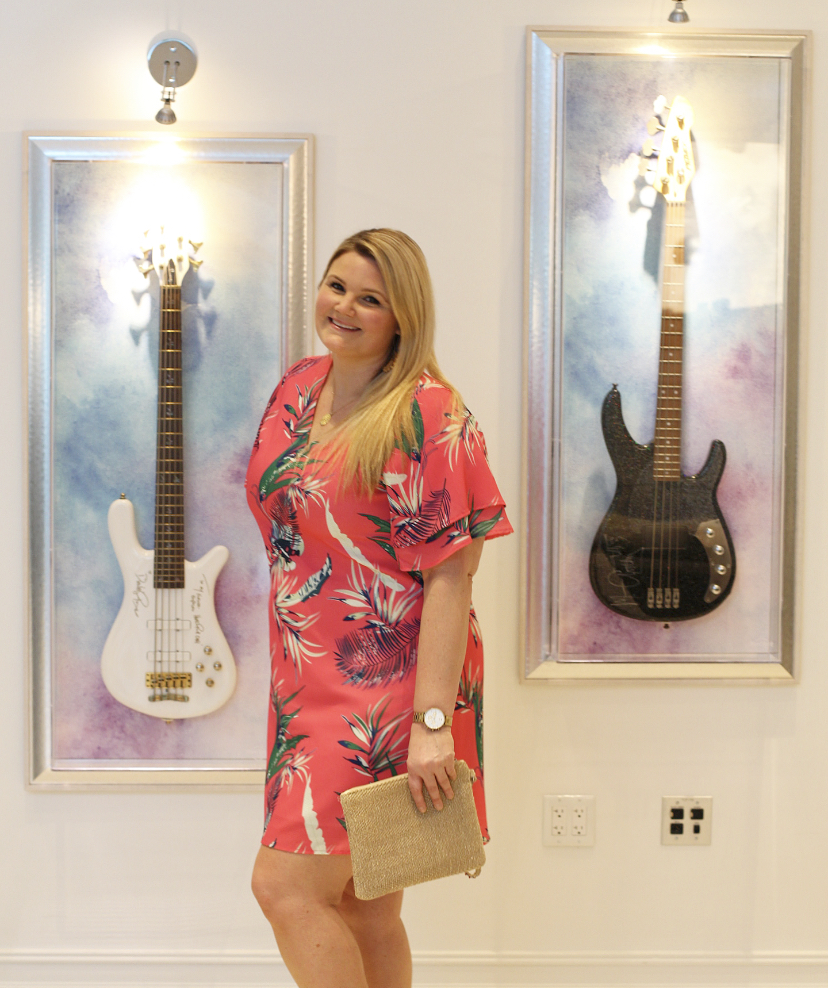 Hard Rock Hotel in Daytona Beach is a gem! It's the only place I would stay in Daytona Beach! And now you can stay there for 20% off with my code, EMILYROCKS, or just use this link and it will apply the discount for your booking. Definitely choose an ocean-front room and spend some time relaxing on your balcony!
Let me know if you book a room there!
P.S. Check out my blog post for the Hard Rock from 2019 here for additional pictures!