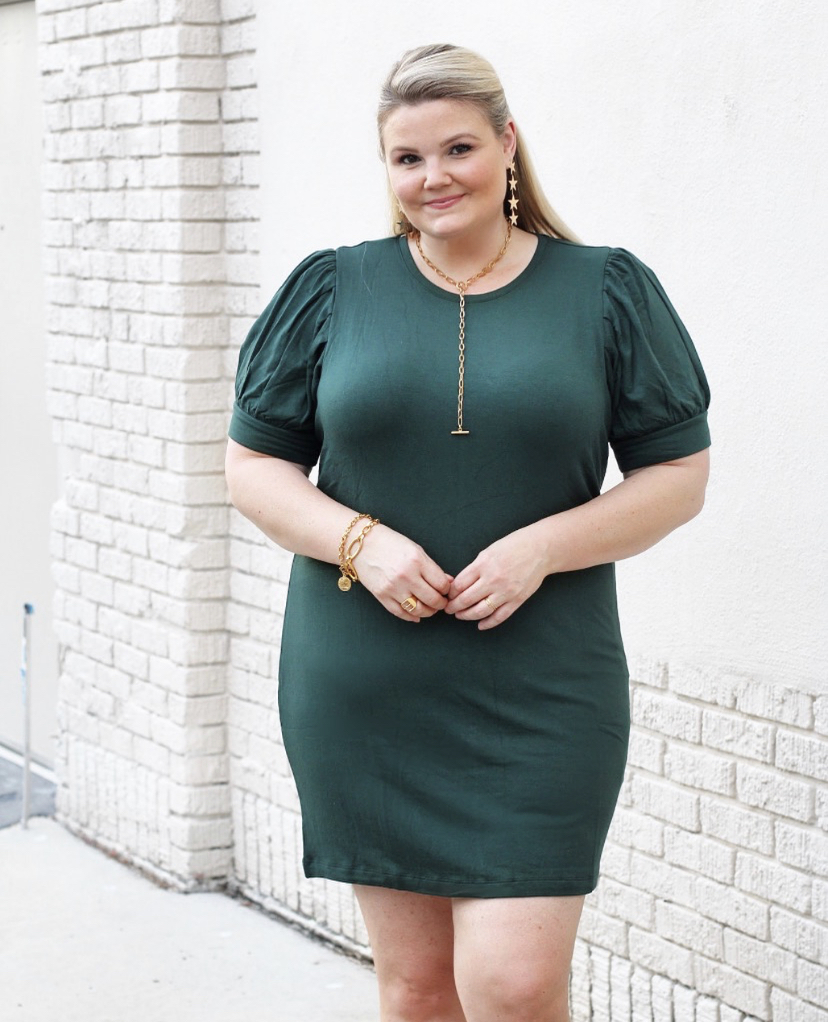 Work From Home In Style: Zoom Appropriate Loungewear
Some of you may have always worked from home, but for many, the last several months have been a whole new world adjusting from moving out of an office building into a home space. Space logistics and new technology aside, figuring out a new style has been a challenge for some. I know friends who never get out of their pajamas during the day. Some friends have said they need to get dressed in work clothes to keep that office mindset in place. Personally, I wouldn't want to be at home in a blouse and dress pants all day and I imagine many other women feel the same!
Work From Home in Style
So how do we balance between looking appropriate for Zoom calls while still being comfortable? First of all, I definitely recommend changing out of the pajamas you slept in! Some effort is required for this, but hey, you are saving commute time, right?
If I have Zoom video calls that day (which is 3-4 days out of 5), I put on makeup and do my hair (well, I brush my hair!). This is 90% of what makes me feel Zoom appropriate! The other 10% is what I am wearing on top, including earrings and/or a necklace. I have seen it all on Zoom meetings, including people who look like they just rolled out of bed with messy hair and pajamas. If you wouldn't go to the office like that, why would you get on a Zoom call like that? Some may disagree, but I'm all about professionalism, whether you are face-to-face or on video!
But don't get me wrong. You do not have to "dress up" while working from home. There are so many easy ways to look pulled together while still remaining very comfortable. Since people only see you from the shoulders up on Zoom, you can still wear your yoga pants on bottom! Below I show you a few different work from home outfit ideas that are Zoom appropriate AND very comfortable! You can also wear any of the below tops with jeans so each outfit is versatile too!
Shop my green dress here.
Zoom Appropriate Loungewear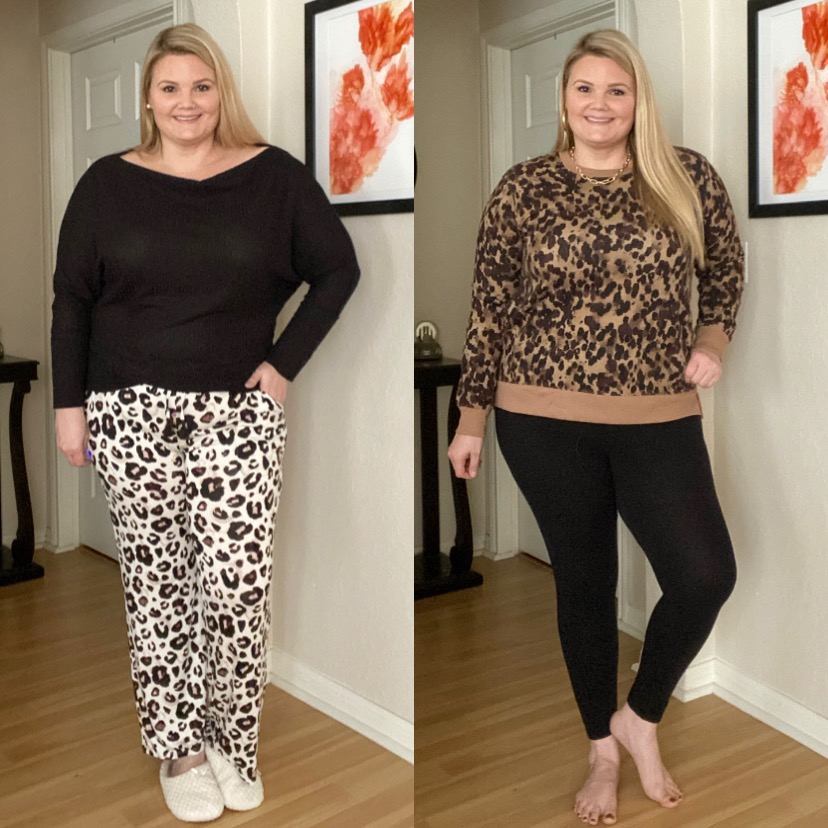 These first two looks are comfy and cozy! The black top on the left can also be worn off one shoulder so it is Zoom appropriate as a boatneck and date night approved as an off the shoulder! It is a little sheer so I would wear a black bra or cami underneath. The leopard pajama pants worn with this top are the softest pajamas pants I own! Seriously, get them in all the colors and prints! Pants run true to size. Size up in the top.

The outfit on the right is perfect for cooler days. My sweatshirt is so soft on the inside yet still looks good on camera. It looks even better with gold earrings and a necklace! With the sweatshirt, I'm wearing a lightweight pair of non-compression black leggings from Old Navy. I wouldn't wear these specific leggings to the grocery store because they are thin, but they are perfect in the house! Size up in the sweatshirt. Leggings are true to size.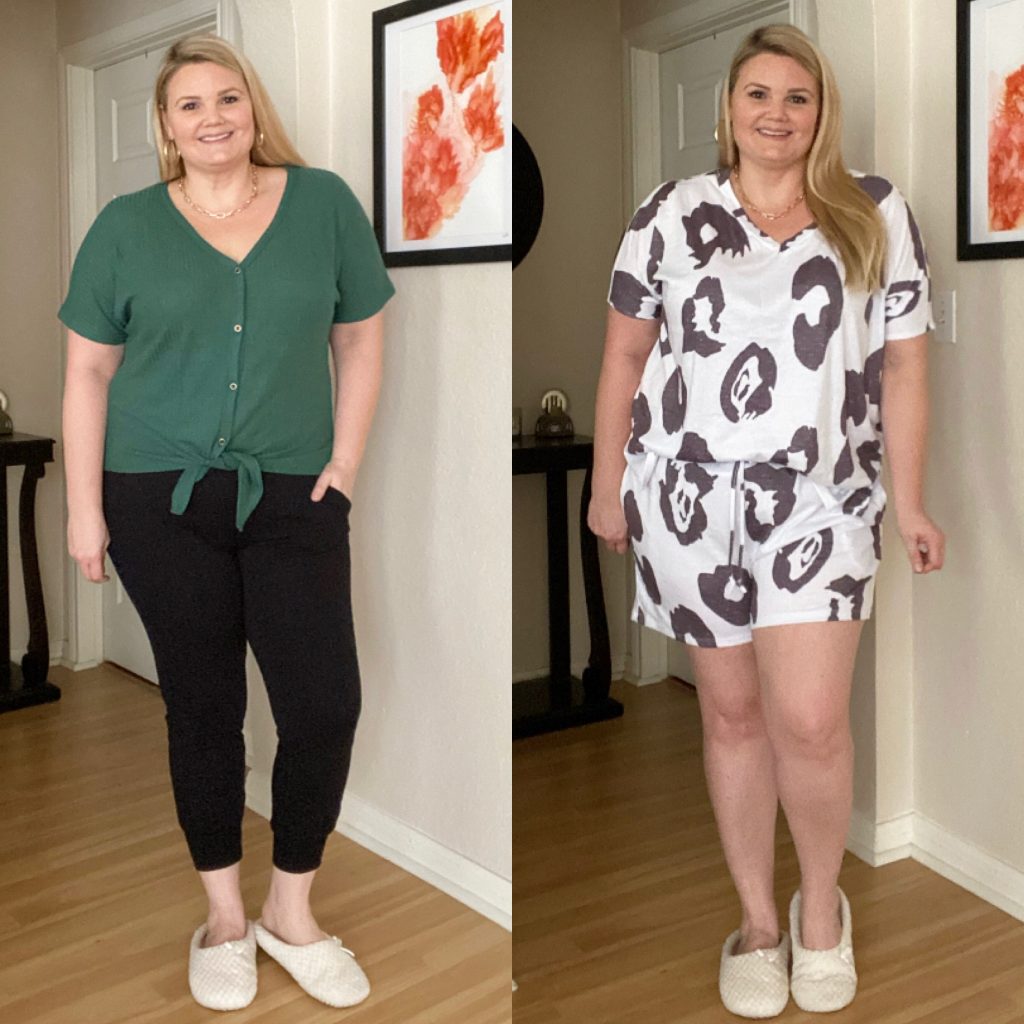 These two outfits are more casual, but still look good on camera from the shoulders on up! My waffle knit tie-front top on the left is comfortable yet looks pulled together. It comes in multiple other colors as well! I paired my favorite joggers with the green top. These joggers are of course comfortable, but are more slim fitting too so you can get away with wearing them out of the house. Replace the slippers with sneakers or sandals, and you can run to the grocery store on your lunch break! Top and joggers run true to size.
My leopard pajamas on the right may seem too casual at first glance, but on camera, the top does not look like pajamas! To dress it up a little, add a chunky gold chain necklace and earrings. This pajama set comes in multiple other prints, including tie dye. The top runs very oversized and the shorts run true to size, so order for your shorts size!
The green puff sleeve dress I'm wearing in the main picture is also great for working from home because it's very soft and stretchy. It can also easily be worn out or to the office!
Here's some more tips to looking your best for your Zoom calls:
Make sure you are in a well-lit area. Avoid sitting with your back to a window- it will make you appear dark on video. If you can sit with your back to a wall, even better. This prevents any distractions in your background.
If you are using a laptop, prop it up high enough so the video camera is at eye level or slightly higher so you aren't looking down at camera. You can stack books for an easy fix, but I recently purchased this inexpensive laptop stand that has worked really well for me. It also has side compartments and a drawer for storage and does not take up a lot of space.
You have the option to turn on a beauty filter on Zoom. It is not drastic, but it does help! Here's how to turn it on: After logging into Zoom on your computer, click Settings​, then Video, then click Touch Up My Appearance​. It gives you a soft focus filter on camera!
Smile! A smile is your best accessory, right?
Hopefully I have given you some WFH outfit inspiration! What is your favorite thing to wear while working from home?
P.S. Want more help with working from home? Check out my post with more tips here.