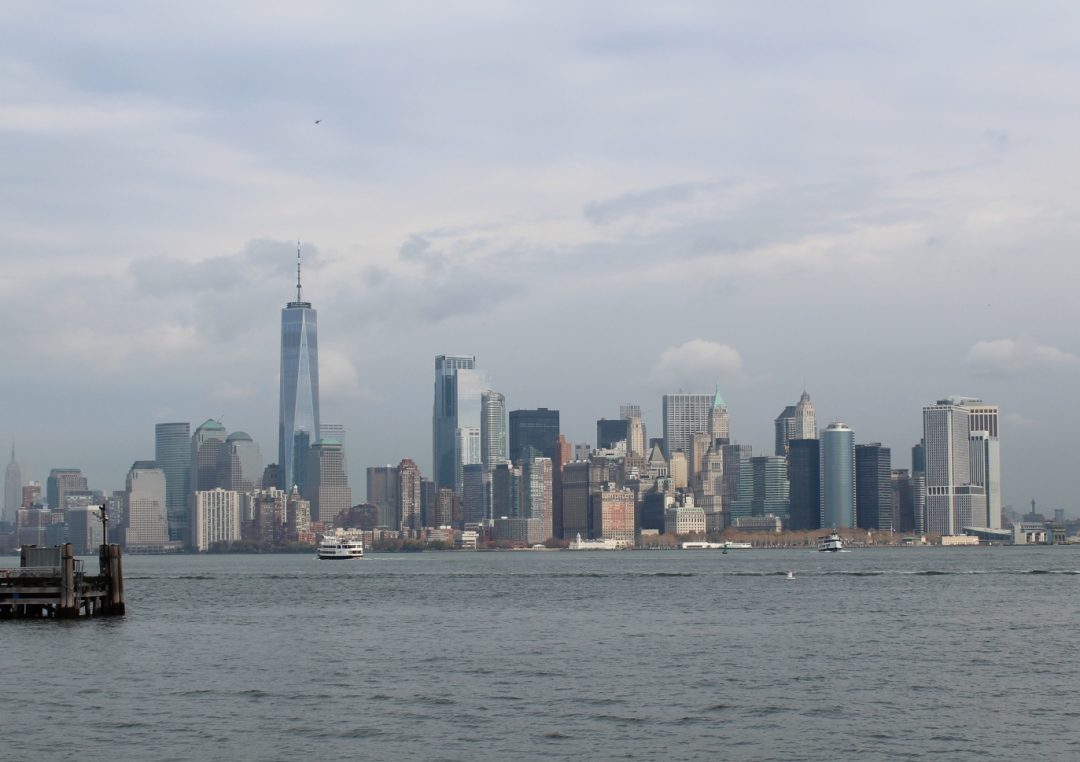 Earlier this year, my sister and I were trying to plan something big for my dad's upcoming 70th birthday in November. We went through several ideas, and finally my dad said his bucket list item was to go to the Macy's Thanksgiving Day parade in New York City for his birthday (his birthday fell the day after Thanksgiving this year). Being a former Manhattanite and lover of NYC, I eagerly agreed to start booking our week in New York. It was a magical, albeit very busy few days. My sister brought her family, so it was a total of 7 of us. Here I'll give you the full scoop on what we did, where we ate, tips on transportation, and of course, what I wore!
Day 1: We flew into JFK airport around 2:30 on Tuesday (the cheapest way to get to midtown Manhattan from JFK is to take the Airtrain and then the A or E subway into Manhattan- we got off on 34th St/Penn Station which was right outside our hotel. It cost $6 total per person).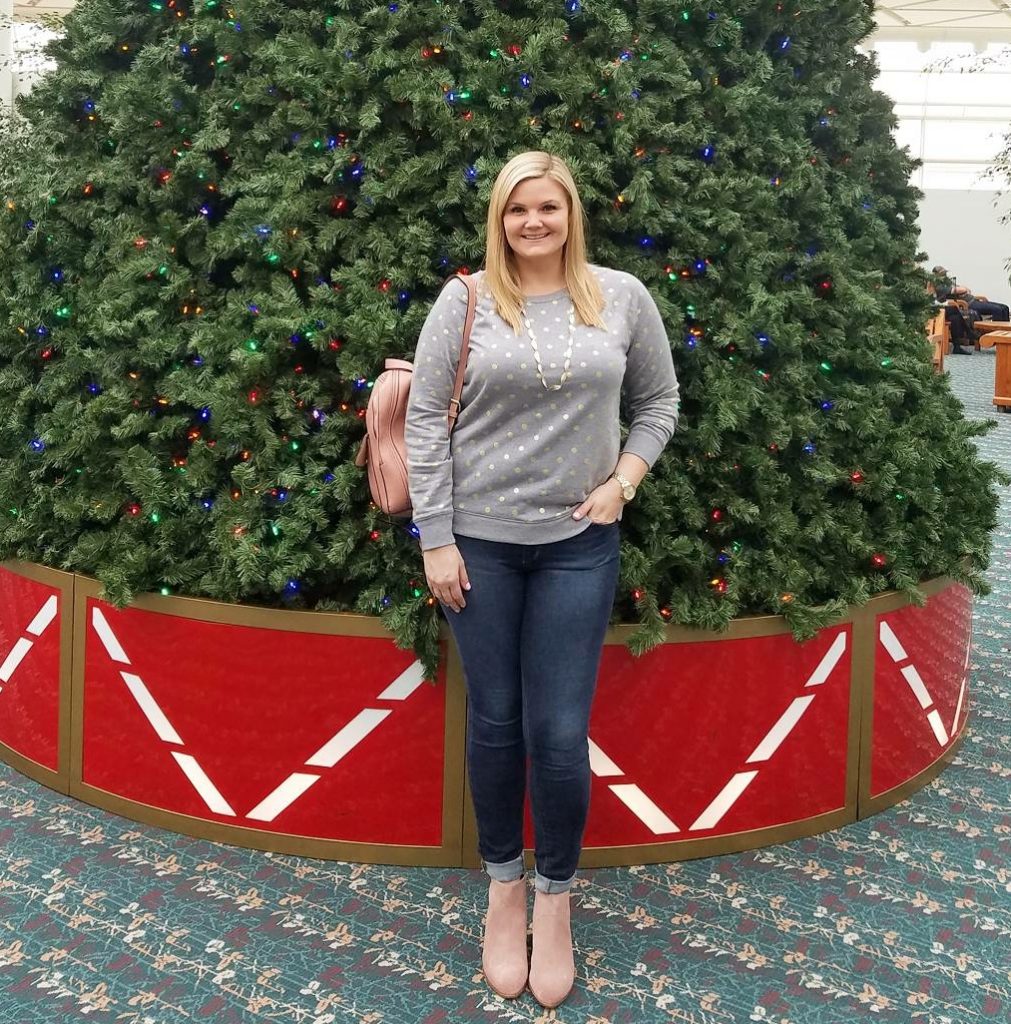 We stayed at the Wyndham New Yorker, which was a great location, right on 8th Ave between 34th and 35th streets. The hotel is a little older, but for the price and location, it met all of our needs. Plus, the staff was super accommodating. We had two rooms on the 23rd floor. Our view was fabulous!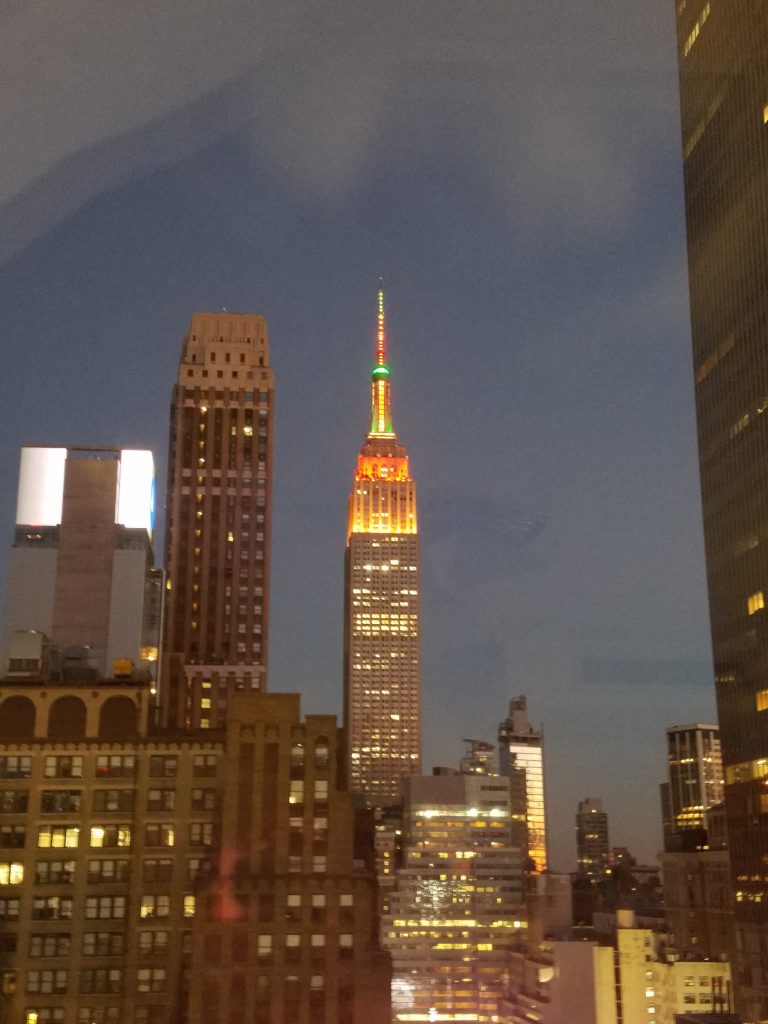 After settling in, we headed to Rockefeller Center to take the kids ice skating. My dad and I opted out of the ice skating, and instead watched from Rock Center Cafe with some Chardonnay and appetizers. Rock Center Cafe overlooks the rink in a cozy setting. It wasn't necessarily a kid-friendly restaurant though, so after they skated, we walked to a Pig n Whistle for dinner. They had some old-school hip hop music playing, which was actually pretty fun while we ate. We then headed back to the hotel to get some rest.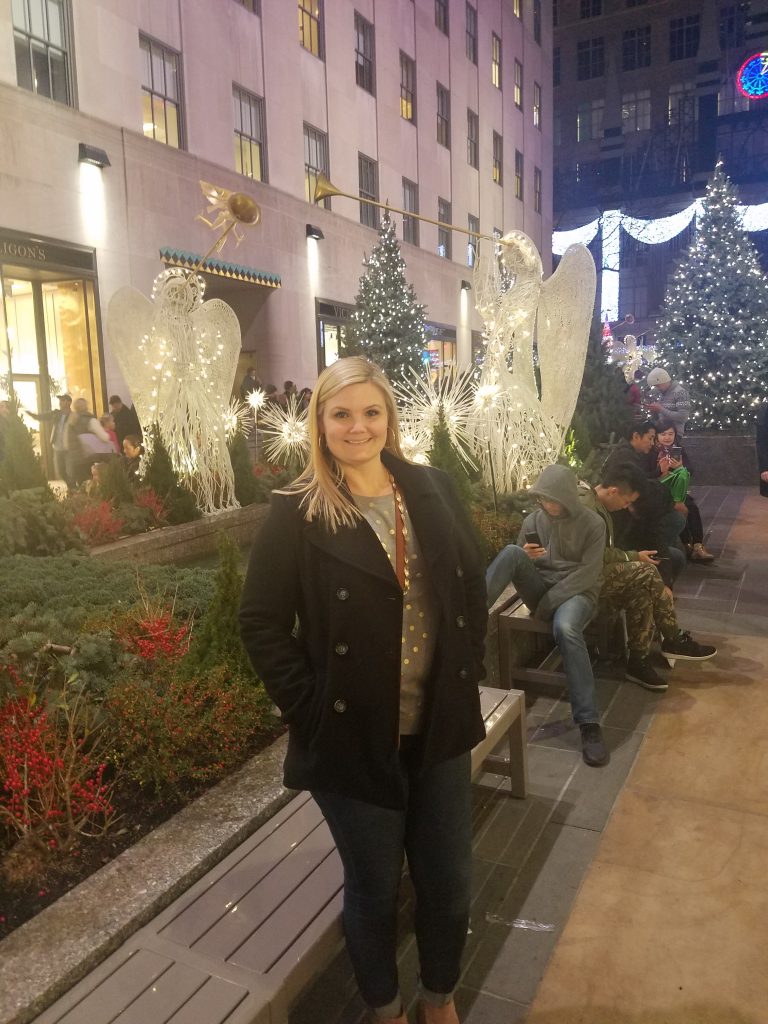 For this trip, I really did not want to overpack. I wore the same outfit on the plane as I did when we went out this first day, except I added a peacoat. I got this coat at Old Navy on sale for around $25- a total steal! I wore it over my outfits the whole week and it kept me warm amd comfortable. My polka dot sweatshirt is also from Old Navy, and was lightweight enough to wear in Orlando on the way to the airport. My Sole Society pink booties were pretty comfortable for travel (they come in other colors too!).
Day 2: Our second day was all about the tourist attractions! My nieces and nephew have never been to NYC, so we made sure to try to show them everything during this trip. We took an Uber (about $30 for an SUV) to the Statue of Liberty ferry. *Word of advice: only buy your tickets from the actual ticket booth! There are scammers who stand out in front of the park that will try to sell you tickets, but they are not the official Liberty Island employees, and who knows what kind of ferry they put you on! Just a word of caution as we came across them this past week.*
We took the ferry to the Statue, and although it was a bit rainy and overcast in the morning, it was still a spectacular view of lower Manhattan from the ferry. The ferry also stops at Ellis Island, but we only got off on Liberty Island. It was amazing, as always.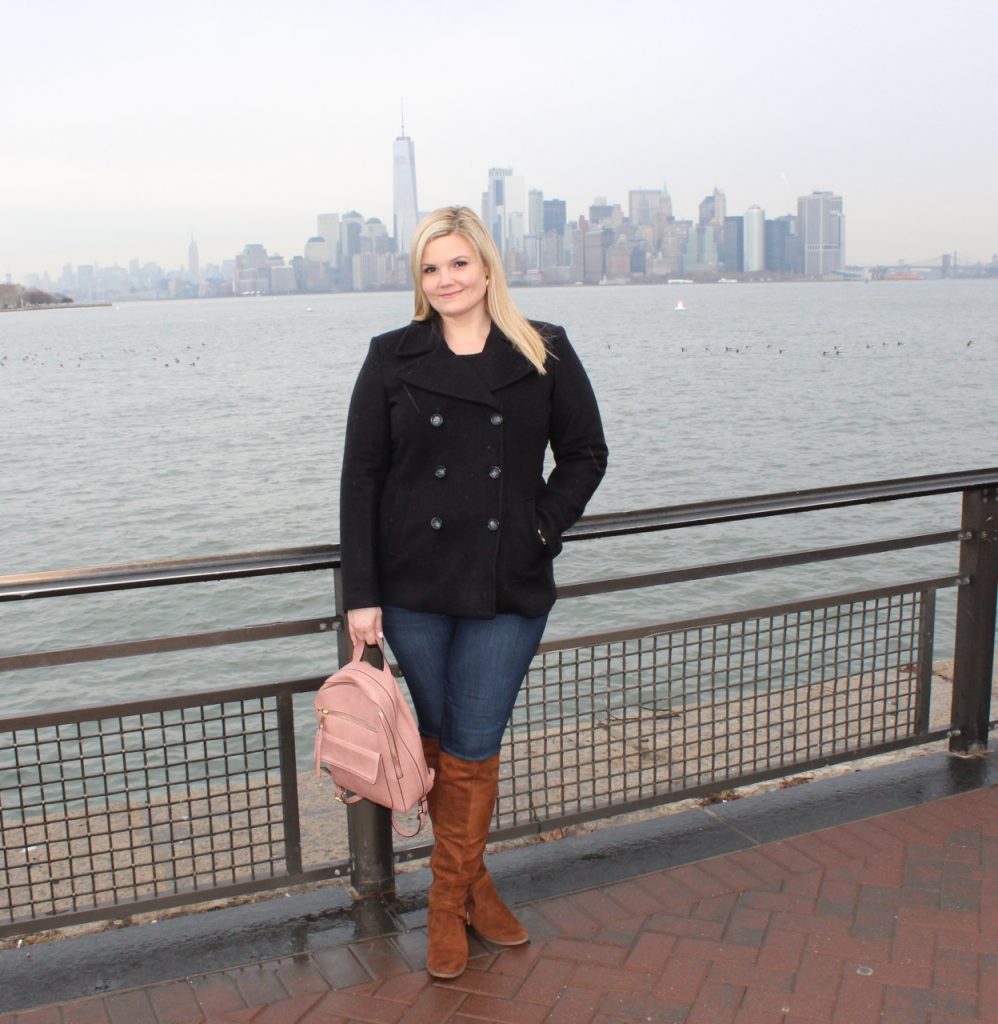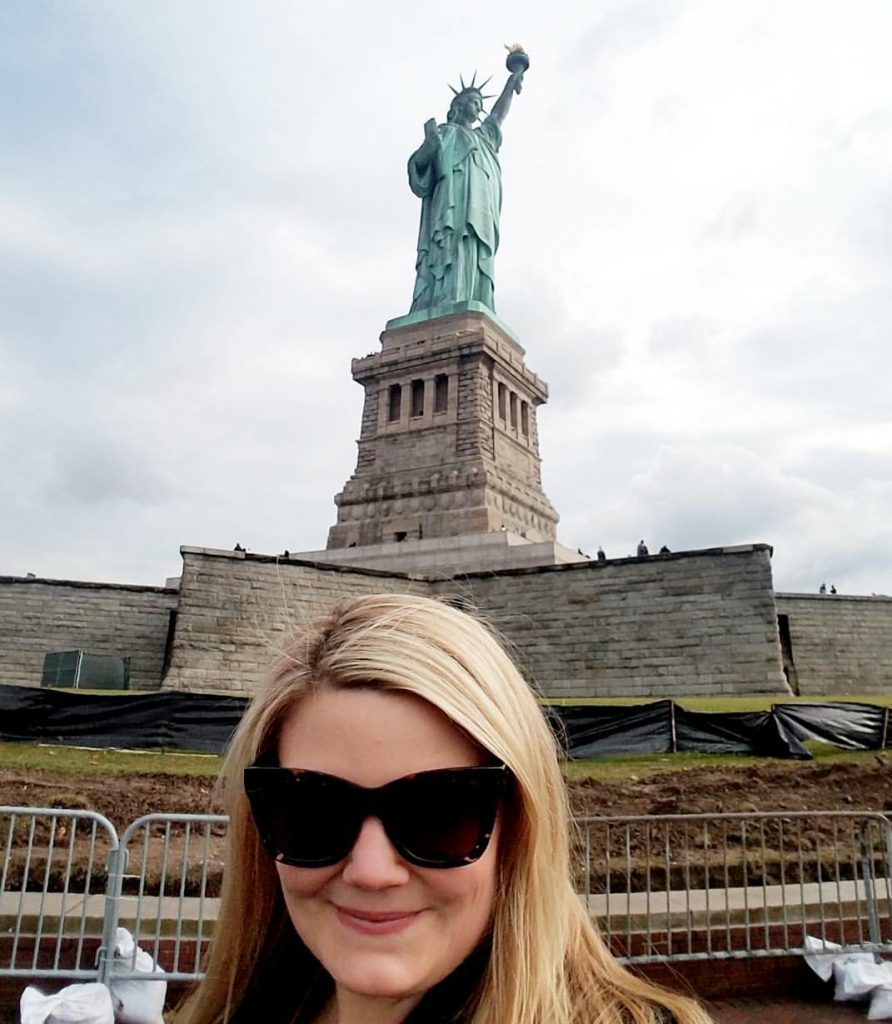 Once back in Manhattan, we stopped for pizza for lunch, which is always a must-do when visiting the city! Then we walked to the 9/11 Memorial. It was the first time I have been there since the Memorial was created, and it was tough. A beautiful tribute, but brought up so many memories of the most tragic event. We didn't get to go to the 9/11 Museum because we were tight on time and it's not recommended for children, although I will definitely go the next time I am there.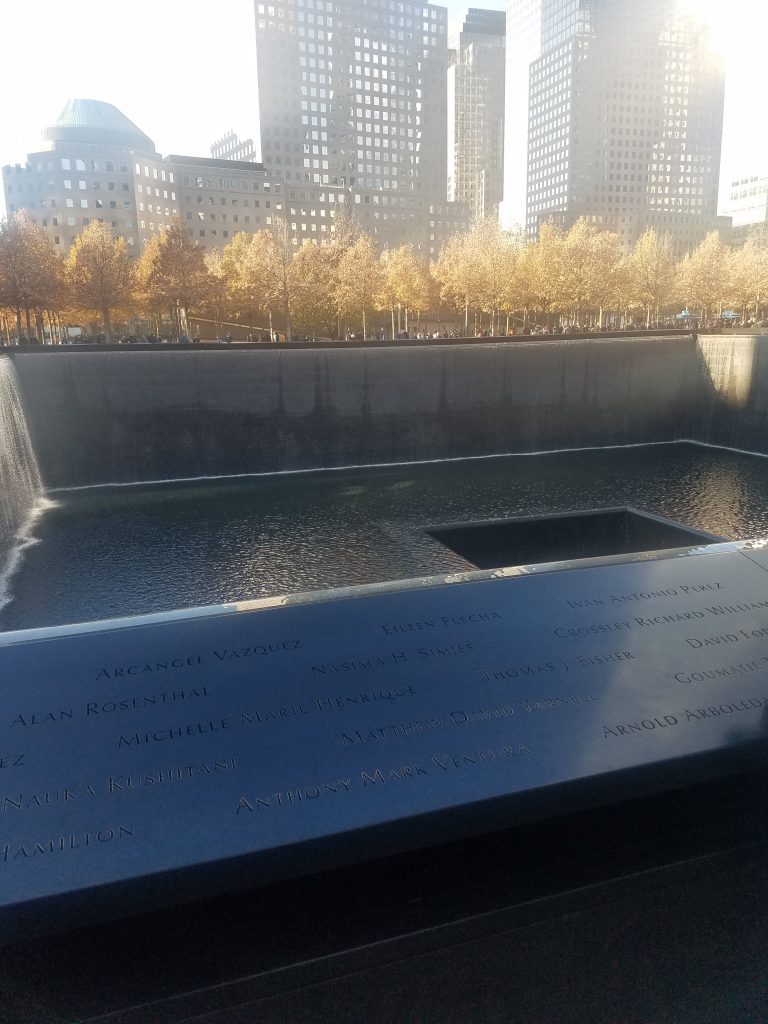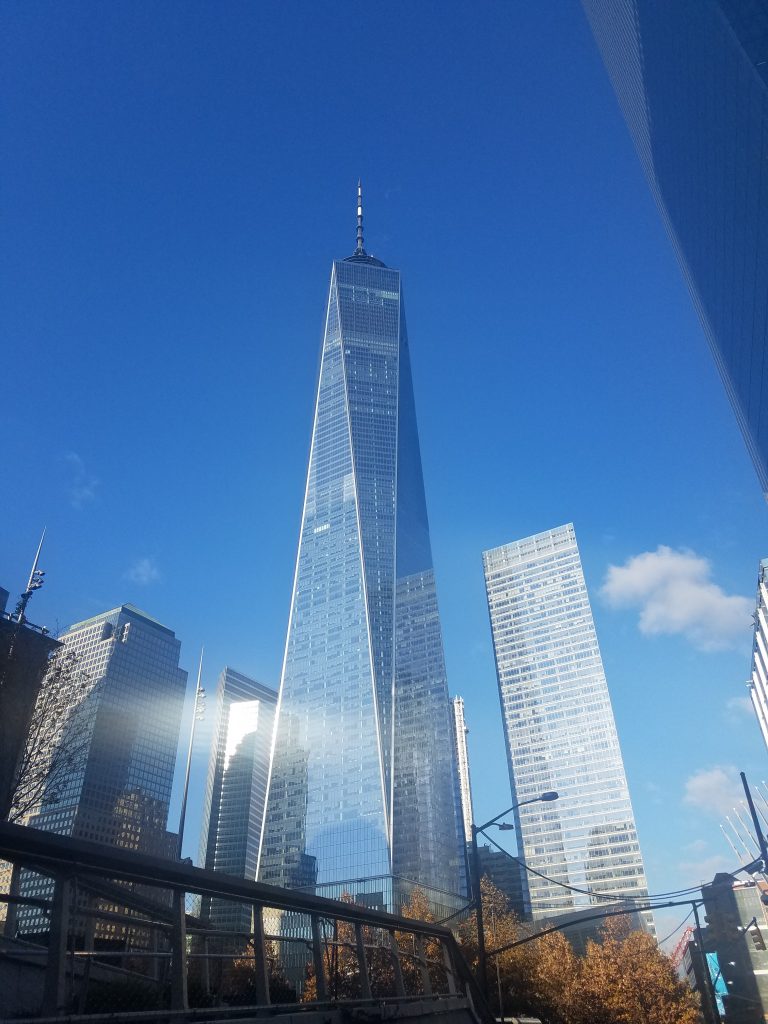 It started to get colder, so we took the subway back to the hotel and got scarves and gloves, then headed right back out. We headed up to the Upper West Side to see the parade balloon inflation, but it ended up being so crowded and there was an estimated 2 hour wait time to even see the balloons, so we left. If you do plan on going to this event next year, I'd recommend going early! They start at 1 pm and go until 8 pm. We got there around 4 pm, and I swear half the city showed up!
We went back to midtown and ate dinner at a rustic Italian restaurant, Tavola. I got the eggplant parmesan, which was pretty good! We called it a somewhat early night after dinner since we had to be up at 5 am the next morning to head to the parade!
My outfit on day 2 was this super soft star sweater from Old Navy, stretchy Wit & Wisdom jeans, and my knee-high boots that I bought last year from Target. Everything was very comfortable for a day of sight-seeing.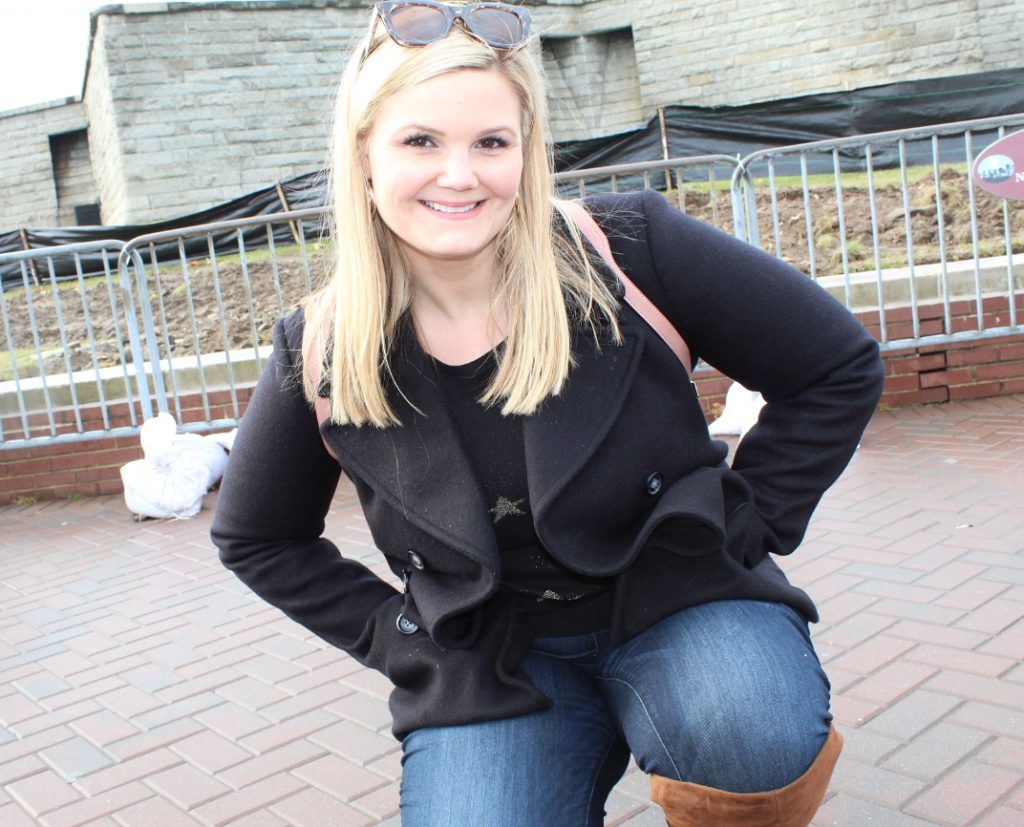 Day 3: There's nothing like a 5 am wake-up call when it's 30 degrees out! We managed to get up and ready and out the door by 6 am to find a spot on the parade route. Although I lived in New York for a few years, I never watched the parade in person, so this was my first time going. All the online recommendations said you have to be there by 6 am to get a spot. We found a good spot along 6th Ave, between 37th and 38th Streets. We were in front of a coffee shop that opened their bathroom to the public, so that was a bonus (although the line was 45 minutes long!). We ended up having to stand in our parade spot from 7:45-11:45, as they didn't let anyone sit so there was more room. It was rough! The parade was cool, but I can say that I'm now ok with not attending in person again! It also happened to be the coldest day of the week, but I was prepared with my long underwear underneath my clothes! I wore the same knee-high boots from day 2, a pair of Caslon jeans, a cowl-neck sweater from Marshall's, an awesome blanket scarf from Old Navy, and a pom hat from Amazon, along with my coat and gloves.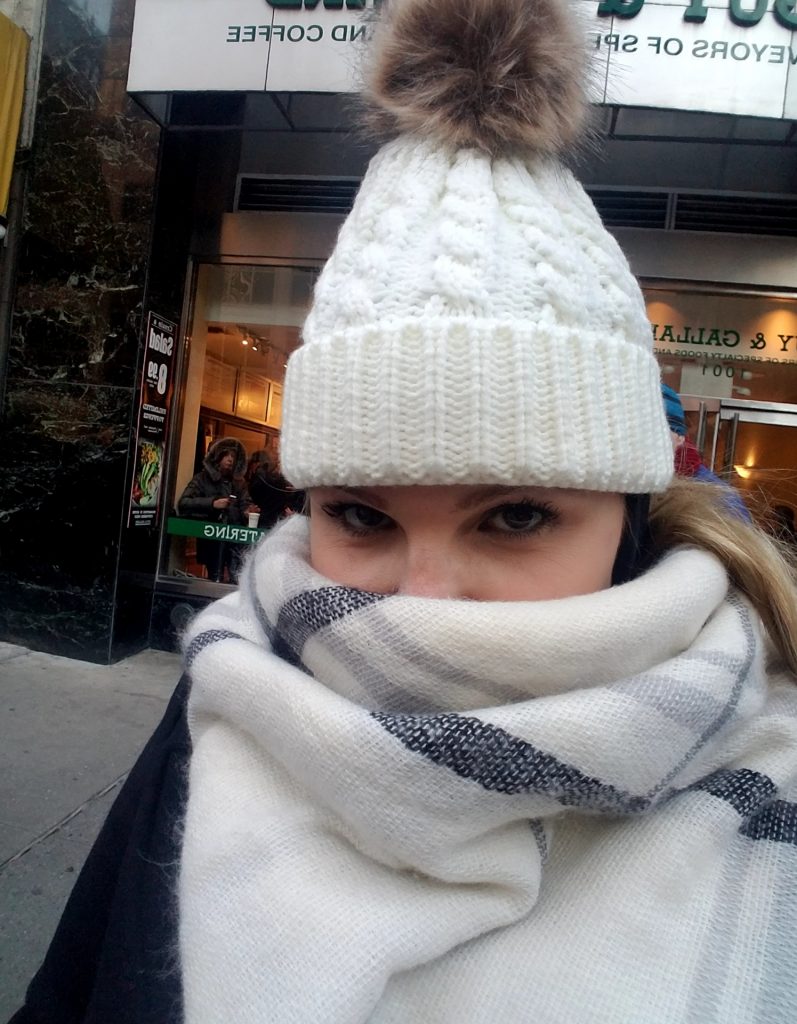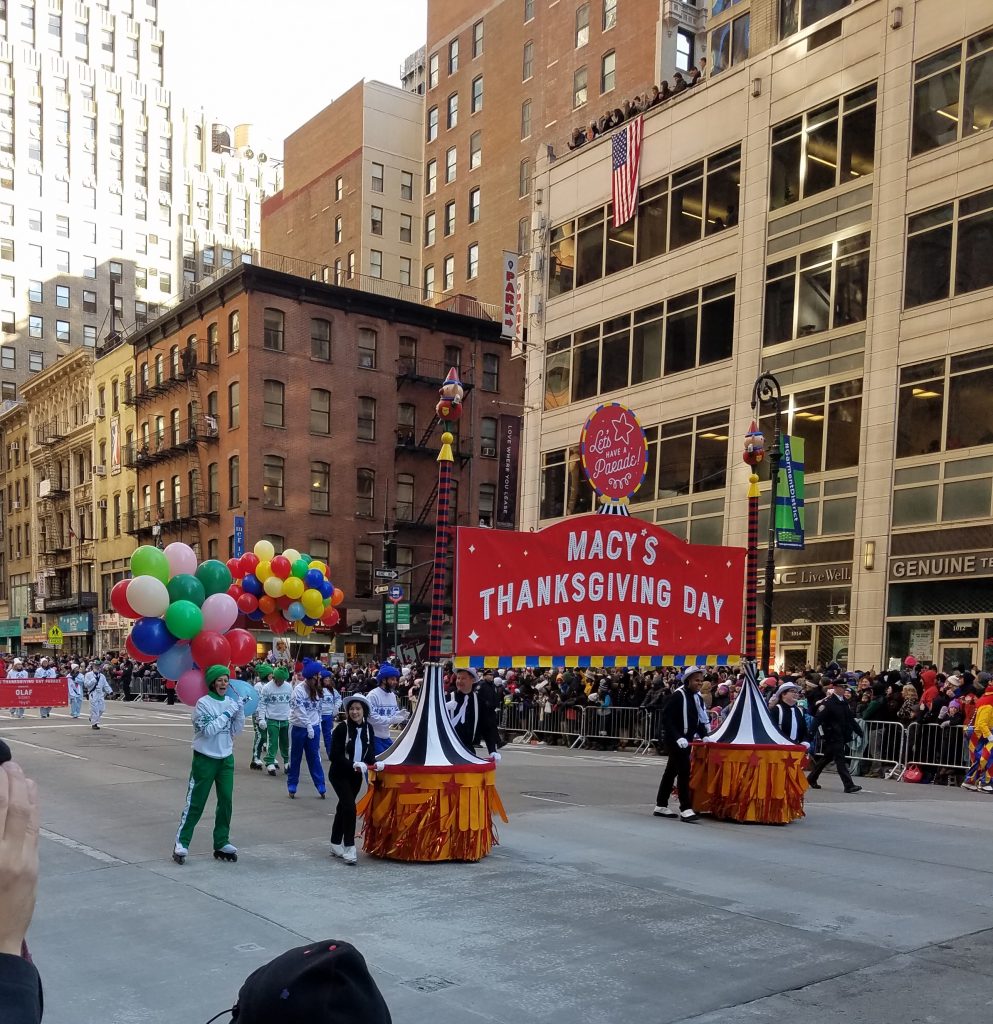 We made reservations for Thanksgiving dinner several weeks in advance at Croton Reservoir Tavern on 40th Street. They had a choice of either soup or salad to start, and then four choices for the main dish.  I chose the pumpkin ravioli, as it was the only non-meat option. It was so yummy! We finished off with some pumpkin pie. This was my first Thanksgiving meal at a restaurant so it was a little different, but we thoroughly enjoyed the restaurant.
After dinner, everyone else retired back to the hotel, but I headed to Macy's for some pre-Black Friday shopping and to check out the holiday decorations.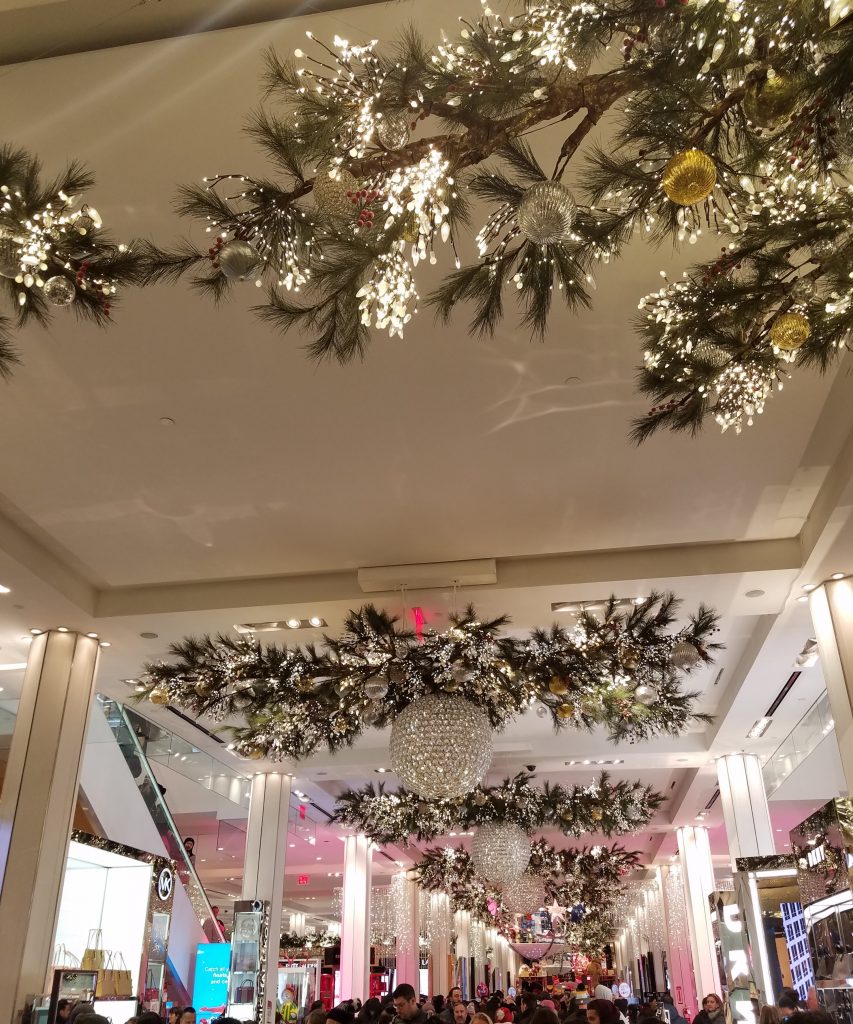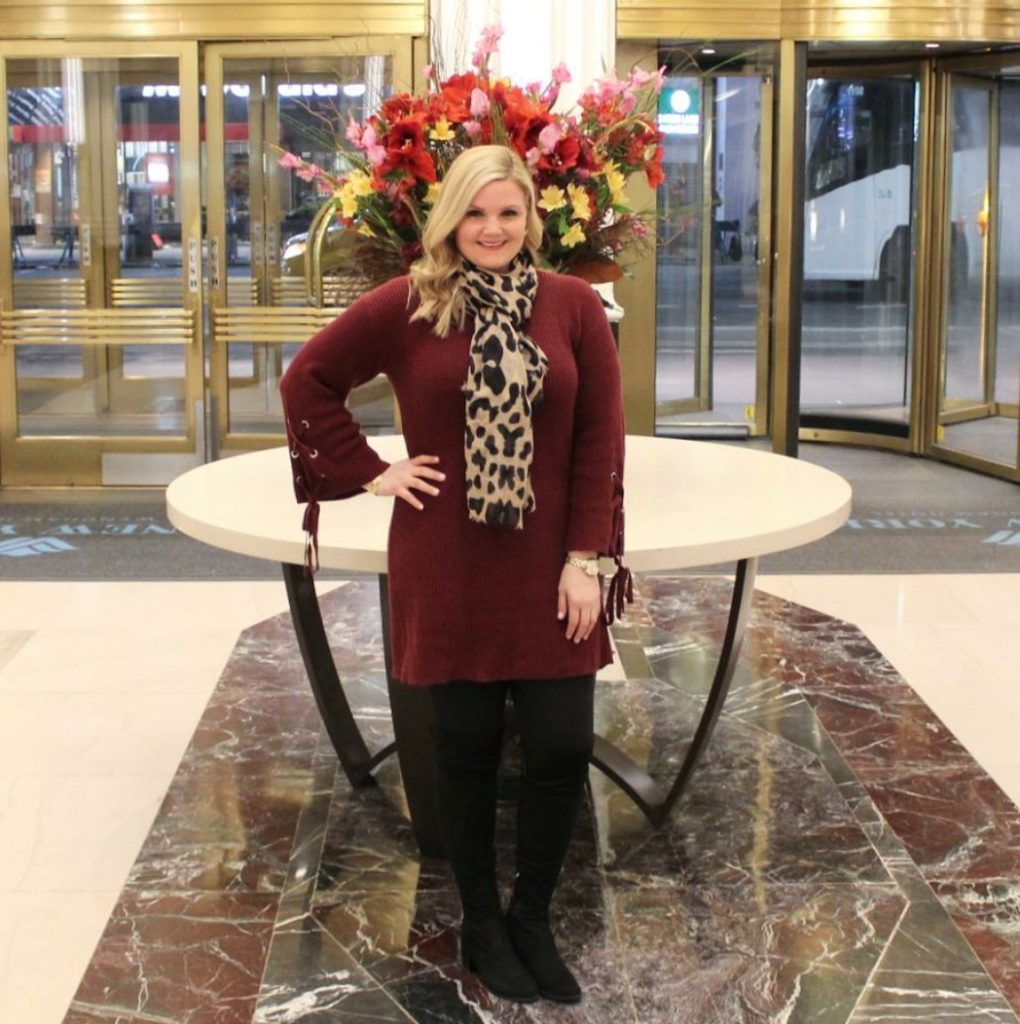 My outfit for Thanksgiving dinner had comfort in mind! I wore my favorite black Zella leggings under this Bp. tie-sleeve sweater dress with over-the-knee boots from DSW. I also finally got to wear my leopard scarf from the Nordstrom Anniversary sale! Woo hoo!
Day 4: Our last day! We slept in a little since we had such full previous days, but then headed to The Meatball Shop in Hell's Kitchen for lunch. It was the cutest place, and they had several meatball options, including veggie meatballs for me! I had mine on a hoagie roll, bit you can also get them on a salad or with pasta. We were all happily stuffed after eating here! I'd highly recommend!
Our flight wasn't until 7 pm, so we headed to Central Park for a couple of hours. The weather was perfect- around 50 degrees and sunny. The kids played for a while, and my 9-year old niece took some photos of me (and she did so good!).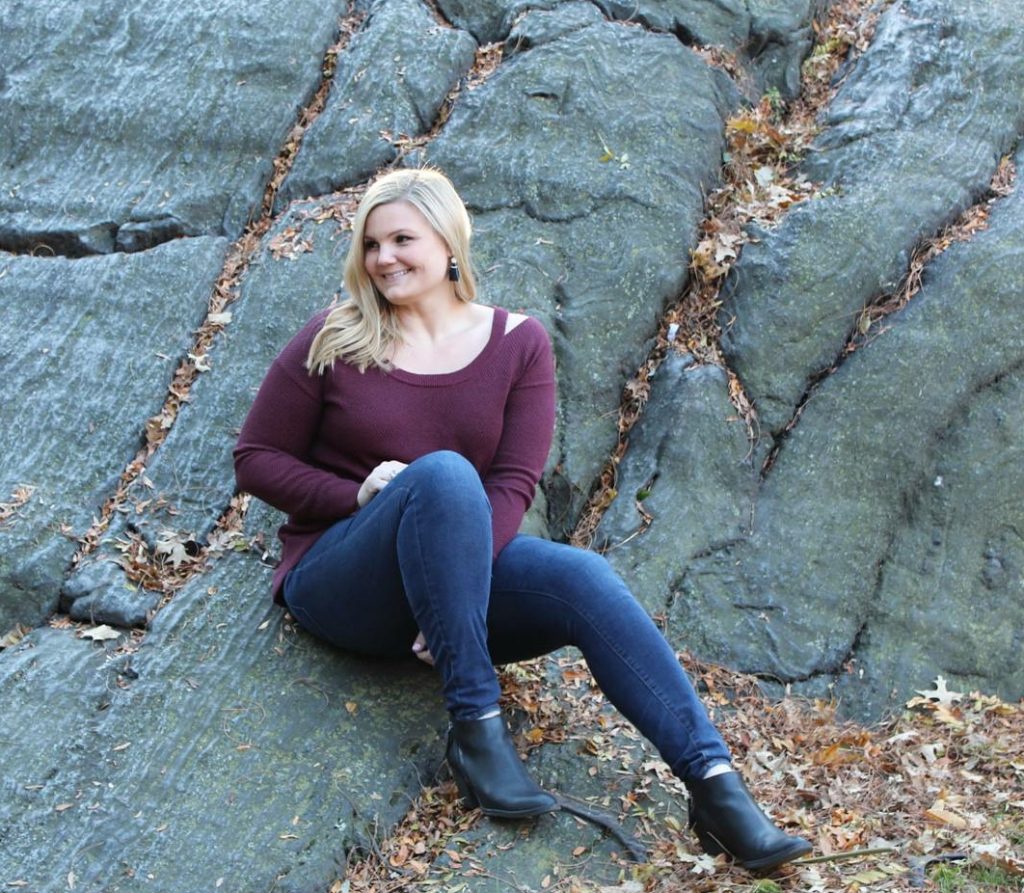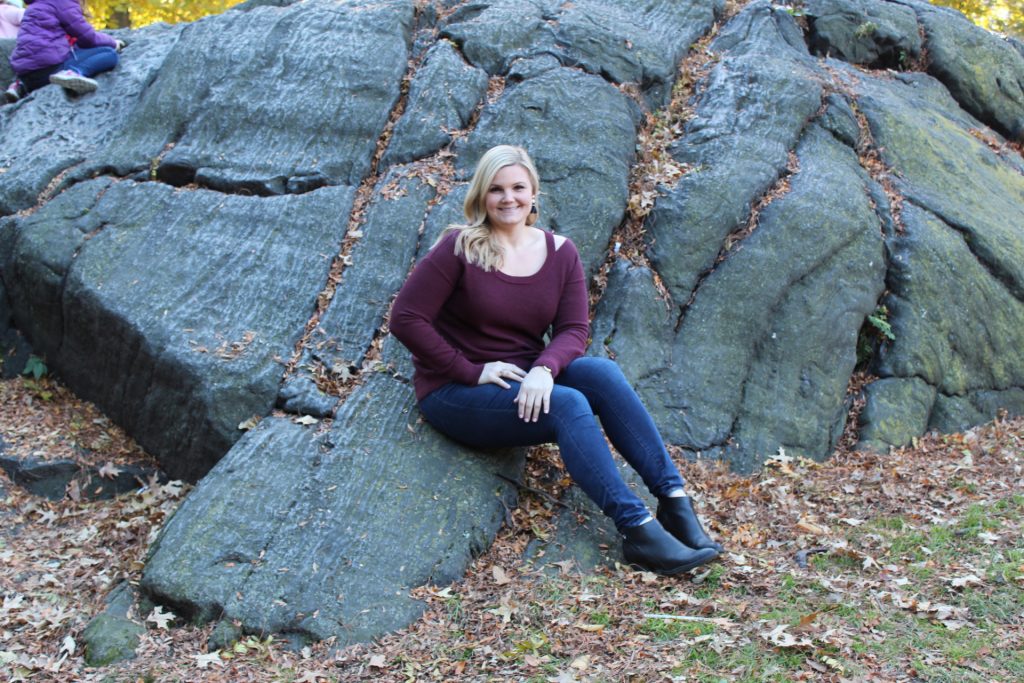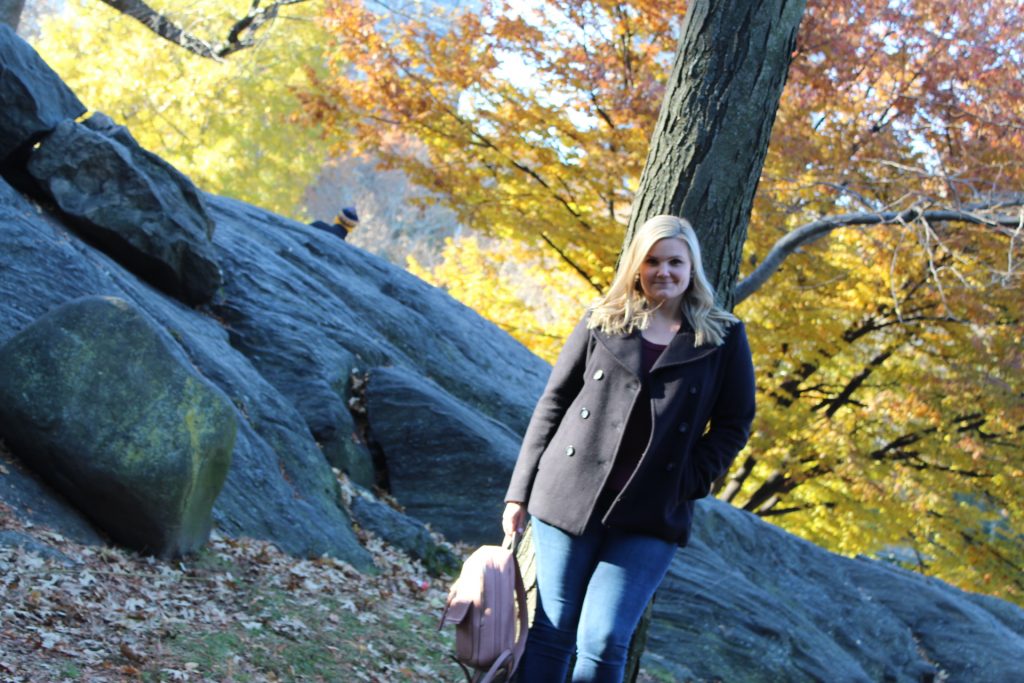 After Central Park, it was time to unfortunately head back to the airport to come home. My outfit for the last day was my favorite pair of Articles of Society jeans, a cut-out sweater from Marshall's, and these cute black booties from Target. Again, comfort was key!
So now I am back home, exhausted but refreshed! I needed my little NYC fix, and I can't wait to head back soon!
What are your favorite things to do and places to eat in New York City?