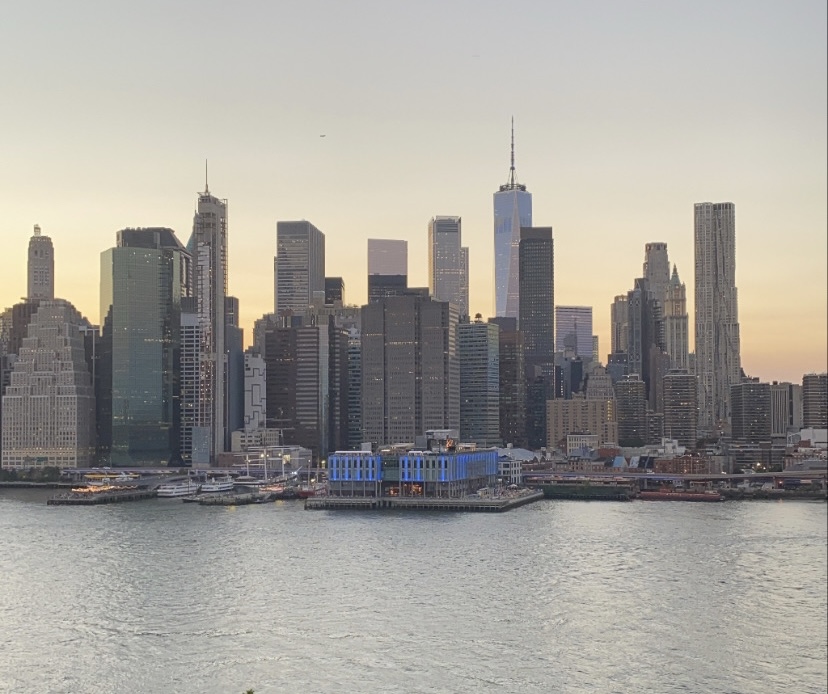 New York City is my favorite city in the whole wide world. I lived there for three years in my early twenties and go back to visit as often as I can (which is never enough, btw!). It is no surprise that the first trip I booked after being home for a year and a half was to New York. And this time, Chris, my now fiance, came with me! It was his first time to the city, which is even more exciting to me! Here's everything we did during this trip in this NYC Travel Guide!
NYC Travel Guide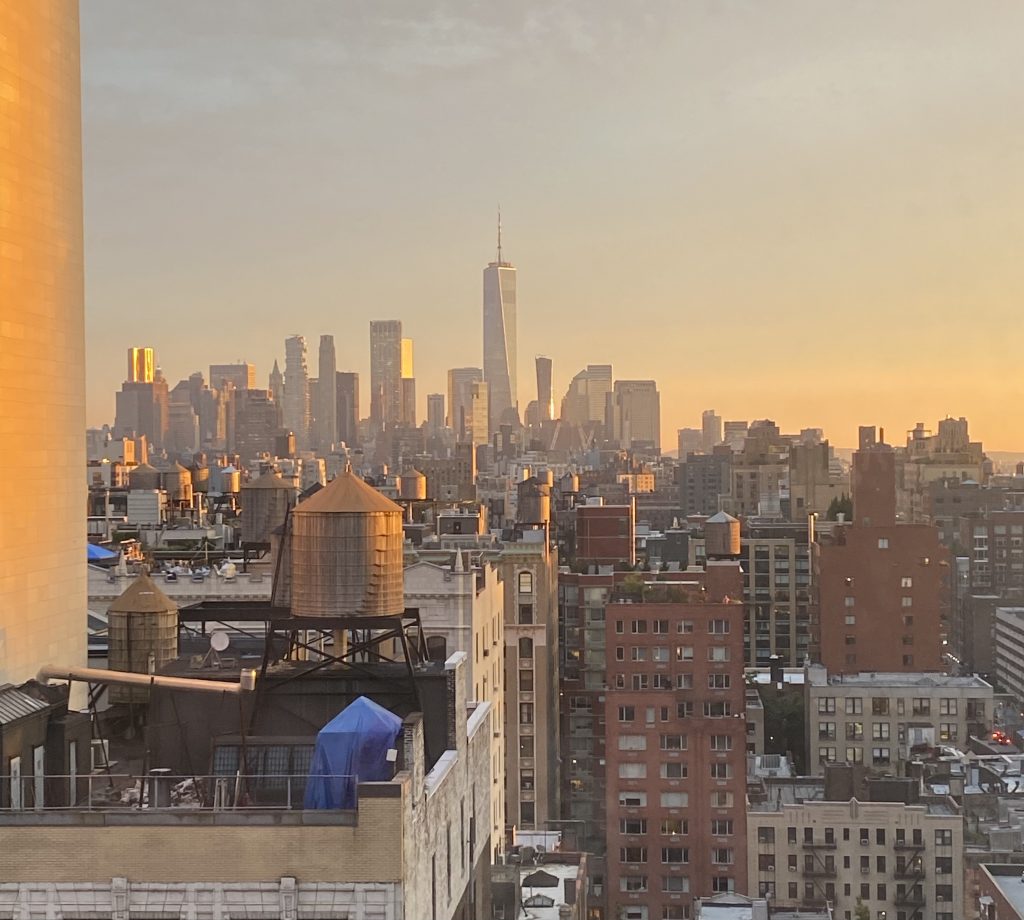 Day 1: Thursday
We arrived late in the afternoon on day 1 and checked into our hotel, Four Points By Sheraton in Chelsea on 25th Street. We booked this no-frills hotel for it's location and lower price. The staff was incredibly friendly and accommodating and we had great views of downtown Manhattan from our room on the 22nd floor. Our room was small but we didn't need anything really big since we were only in the room to change and to sleep at night.
After we cleaned up and changed, we grabbed a couple of beers at a pub just a few doors down from the hotel, Smithfield Hall. During this time, unbeknownst to me, Chris was plotting his proposal! His sister decorated our hotel room while we were out. But that's a whole story for another post, so stay tuned for that!
The rest of the night was an exciting blur- we got engaged! We then went to a Pig n Whistle a few blocks away and they treated us to a champagne toast with our dinner. We didn't do anything crazy on our first night- we had a busy few days ahead of us!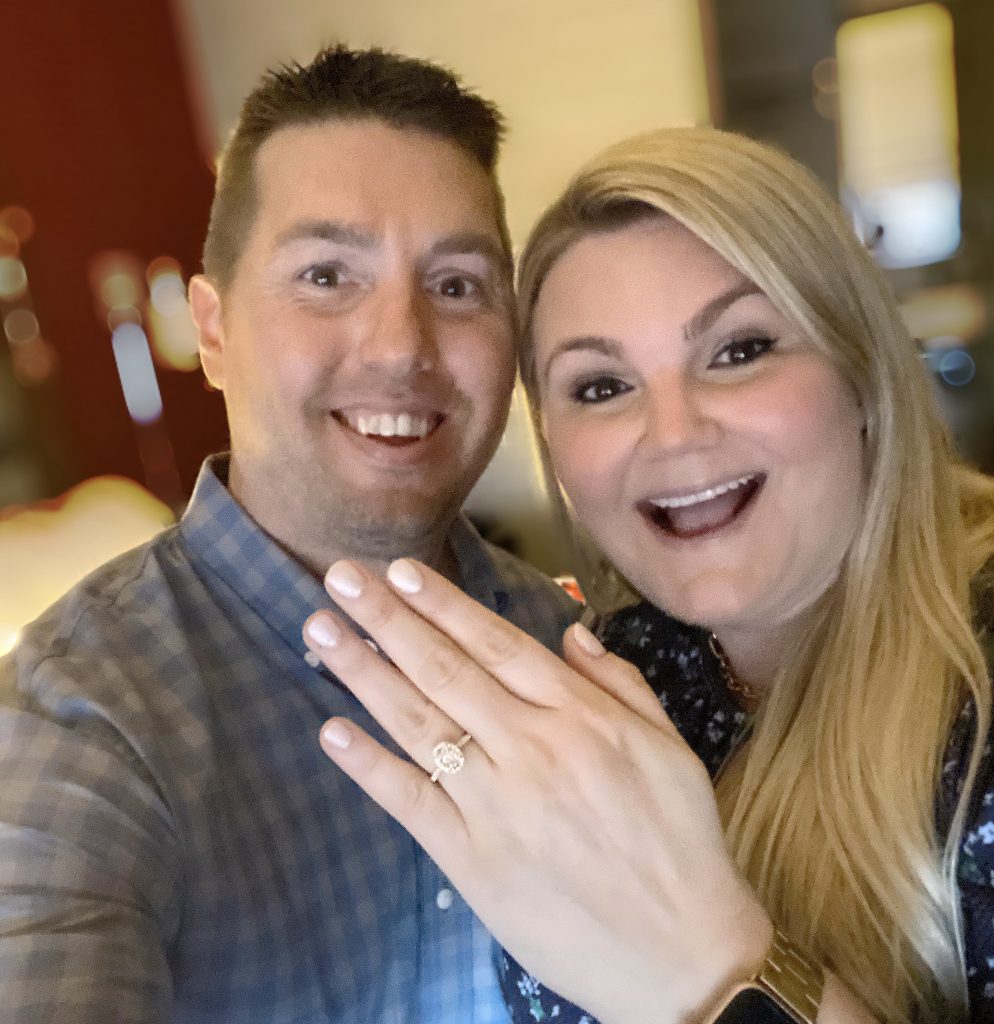 Day 2: Friday
We headed to Central Park for an engagement photo shoot at 10am (originally was scheduled as just a couple's shoot but we adjusted in the moment!). Kate from Pret A Provost was our photographer and she was fantastic- I would highly recommend! The weather was also perfect- it was sunny and in the 70s. After the photos, which were taken on the Bow Bridge and around Bethesda Fountain, we changed into our sneakers and walked around about half of the park. It is truly a gem in the middle of New York City.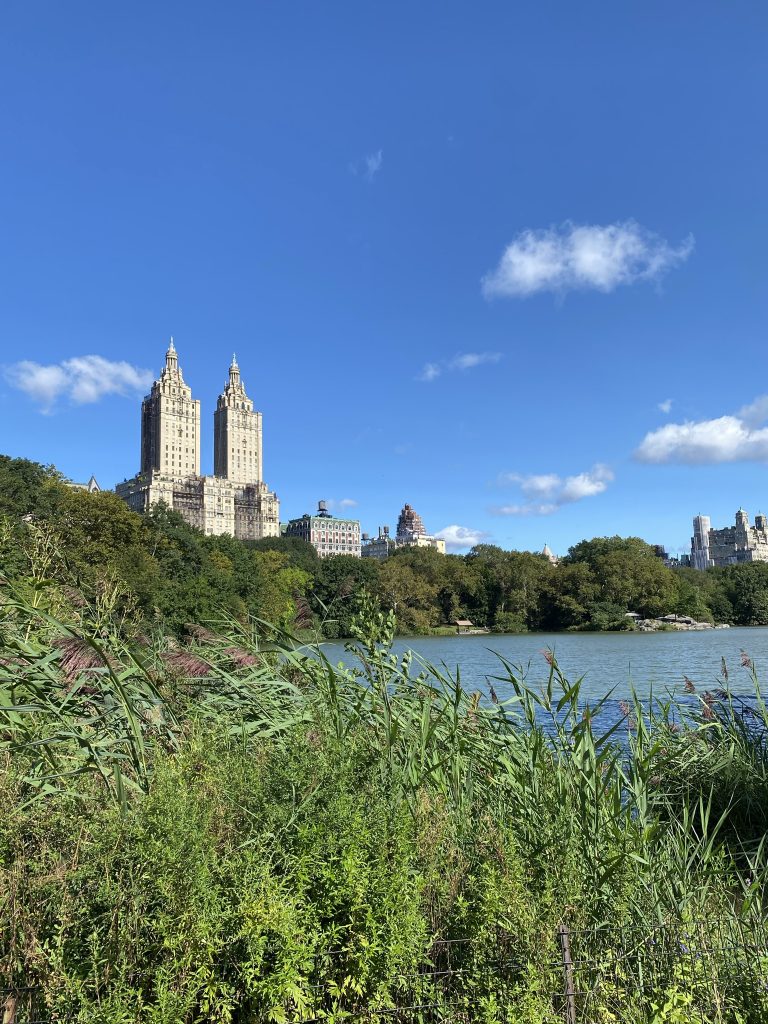 After changing into casual clothes back at our hotel, we grabbed a couple of slices of pizza at Ciao Bella. It was, of course, delicious! We then headed downtown and visited the 9/11 Museum. I would recommend everyone to visit this museum- it was quite moving and such a integral part of our history. The tickets were $26 per adult without the added tour. The 9/11 Memorial area was very crowded with visitors, as it was the day before the 20th anniversary of the 9/11 attacks. We were lucky enough to catch a quick parade by the FDNY band while in the area. The main reason we chose this weekend to visit NYC was because of the anniversary and I wouldn't have wanted to be anywhere else during this weekend. It was all well worth it.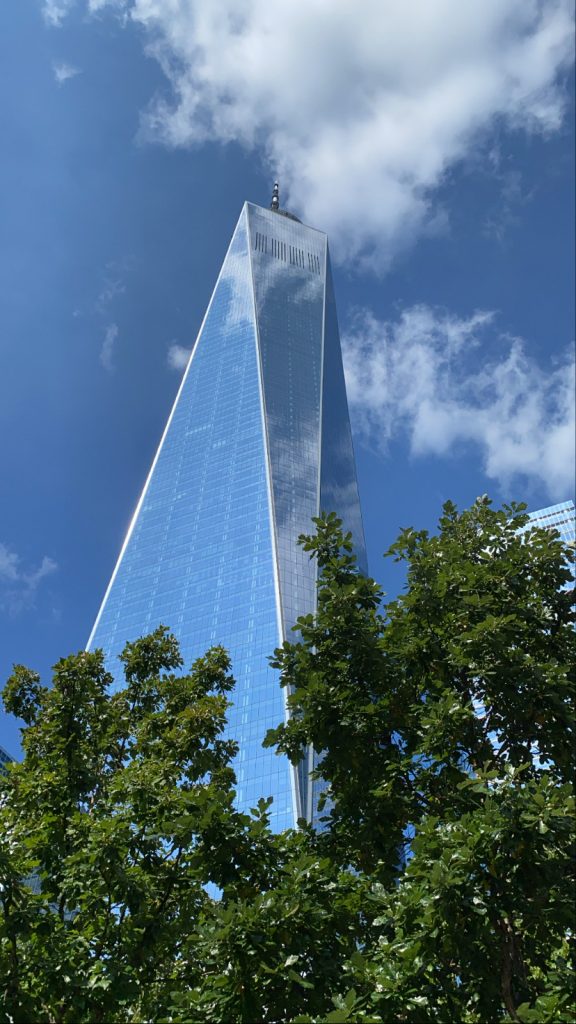 We then walked down to Battery Park, bought ice cream from an ice cream truck, and sat on a bench to watch the water and view the Statue of Liberty. Due to time constraints, and the fact that I've been to the Statue a couple of times, we decided not to take the ferry over there.
That night, we met up with my blogging and IG friend Carlene at PHD Terrace at Dream Hotel Midtown! This rooftop bar has incredible city views. Although the prices of the cocktails were high, the drinks were pretty strong and we had such a fun time! You will need a reservation for PhD Terrace. After PHD, we hopped around to a few different bars. All bars required proof of vaccination to enter as well. Overall, it was an amazing night with friends!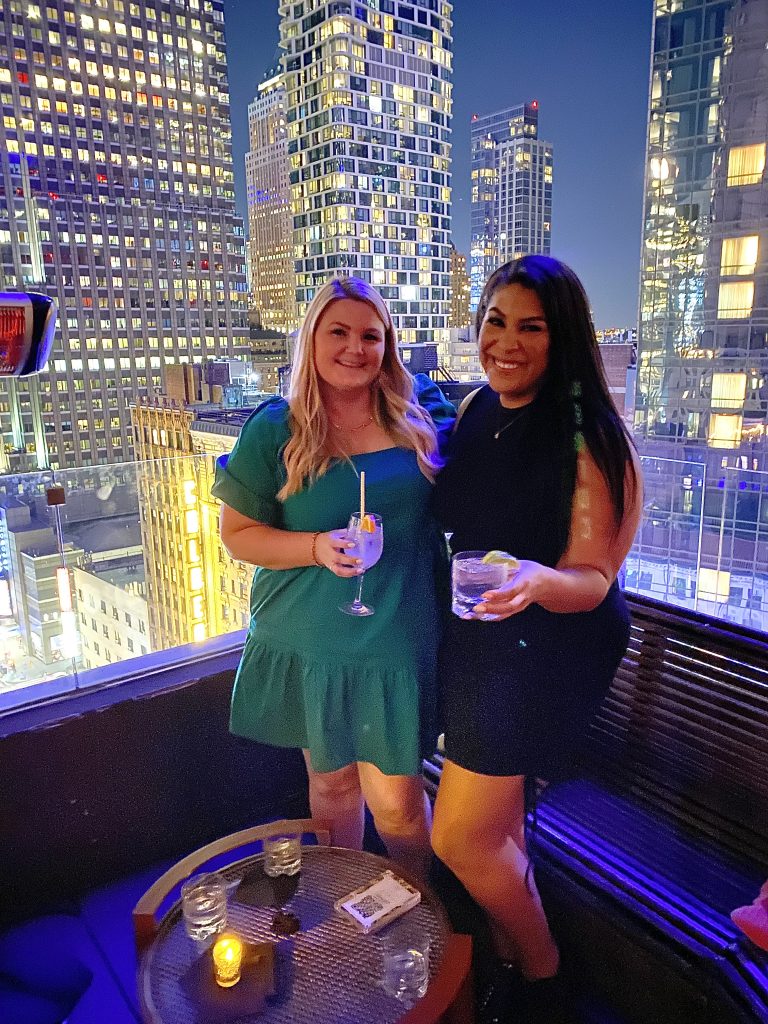 Day 3: Saturday
We headed down to SoHo to have lunch at Pietro Nolita, which is the cutest little pink themed restaurant! The food was good, and the ambiance was amazing! Also, they have heart shaped ravioli! So cute!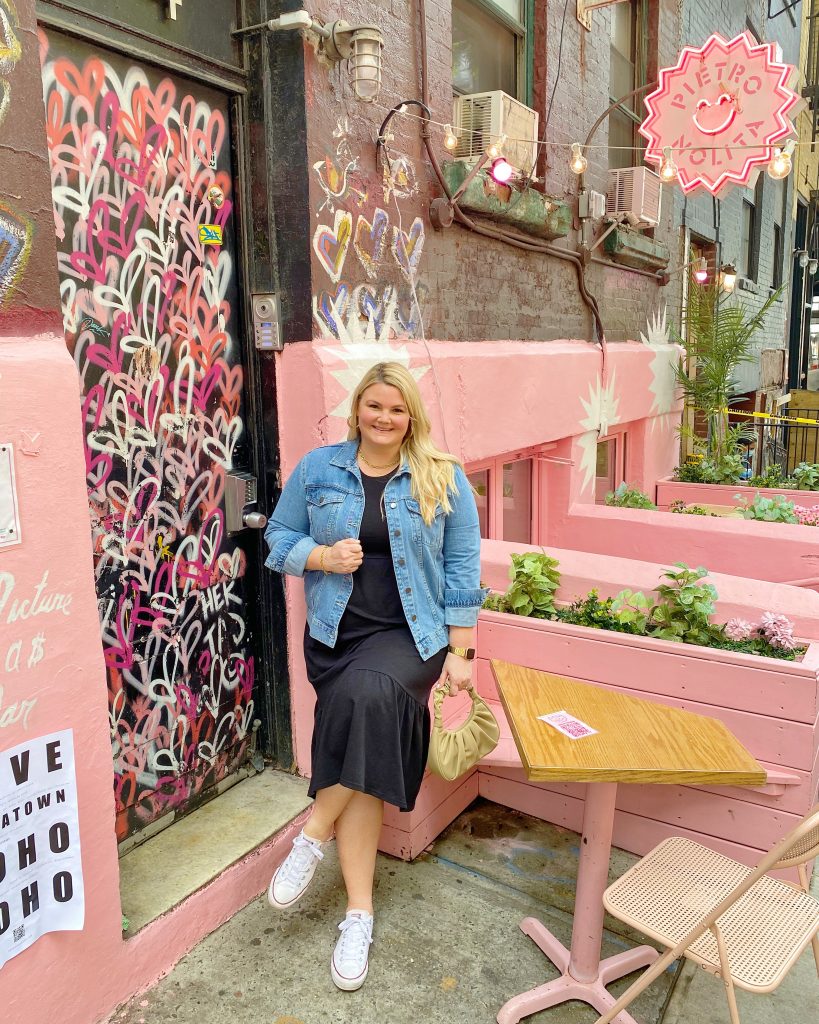 After lunch, we walked around the neighborhood. It's such a lovely area! We happened upon the Elizabeth Street Garden, a cute little spot where people were having lunch and socializing.
We then ventured over to walk across the Brooklyn Bridge. It was quite crowded, but definitely worth it for the views. For pictures, I'd recommend waiting to take them when you are on the Brooklyn side of the bridge. It was less crowded. Also, wear comfortable shoes! I brought a pair of heels to change into for pics, but ended up just leaving my sneakers on- everyone was wearing sneakers throughout the city during our trip!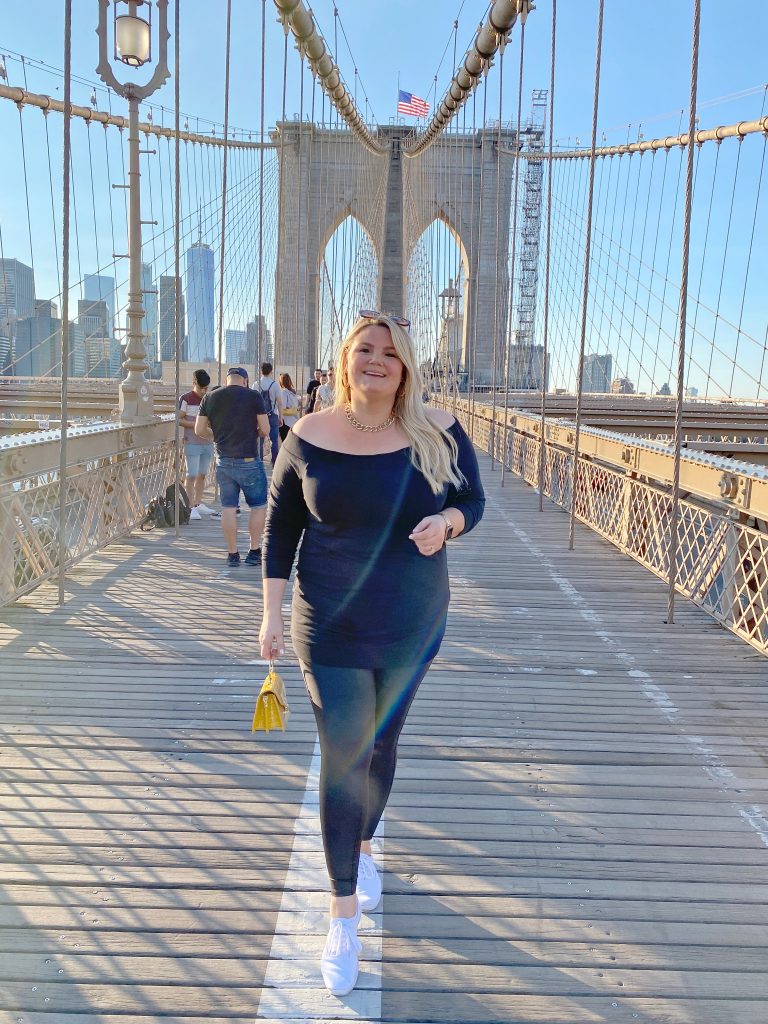 Once arriving in Brooklyn, we walked to 1 Hotel Brooklyn Bridge to grab a drink at Harriett's Rooftop. Highly recommend both this hotel and the rooftop bar! It was so gorgeous and had panoramic views of the Manhattan skyline. Again, the bar was pricey ($100 minimum spend per person for a table), but the views! We ended up just getting one drink each and stood at the balcony area, which does not require reservations or a minimum spend.
We then walked over to Grimaldi's Pizzeria on Front Street in Brooklyn for another pizza. It was delicious! And the area is very cute! We walked a lot this day so we hobbled over to the Subway station and took the train home instead of walking back over the bridge- there was no way I was walking that much after a long day!
Day 4: Sunday
I lived in NYC for three years in my early twenties and attended Columbia University for graduate school. So I had to visit my old neighborhood and apartment in Morningside Heights (W. 111th St)! I got a little sentimental seeing my old apartment building and walking onto the beautiful Columbia campus. It's a big, gorgeous campus right in the middle of a big, gorgeous city!
While in the neighborhood, we had brunch at Tom's Restaurant, who's facade was made famous by the TV show, Seinfeld. The food is good, the service is fast, and it's a great spot to stop in on the upper Upper West Side!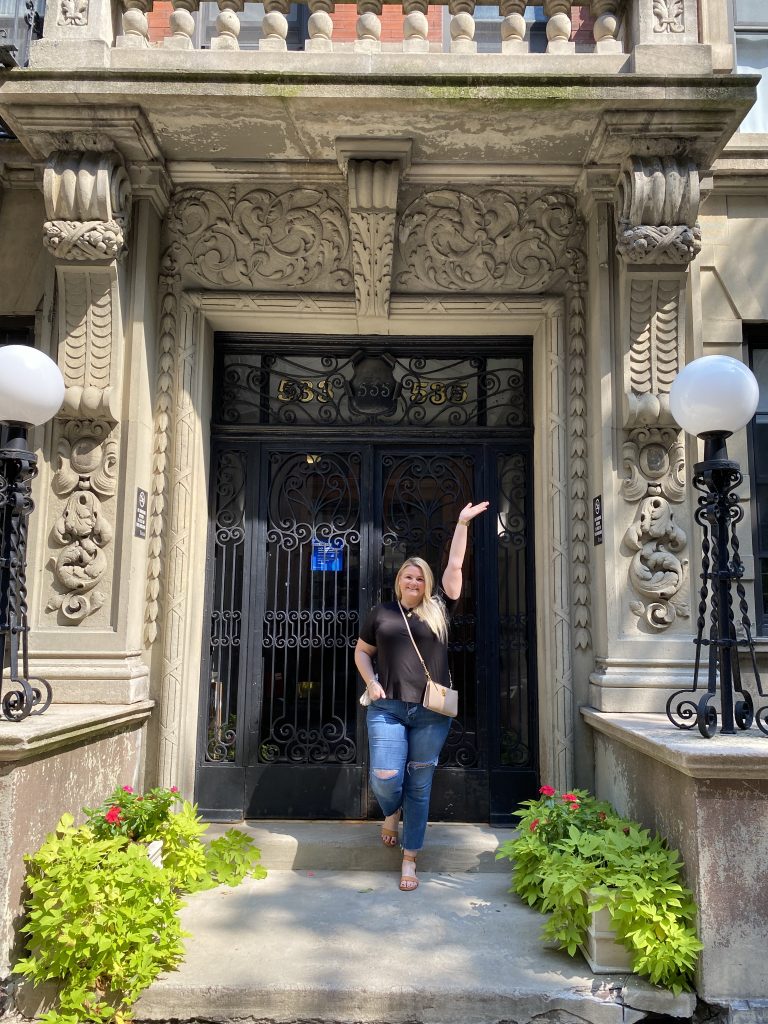 After going back to the hotel to change (I had a lot of outfits I wanted to wear during this trip!), we headed over to Hudson Yards, a shopping, dining, and tourist destination on the west side of midtown Manhattan. We headed all the way up to the 100th floor to The Edge, which provides an uninterrupted panoramic view of the city. It was amazing! Incredibly windy, but amazing! If you have long hair, I'd recommend bringing a hair tie! The ticket price was $36 per person online.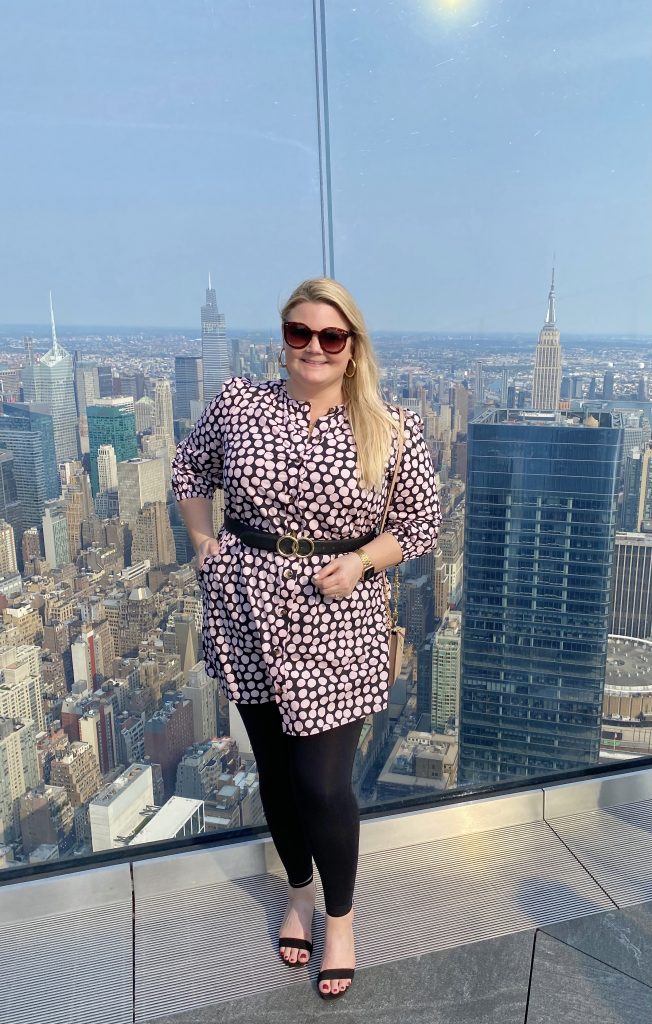 We decided to have dinner that night, our last night, at The Smith, which was walking distance from the hotel. It was delicious, with great service and ambiance, and was the perfect meal on our last night! After dinner, we stopped by Times Square since Chris had never been there before. It was very crowded and touristy, even for a Sunday night, but you have to go to Times Square at least once or twice in your life! We didn't stay there very long but it was worth it to stop by.
Day 5: Monday
Our last day in New York! We had to leave for the airport by 1pm so we ended up sleeping in and then ate bagels and pizza in bed while we packed. I'm still craving those bagels with vegetable cream cheese and the cheese pizza! All of the food during our trip was phenomenal, as usual! We had such an amazing time. This trip is definitely in the top 5 of all my vacations!
Additional Info/Tips for travel to NYC
NYC requires proof of vaccination for all indoor venues, so make sure you have your vaccine card or a photo of the card, and your ID. Almost every restaurant also had outdoor seating options, so if you are unable to be vaccinated, you can still eat outdoors.
Masks are required on the subway and buses. While there really was no one enforcing this, everyone wore their masks on the trains. New York went through the worst of Covid last summer, and they do not want to shut down again so I believe everyone just wants to protect themselves and others. It was great! I felt very safe there.
As far as clothing is concerned, bring at least one pair of sneakers. I brought two pairs and am so glad I did! Almost everyone was wearing sneakers, no matter what they were wearing- dresses, skirts, etc.
When it comes to choosing where to stay, try to avoid very touristy areas, like Times Square. Our hotel was in Chelsea on 25th St., which ended up being the perfect location. We were located between 6th and 7th Avenues, so we had subways close by for both the east and west sides of Manhattan.
Getting a Metrocard is the most economical way to get around the city. Each ride on the subway is $2.75, but you can buy unlimited cards if you are staying longer and plan on traveling by the train frequently. Cabs are still pretty easy to come by though if you would prefer door-to-door transportation (as well as Uber and Lyft).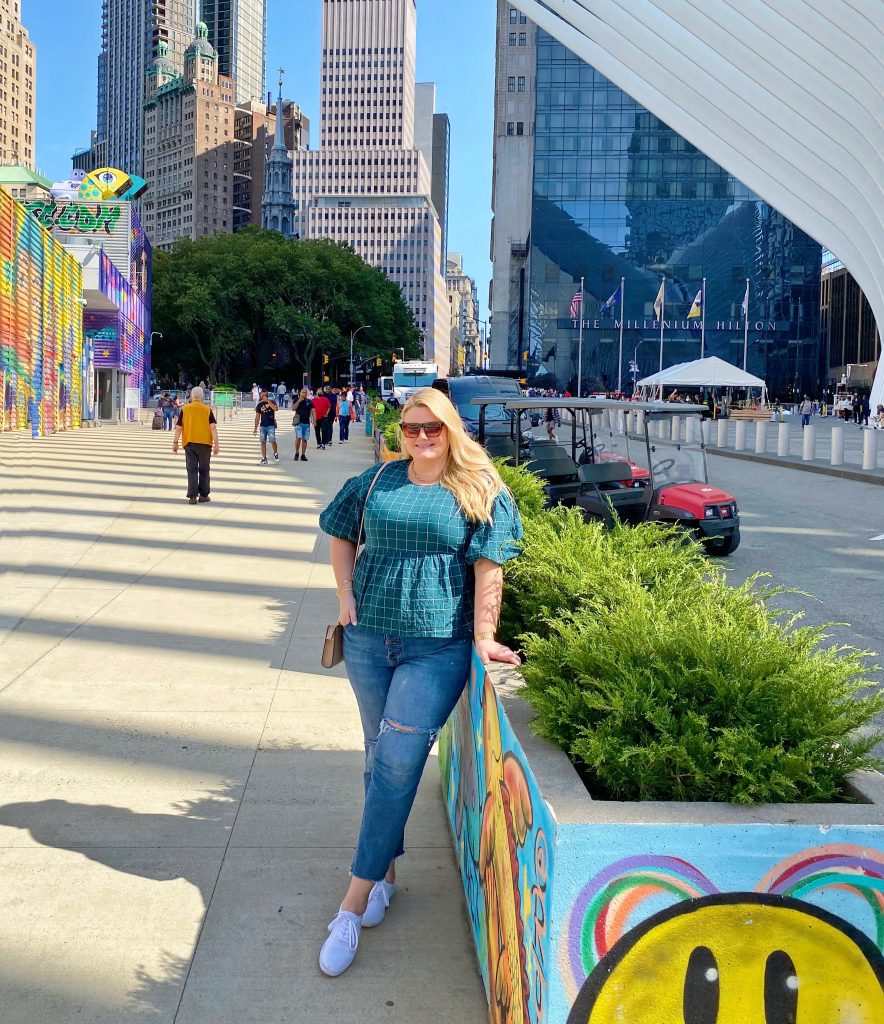 I hope this post has been helpful for planning your next trip to NYC! I also went a few years ago with my family during Thanksgiving; you can check out that post here. Leave any other questions you may have below!
All of my outfits worn during the trip are on my Shop page here on the blog, or on my LTK page.