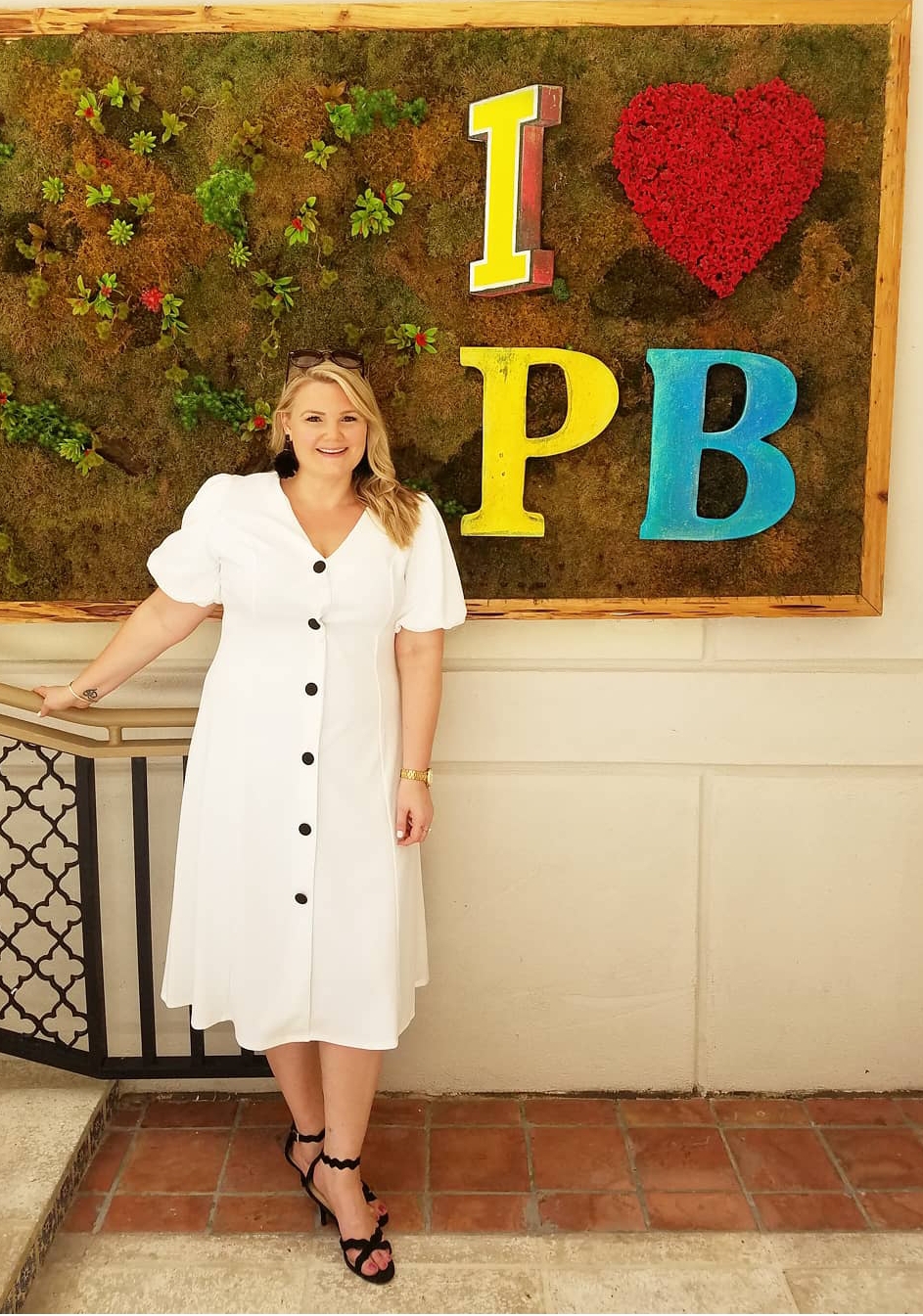 A Weekend in Palm Beach
I recently spent a weekend in Palm Beach, Florida, with three of my girlfriends, Mikaela, Sasha, and Nikki. Although it was just a two and a half hour drive from Orlando, it was such a magical weekend and felt like we were worlds away!
The small town of Palm Beach is separated from the mainland (West Palm Beach) by the Intracoastal Waterway, and is absolutely gorgeous! I grew up just 30 miles south of Palm Beach in Boca Raton, which has similar architecture and ambiance, but I hardly ever visited the town of Palm Beach. While there's plenty of things to do as a family or with kids in Palm Beach, I can appreciate the town so much more now as an adult. It's a ritzy town with perfect landscaping, beautiful buildings, and upscale dining and shopping. I will 100% return to Palm Beach and recommend it to anyone visiting South Florida- it is about 50 miles north of Ft. Lauderdale and 70 miles north of Miami Beach. Here's what we did while in Palm Beach!
Day 1:
We arrived before noon and checked into The Colony (155 Hammon Ave., Palm Beach, FL 33480). Our stay was NOT hosted, yet they greeted us with champagne and were the NICEST staff I've ever had at a hotel! The Colony is a very well-known landmark in Palm Beach, with it's pink exterior and classic Palm Beach decor. It was gorgeous- from the palm print carpet on each floor, to the landscaping, to the pink golf cart and bikes available to guests. We were upgraded to a suite, which we ended up needing since it was four girls with a lot of stuff! I would 10/10 recommend staying at The Colony!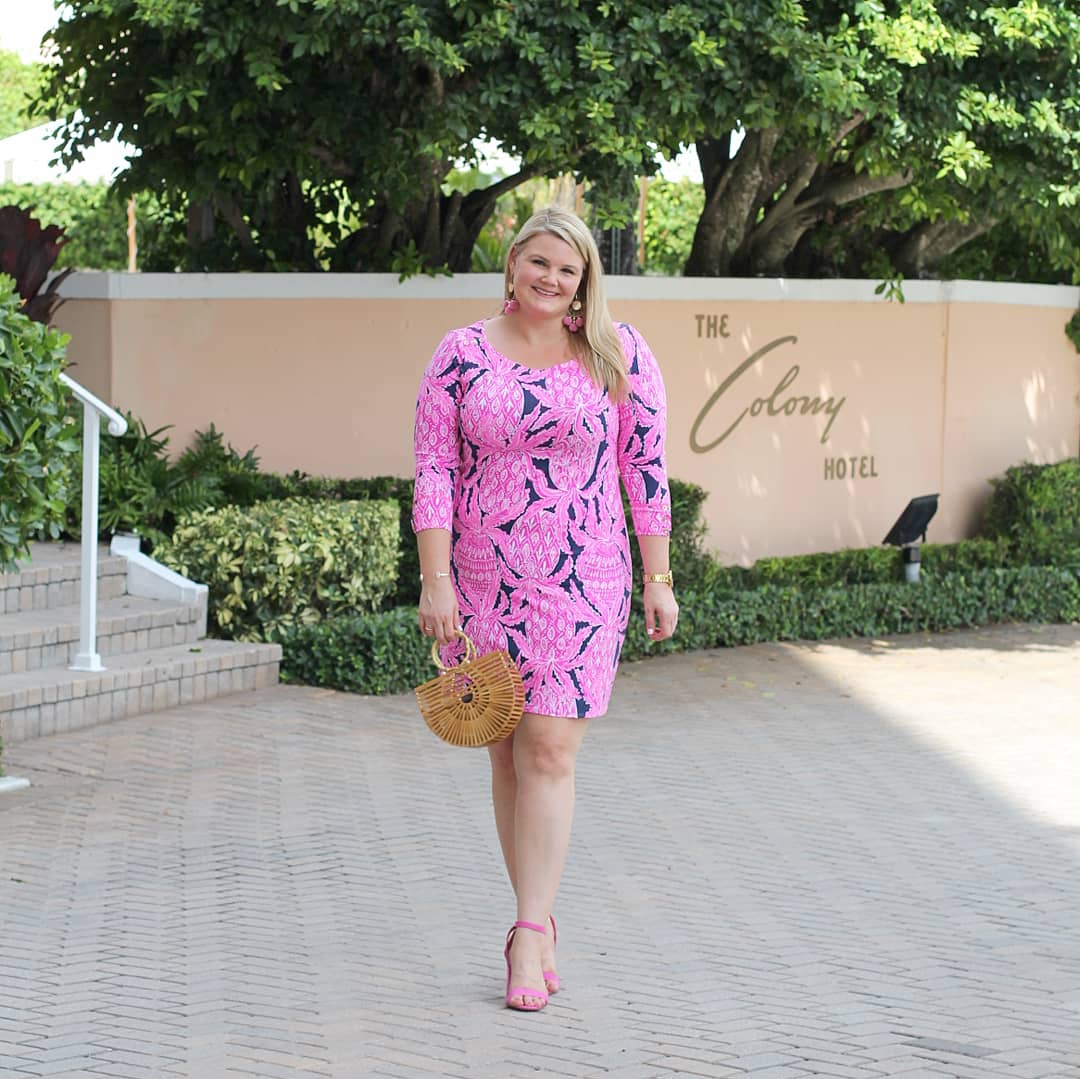 Similar dress | Bag | Shoes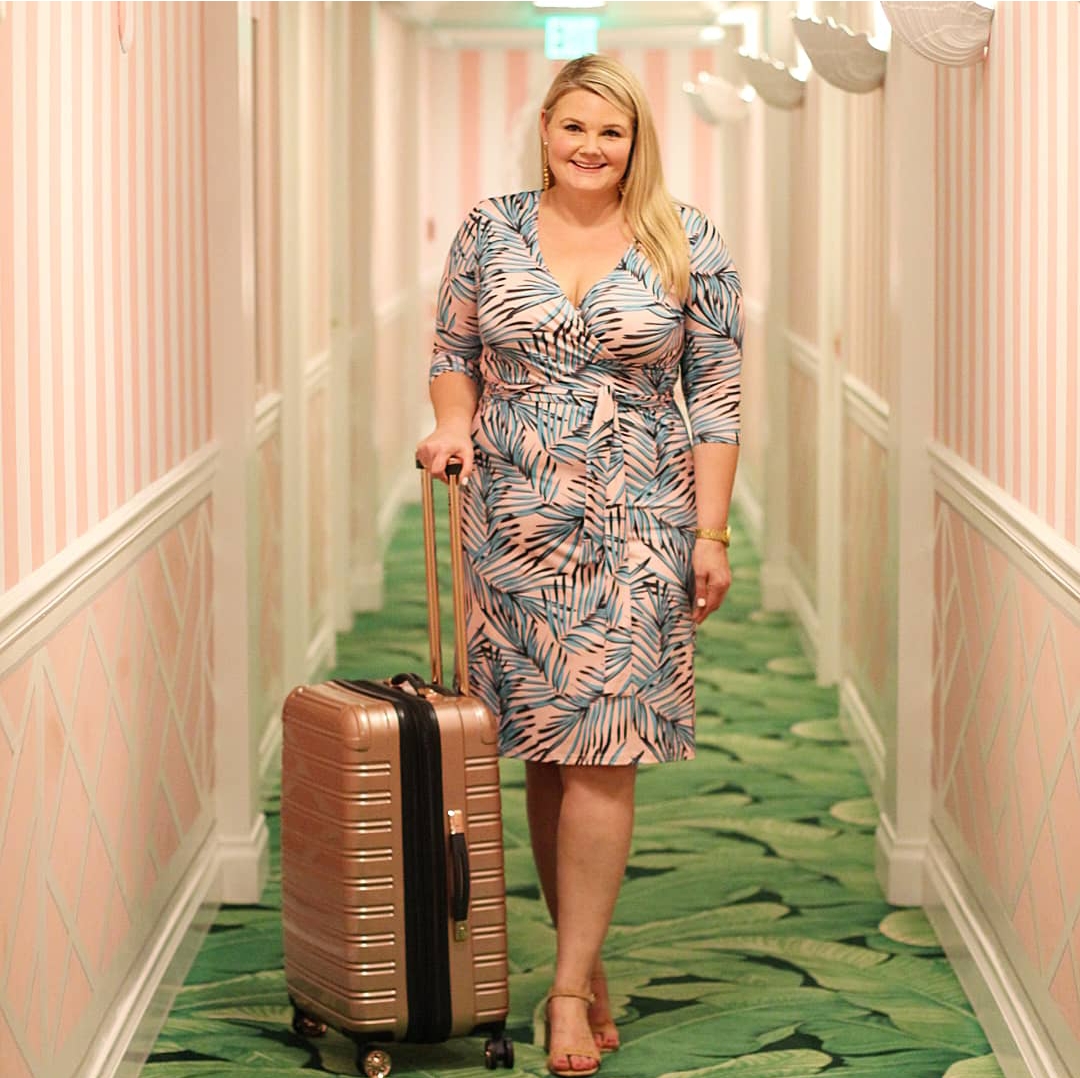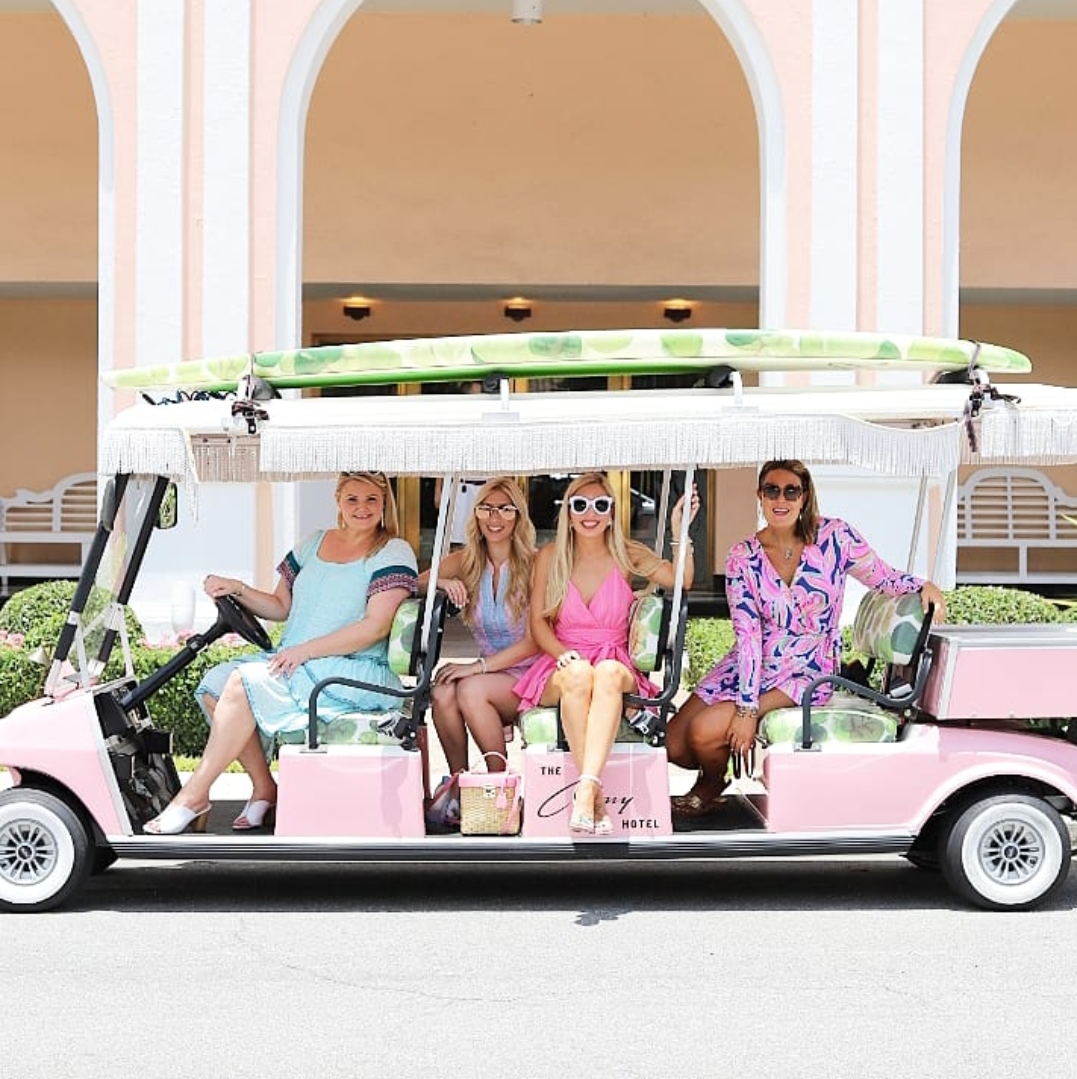 After settling into our room, we changed and took the complimentary golf cart ride to Worth Avenue (less than one mile from the hotel). We had lunch at Pizza Al Fresco (14 Via Mizner, Palm Beach), which was delicious! Sasha and I shared a Margherita pizza, and Nikki and Mikaela had the lobster salad.
After eating, we took pictures around Worth Ave., which has about a million amazing photo spots! I took the photo below next to the Lilly Pulitzer store.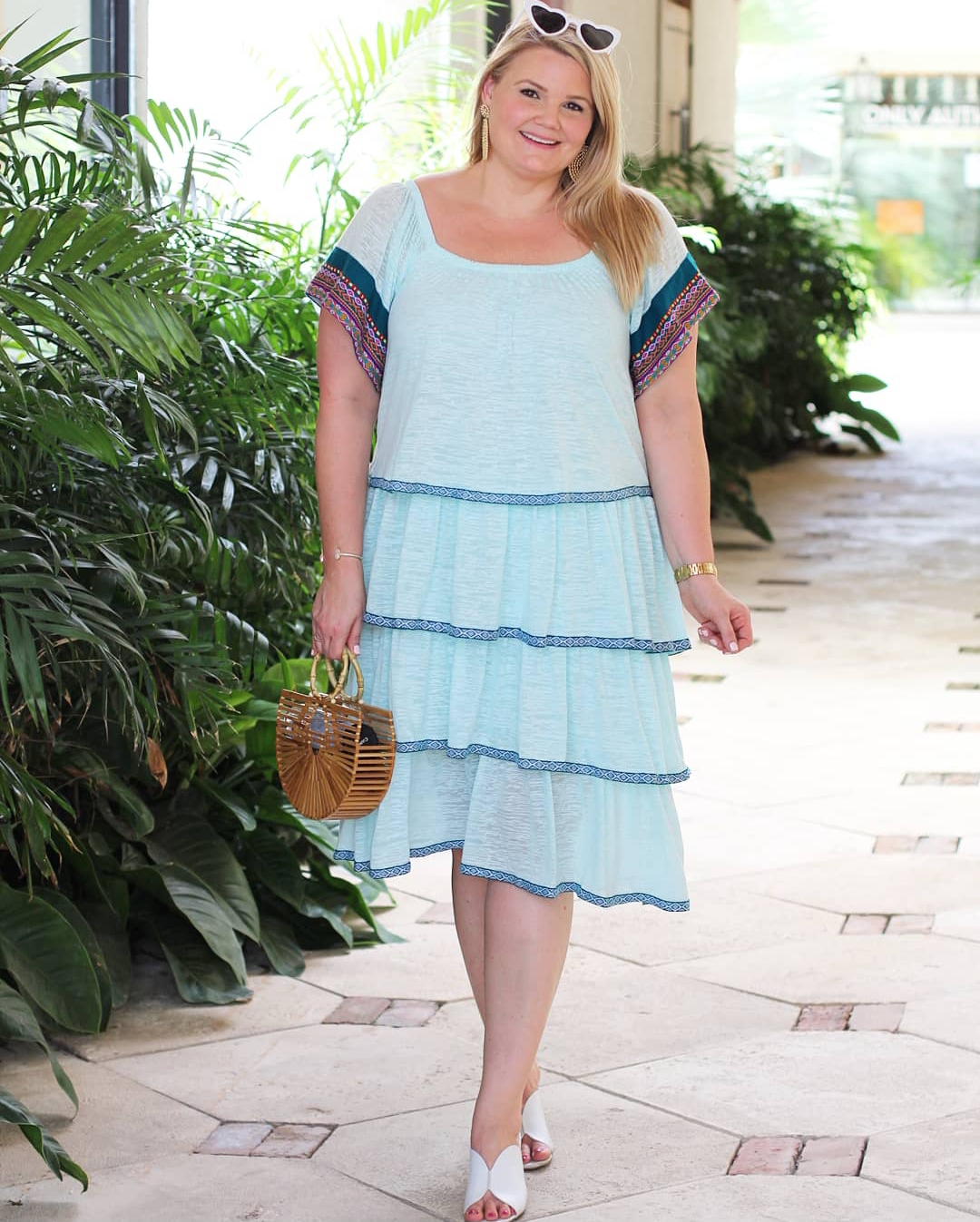 dress | sunglasses | bag
We returned to the hotel and got ready for dinner at Renato's (87 Via Mizner, Palm Beach). But before heading into the restaurant, we took photos in front of the blue door, which is located across from the restaurant. Such a pretty spot! For dinner, we sat outside on the courtyard at Renato's, which was so beautifully designed. The interior was also stunning, with a moodier, romantic feel. Each of us agreed that our entrees were delicious- I had the ravioli and would order again!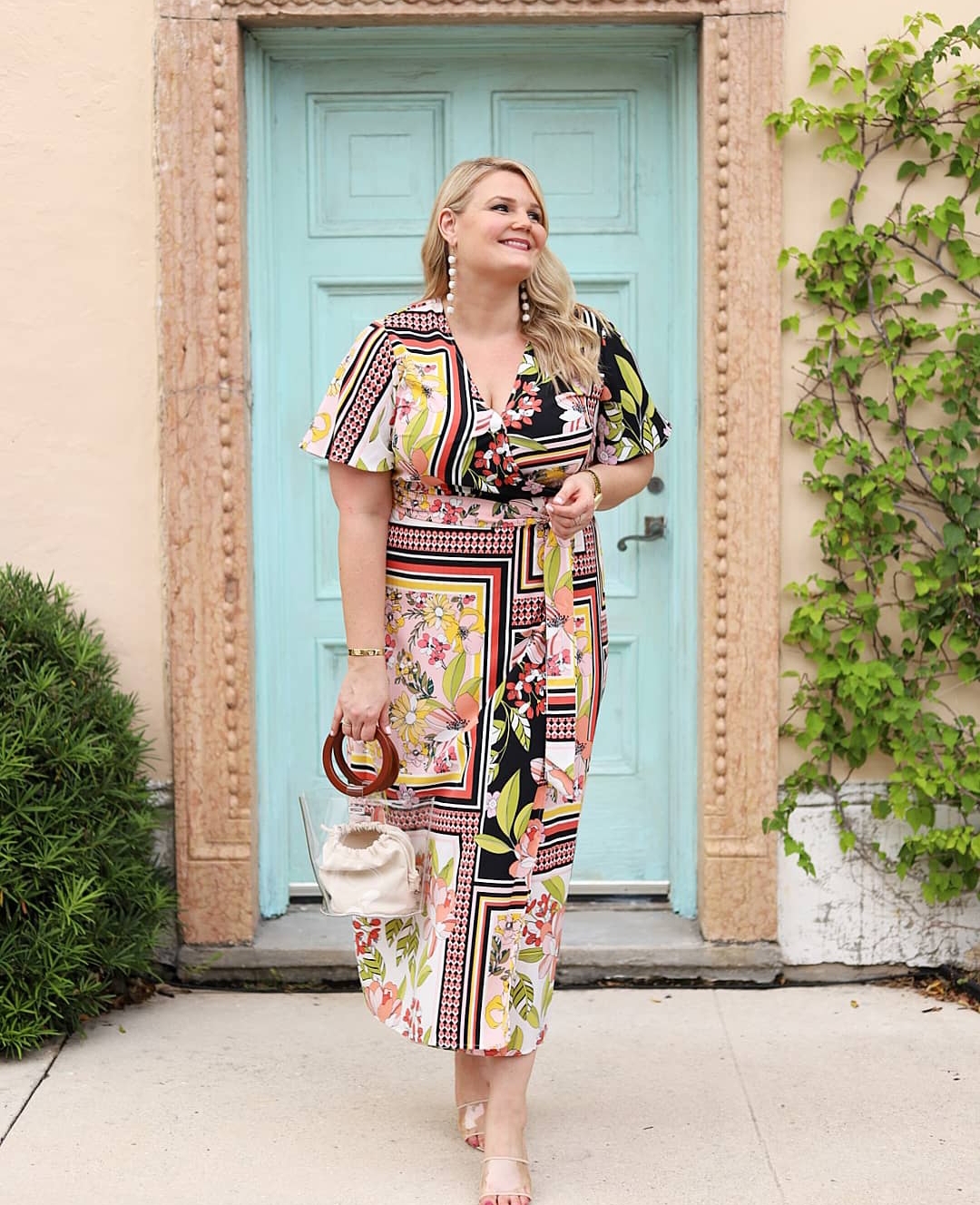 dress | bag | similar shoes
Later that night, we ended up at the restaurant/bar, Cucina (257 Royal Poinciana Way, Palm Beach), which turns into a bar with a DJ and dancefloor. We had so much fun dancing the night away! They have VIP service as well if you want a table, which we ended up getting. We met so many fun people there, all between the ages of 22-50! If you are looking for a party in Palm Beach, head to Cucina!
Day 2:
Mikaela and I headed back to Worth Ave. the next morning (Sunday) to shop at the flapship Lilly Pulitzer store (240 Worth Ave.). Unfortunately most of Palm Beach holds "summer hours" during this time of year, so we had to wait for the store to open at noon! But once open, it was well worth the wait! If you are a Lilly fan, you MUST visit this store! It is so pretty and bright! We had fun trying on dresses and taking pictures!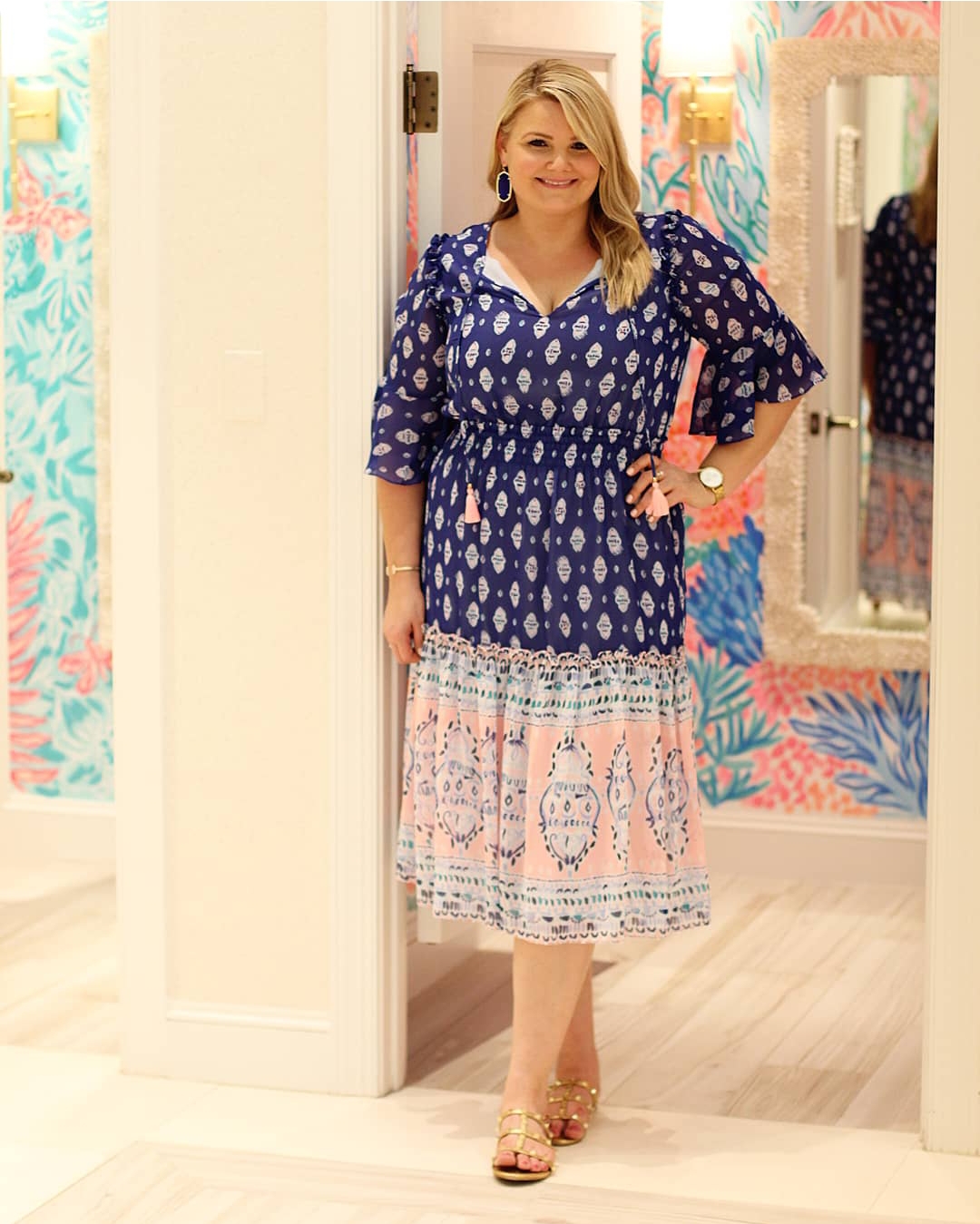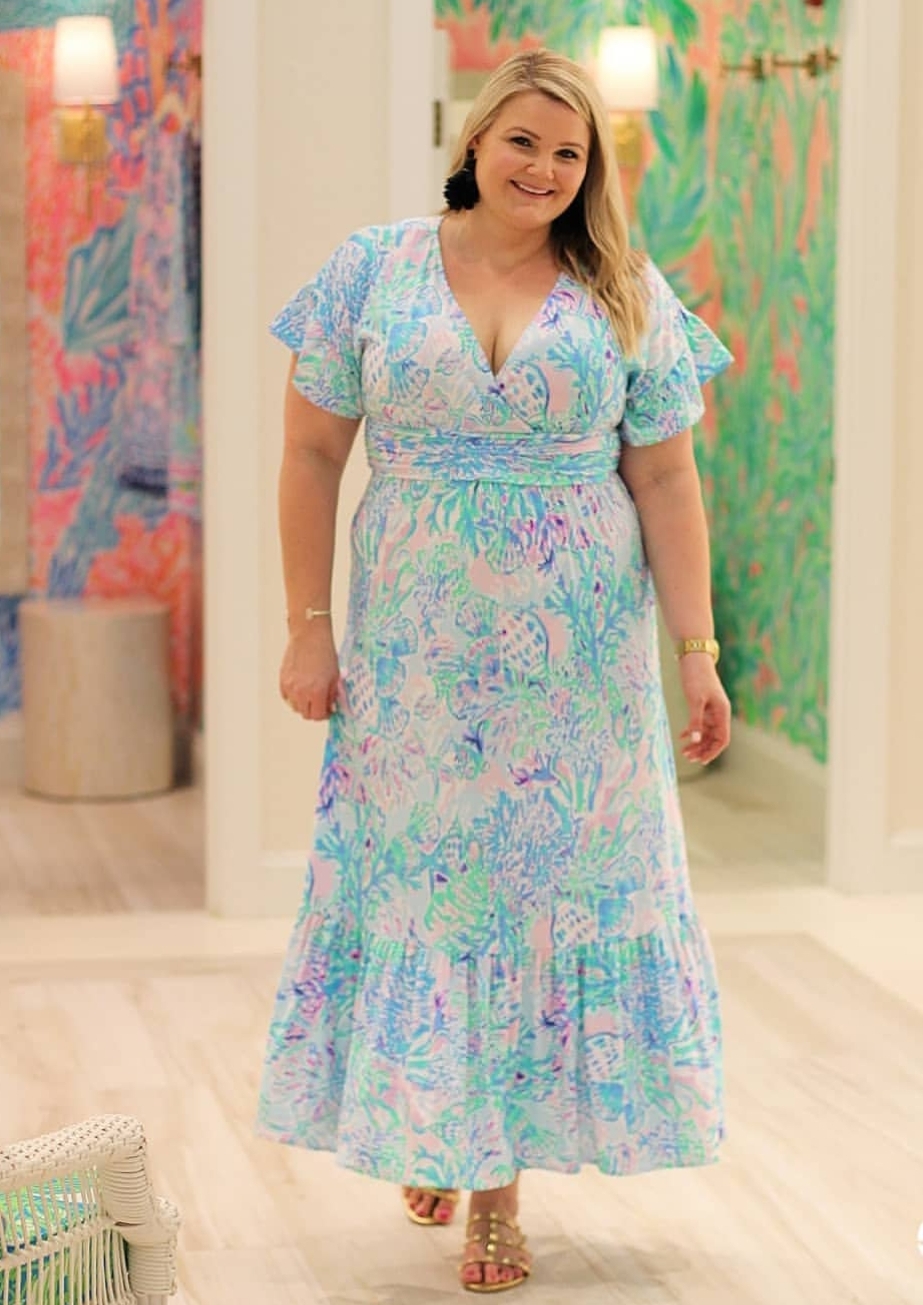 After Lilly, we walked across the street and took pictures at the pink staircase. I love the way these photos turned out! There is also a blue staircase in the same little alcove as the pink stairs.
We returned to the hotel and joined Sasha and Nikki at the pool, where we took pics, ate some food from the bar, and lounged in the pool for a couple of hours. It was so relaxing and we even met some great people who lived in the area. Again, everyone we met during this trip was SO nice!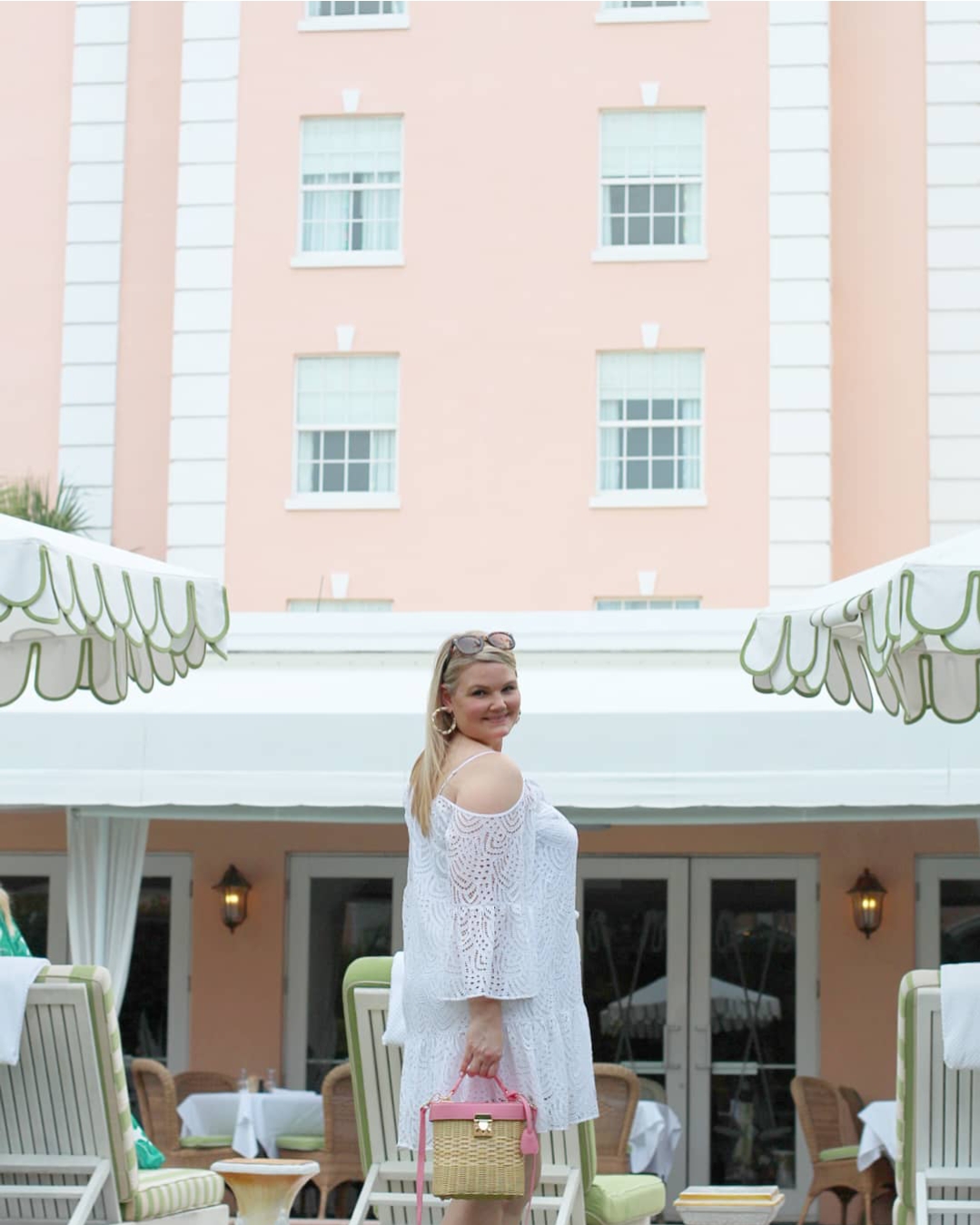 similar dress | earrings | bag | sunnies
We later went to the marina, and were able to get some great group photos. The yachts were, of course, amazing, with a back drop of the West Palm Beach skyline.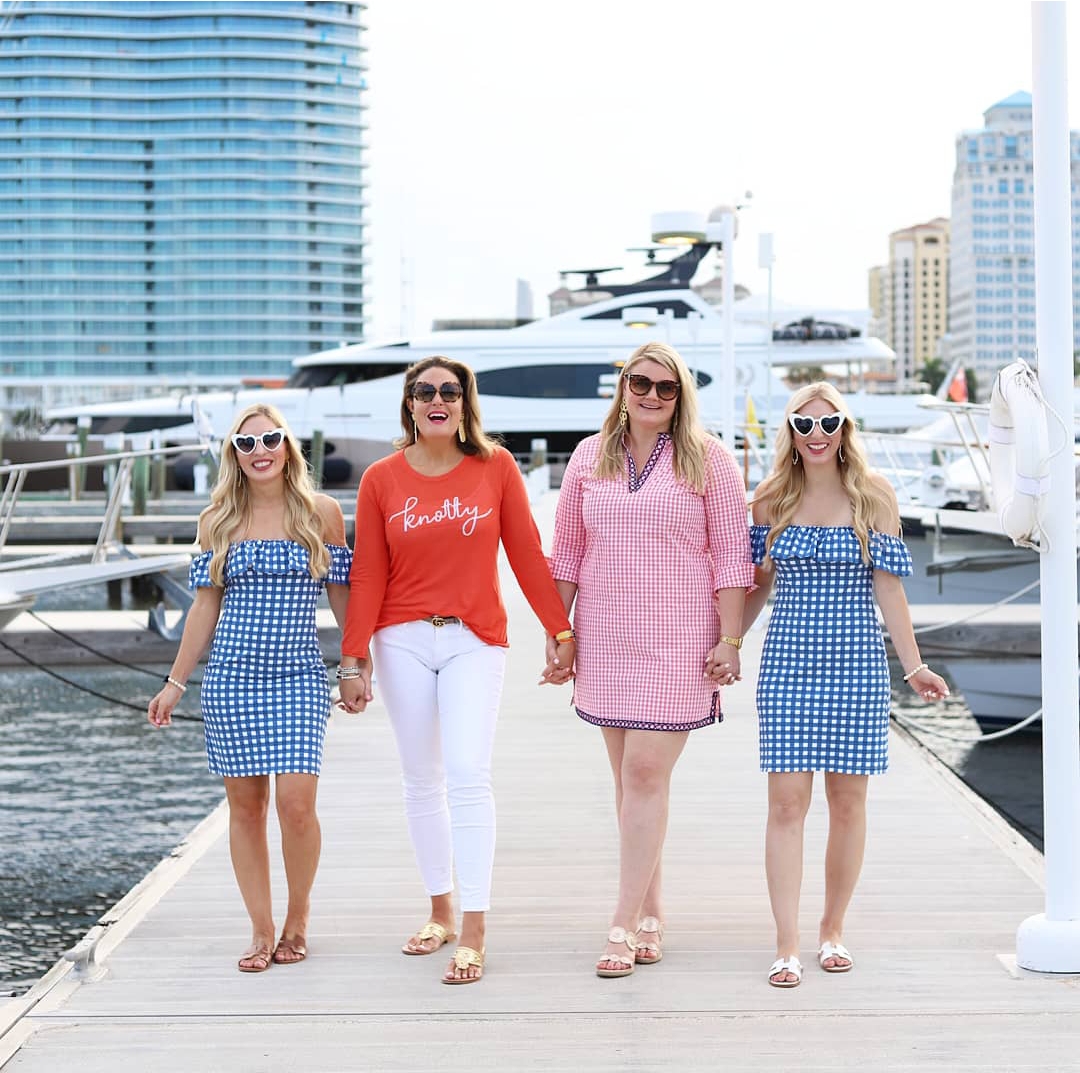 We had dinner at Coyo Taco (337 Royal Poinciana Way); again, great food! It is a counter-service casual restaurant, but they have a hidden area in the back with a bar and a really cute set-up, and they will bring your food to you. Definitely head to the back bar room! I got the spicy margarita and the vegetarian tacos and they were so good!
Since we had a late night the night before, after dinner we headed back to the hotel, ordered dessert and watched a movie in our room. The hotel's key lime pie was good!
Day 3:
Our last day in Palm Beach! We took some more group photos in our gifted Pitusa dresses (thanks to the hotel staff for taking these!), and then I had to get a pic on one of their bikes!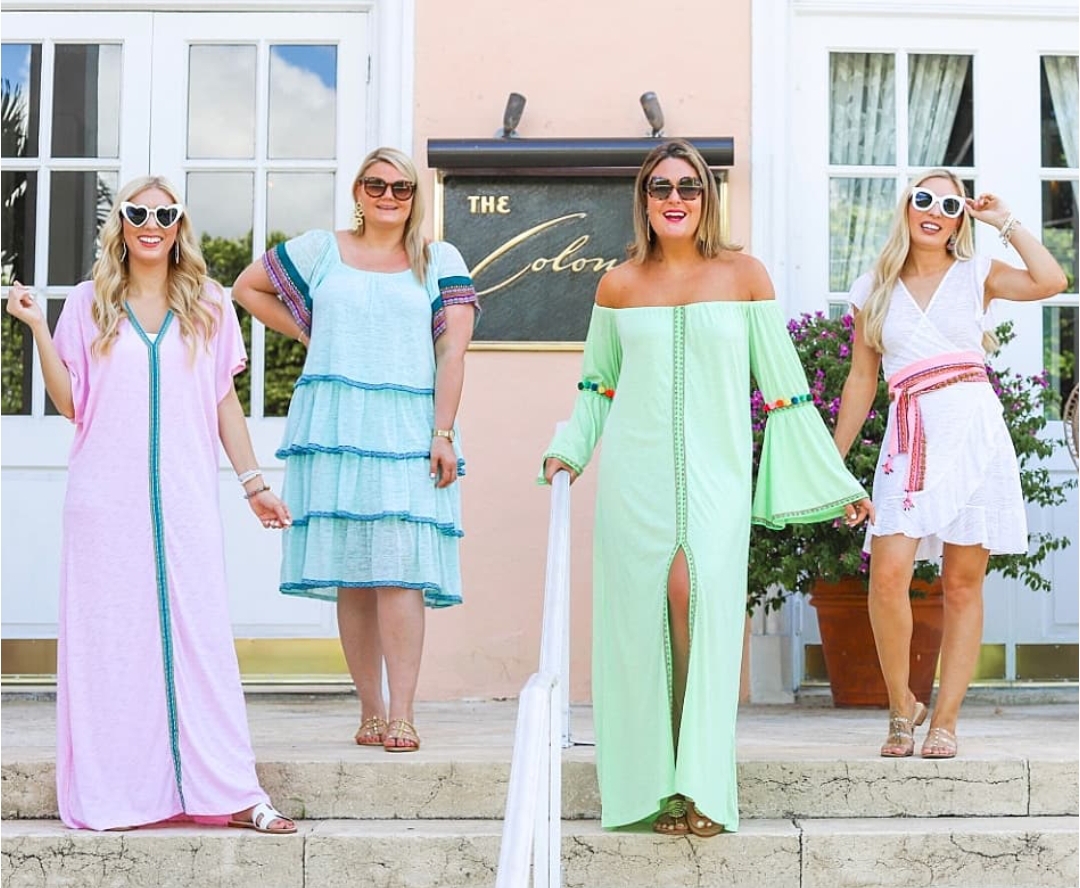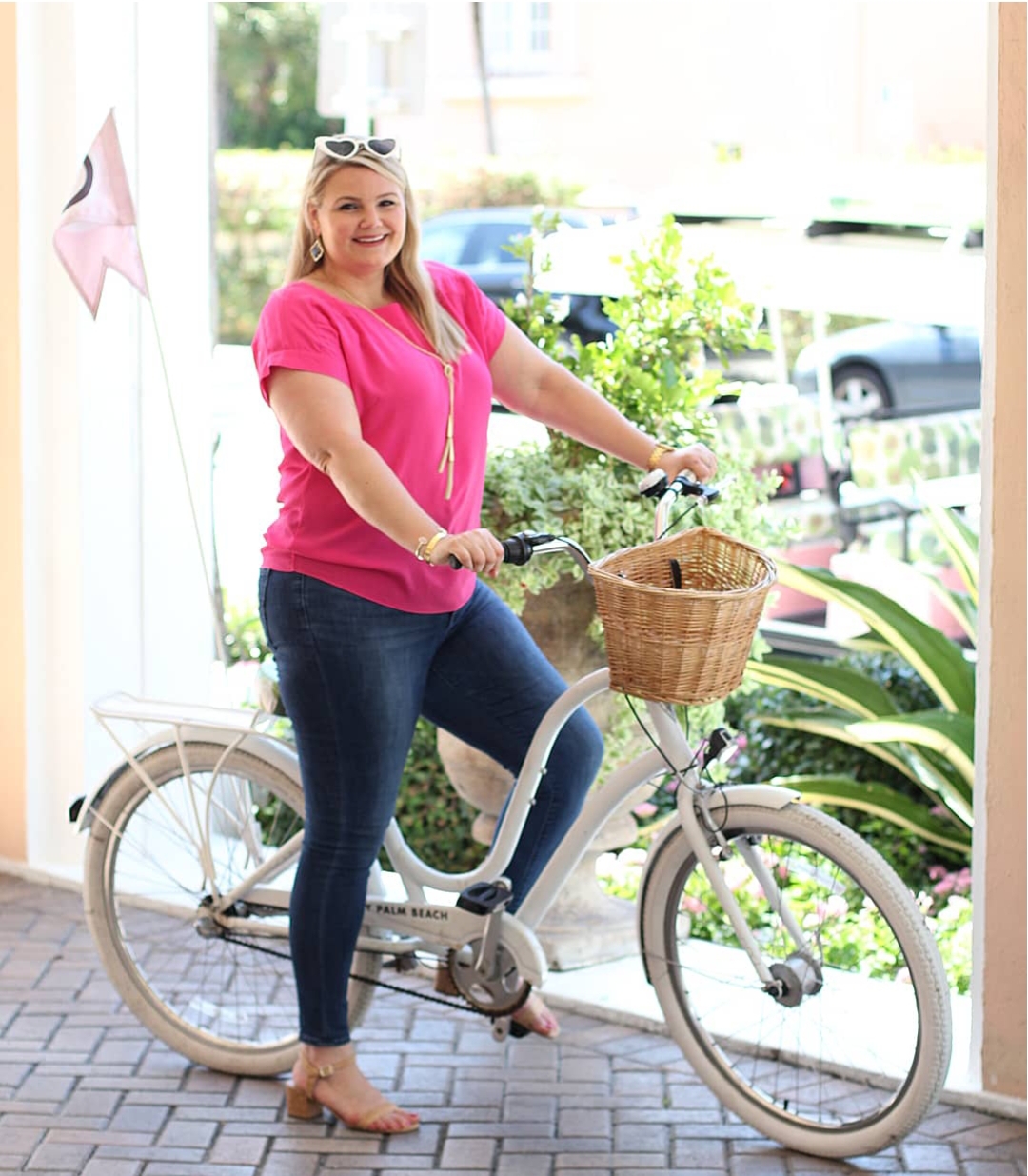 After packing up our bags, we checked out and had lunch at the Restoration Hardware Restaurant in West Palm Beach (560 Okeechobee Blvd., West Palm Beach). This was our second time having lunch there and it did not disappoint! The restaurant is located on the top level of the RH store and it is so beautiful! After being thoroughly stuffed, we hopped onto I-95 and headed back north to Orlando!
Overall, it was probably the best weekend trip I've ever been on in Florida. Having three great friends, along with a stunning hotel, the friendliest people, and fantastic food and drinks, this trip was one for the books!
Have you been to the town of Palm Beach? If so, what was your favorite part?
Check out my last travel post at the Hard Rock Daytona Beach here.