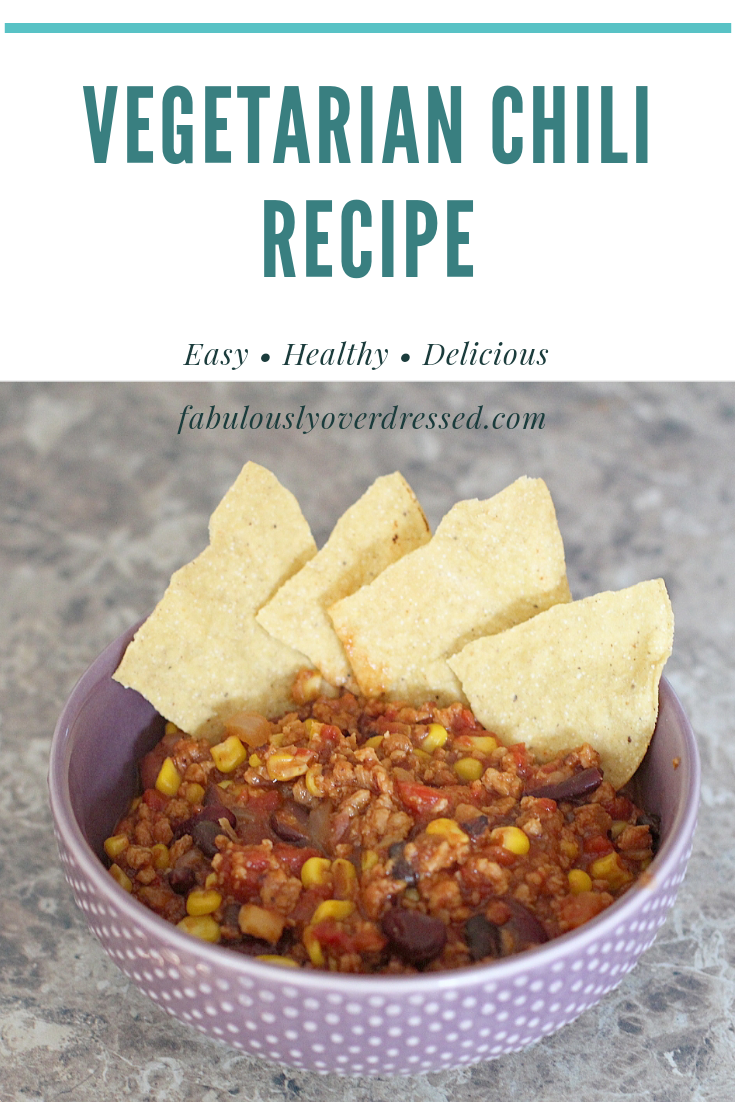 Easy Healthy Vegetarian Chili Recipe
I am not a cook. Never have been. I don't really enjoy cooking to be honest! If it has more than 10 ingredients or takes longer than an hour to make, I won't make it! But when I became vegetarian about eight years ago, I realized I needed to find some easy, healthy recipes that weren't just spaghetti! I tried out a few different chili recipes from online, tweaking them here and there, and finally arrived on this easy, healthy vegetarian chili recipe that is also delicious!
It's the only recipe I feel I have perfected over the years, and am quite proud of it! I have brought this to several company potlucks, and have fooled even the pickiest meat-eaters into thinking they were actually eating ground beef. Now of course, you could always switch out the meatless ground for ground beef or turkey, but I would recommend trying this one out first. It is so good!
Try this easy vegetarian chili in tacos, as a hearty dip with tortilla chips, or by itself for a very filling, low fat, high protein meal!
Prep time: 10 minutes
Cooking time: 20 minutes
Easy Healthy Vegetarian Chili Recipe
Ingredients
– 1 (one) Package Gardein Beefless Ground (13.7 oz) OR Morningstar Farms Grillers Crumbles (12 oz.)
– 1 (one) 28 oz. Can of Diced Tomatoes (do not drain)
– 1 (one) 15 oz. Can of Beans (can use kidney beans, black beans, or mixed beans- do not drain)
– 1.5 Cups of Diced White or Red Onions (make it easier- buy the pre-chopped onions in the produce section of the grocery store)
– 12 oz Frozen Corn
– 1 (one) Packet of Taco Seasoning (I used spicy taco seasoning, but any one will work!)
– 2 Tbsp. Extra Virgin Olive Oil (for the pan)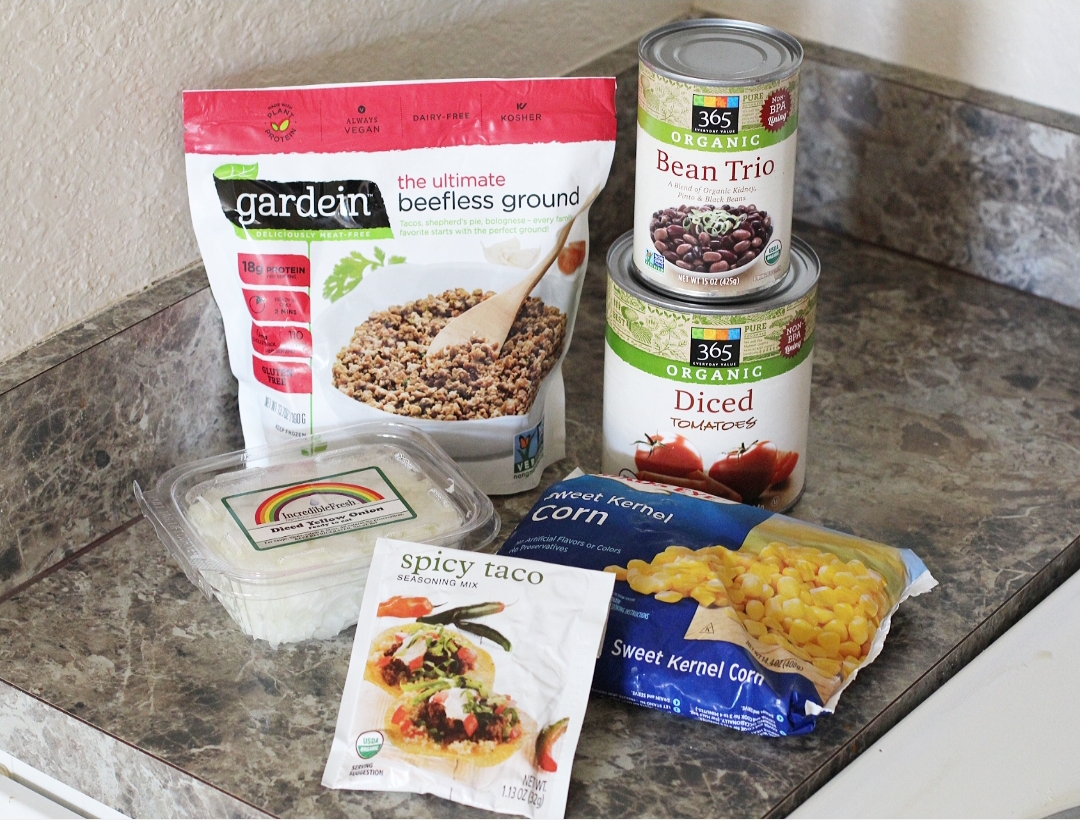 Instructions
Heat 1 tbsp of olive oil over medium heat, and add the diced onions. Cook the onions for about 5 minutes until they start to caramelize.
Remove cooked onions from the pot; set aside.
Add 1 tbsp of olive oil to the pot and cook the meatless crumbles per directions on the bag (stir frequently for about 5-8 minutes, until browned).
Add cooked onions back into the pot with the meatless crumbles and mix.
Pour entire cans of both diced tomatoes and beans to the pot, including liquid. Mix.
Add entire packet of taco seasoning to chili and stir well over medium heat.
(Optional) Add 12 oz. of frozen corn to the chili and mix.
Reduce heat to low, cover pot and let simmer for 20 minutes, stirring occasionally.
Serve hot! Makes 5 servings. Freezes well.
Nutrition Facts Based on 5 Servings (based on using the Gardein Crumbles):
Per serving: 342 cals, 9 g. fat, 45 g. carbs, 26 g. protein, 15 g. fiber